This New Chapter Probiotic All-Flora review is about getting to the very core of the thing and learning all there is to know.
To make that happen, we will start off by going through the promotional materials, as well as all the claims and stuff. We will continue that by expanding on the ingredients and what those have to offer. Which we'll transition into the "glue" part of the supplements and what substances we find there. Lastly, customer reviews and global success rates.
This New Chapter Probiotic All-Flora Review To Remove All Drama
According to the manufacturer, New Chapter Probiotic All-Flora is to "boost your immune defenses and promote digestive health with clinical-strength probiotics flora." The way they put it, "our revolutionary three-in-one system offers prebiotic, probiotic, and postbiotic nourishment in one convenient daily capsule." Sounds wonderful. So, exactly what all probiotic-seekers need, right [R]?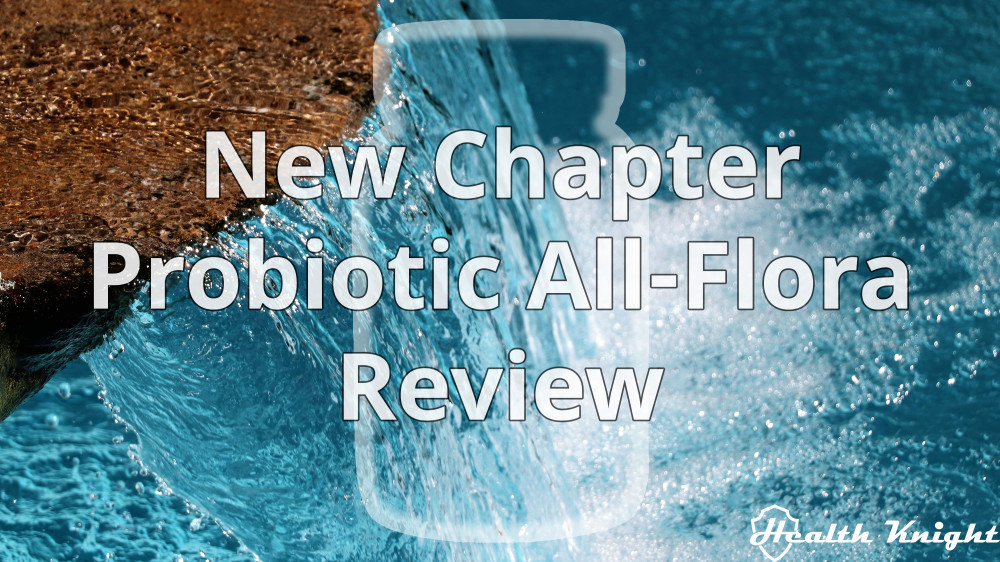 The product page feels very down to earth and unsaturated by aggressive marketing or beyond extensive descriptions and information to kind of drown people. I mean, it kind of covers just the most important aspects while also providing this feel of being quite elaborate but not too much. Frankly, very much like every other New Chapter product page, I've come to known [R, R, R, R].
With this probiotic thing, they promise quite a few gains. The very core of it is the "complete gut health" [R].
But the individual constituents of it has to do with replenishing good bacteria, promoting powerful immune response, reducing Gastrointestinal tract discomfort and problem causing yeast strains, as well as improving on general digestive health, including bowel regularity.
And, of course, there's also this notion of reducing gas, constipation, bloating, and diarrhea.
So, supposedly, pretty well-rounded when it comes to overall gut and digestive stuff. Plus, it's promised to be Non-GMO, Identity-Assured, and 100% vegan. On top of all, it also has an NSF certification for Gluten-Free and a 60-day money-back guarantee [R].
So, is it worth both the money and your time?
They Are Overstepping With Claiming To Provide Postbiotics
From a pure beneficial ingredient standpoint, it may definitely somewhat feel so. But there is one rather huge incongruency in the promotional materials with the actual facts that I'm not fond of at all.
So, what the New Chapter Probiotic All-Flora does is it implies that we get all three – prebiotics, probiotics, and postbiotics – within each capsule of the product. But that's just not true.
The supplement provides prebiotics and probiotics, yes. However, postbiotics is not something that can be provided through a capsule (or food or anything, for that matter). Postbiotics is what happens when the two are combined within our guts. Furthermore, the specific nature of those Postbiotics will be highly dependant on what exactly our gut bacteria have been consuming or eating [R, R, R].
So, again, it's not something actually present in the supplement. And that's exactly what we see when we investigate the beneficial ingredients.
Per serving (one capsule), the New Chapter Probiotic All-Flora offers 300 milligrams of the probiotic part. This is the Proprietary Probiotic Blend, which consists of 5 billion CFU of Saccharomyces boulardii and 5 billion CFU combined of Lactobacillus plantarum LP01 and Bifidobacterium breve BR03. So, 10 billion CFU total.
And then there's the prebiotic part. This one consists of the 82.5 milligrams of Digestive Support Blend (Organic Aloe leaf, Organic Peppermint leaf, Organic Coriander seed, Organic Cardamom fruit, and Organic Artichoke leaf) and 31.4 milligrams of Organic Turmeric. So, 113.9 milligrams of prebiotics total.
As far as the probiotics go, 10 billion CFU per capsule is a decent amount. However, according to the best practices, ideally, we'd want at least twice that a day. Also, three is not exactly the most optimal different strain number. Here, I believe a total of at least 10 is what we should strive for. But the more the better [R, R, R, R, R].
As for the prebiotics, I think at least 100 milligrams is a very respectable amount. But, really, I feel every milligram here can be helpful [R, R, R, R, R, R, R, R, R, R, R, R, R, R, R].
Whereas as for the benefits altogether, I feel it's what they promise and beyond that.
To illustrate, the Lactobacillus plantarum has also been linked to reductions in "bad" cholesterol and blood triglycerides, improved skin and dental health, aid in wound healing, as well as promote better immune function overall. It can also help battle high blood sugar, high blood pressure, abdominal pain, obesity, diabetes, eczema, anxiety, loose stools, and has other potential gains [R, R, R, R, R, R].
And it's quite similar for the two other ones as well [R, R, R, R, R, R, R, R].
So, while all in all the Probiotic All Flora of New Chapter might not be the most mesmerizing thing, it's quite decent enough. At least that's as far as the beneficial part goes.
It Doesn't Go Wrong With The Additives Either, At Least No More
Luckily, it doesn't step away from the path of a good choice. Many do. With many of Digestive Advantage Probiotics, it was the Corn Syrup. With two Nature Made Digestive Probiotics, it was the hidden sugar known as Maltodextrin. With TruNature Digestive Probiotic, it was the Titanium Dioxide, and with Nature's Bounty Probiotic, the likely GMO Soy contents.
Yeah, the additives department definitely hasn't been kind to quite a few. Whereas as for the New Chapter Probiotic All-Flora, it used to be considerably worse. But now, I believe it's very viable.
You see, it used to have Maltodextrin which is not exactly a good ingredient. But they've changed that. And I'm glad they have. Because now, with Hypromellose, Ferment Media (Organic Saccharomyces cerevisiae, Organic Gum Acacia, Organic Soy Flour, Organic Molasses, Lactic Acid Bacteria, Bromelain, Papain), Glyceryl Distearate, Silica, Microcrystalline Cellulose, Rice Extract, and Sunflower Oil, we're left without the potentially hazardous ones.
Namely, there are no worries here, the way I see it. Just potential gains.
In fact, there may be some added slight benefits from the additives of this one as well.
Definitely Did Not Expect So Few Reviews But Well-Received, Indeed
There are typically two perspectives at which we can look at when it comes to customer reviews. First, it's all about what the manufacturer is kind of saying the feedback is. Second, there's every other retailer out there that in some shape or form offers people to leave customer reviews. Of the two, the latter typically gives a more accurate result.
So, that being said, there's nothing really to discuss if we're looking at it from the manufacturer's view. At this time, there is only one review there. Which is obviously a 5-star rating. But there's one other thing.
As far as I can tell, this New Chapter Probiotic has been around for quite a while. Yet, just one opinion there. Seems odd. But what can we do?
Either way, just one comment is definitely not enough to get to global success rates. So, it's kind of inevitable that we have to do some comprehensive research on what there is to find by all other sellers and retailers. And, hence, I did. But not much I managed to scramble together.
Out of the total of just 91 New Chapter Probiotic All-Flora reviews, I found only four negative ones (1-star, 2-star) and, thus, at least 87 happy people (3-star, 4-star, 5-star). Which leaves us at a pretty staggering global success rate of 95.6%.
Needless to say, that's an absolutely amazing level of acceptance. So, is it a really great buy?
It's A Great Buy But Also A Rather Pricey One, Shortlist It
Granted, I do not quite agree with the marketing side of things when it comes to the Probiotic All-Flora of New Chapter. I don't think it's okay to claim that the capsules have within them postbiotics when really it's rather something our bodies create. Also, not quite a fan of the fact that it contains only three different strains.
That being said, I do believe that overall the supplement of this review is quite a great one. Quite awesome CFU amounts per capsule, great additives, cool third-party certifications, and the likely manufacturing quality. Also, the global success rate is just monstrous. But it does come at a pretty steep cost. Which is probably its biggest downside.
So, given the plusses and minuses, I believe the New Chapter Probiotics is a supplement shortlist. It's great but not quite enough ideal to just go right ahead buy it. At least that's the way I see it. If you are, however, interested in what I believe is something truly worth buying, check out this review.
Other than that, I hope this New Chapter Probiotic All-Flora review helped you find the information you were looking for. What do you think the most desirable aspect of this one is? Do you agree with the promotional materials? Let me know below.