In this New Chapter Perfect Prenatal review, we will explore what this supplement for pregnant women has to offer. Is it safe? Is it potent? We'll discuss all of that.
In fact, we will start this article with a brief look at the promotional materials and what they imply about the thing. We will continue that with a full explore of what the active or beneficial ingredients are and how good they are. That we will then transition into discussing additives and what's there to be careful about. Lastly, it will be customer reviews and global success rates.
New Chapter Perfect Prenatal Review – Initial Thoughts & Overview
According to the manufacturer, New Chapter Perfect Prenatal "is designed so your body can absorb the nutrients, with finely tuned levels of each vitamin and mineral, and fermented with probiotics." Per their words, "it's good for you, good for your baby, and gentle even on an empty stomach." As they put it, "our award-winning Perfect Prenatal vitamin delivers essential nutrients to support mom's wellness and baby's healthy development" [R].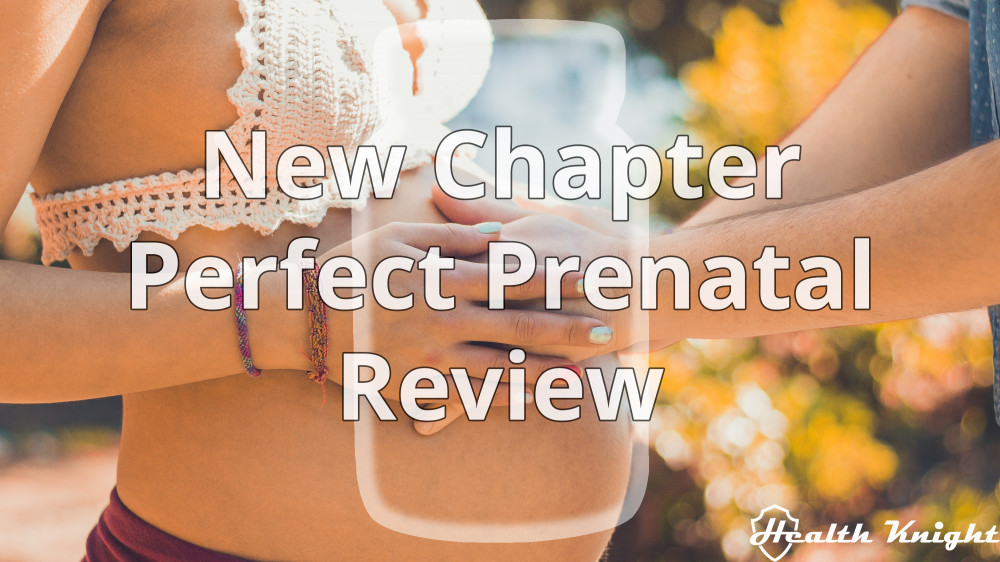 So, a lot of bold claims essentially emphasizing the idea that this is a really great prenatal multivitamin we should all embrace.
There is a few marketing tactics they use (like the subscribe and save, like the 60-day money-back guarantee, etc.) but overall it's very New Chapter. Well-designed, collected poised description page done without overwhelming potential customers with text or just information in general [R, R, R, R].
The Perfect Prenatal of New Chapter also brings quite a bit of certifications. There is the Non-GMO Project Verified certification, the ICS Organic ingredients certification, NSF Gluten-Free, Kosher Certified, and it's also considered vegetarian. So, pretty solid. And on top of all that, the product have actually won an award [R]
And above all, it promises to "support mom's wellness and your baby's healthy development." As they argue it, it will help foster the baby's brain and spinal cord development, ease morning sickness, promote oxygen transport for the baby, and, of course, help with natural energy production, as well as just overall superfood-added wellness [R].
But can this "first prenatal vitamin to be made with certified organic vegetables and herbs" actually deliver on that [R]?
I'm Not Fond Of This Fermented Media Thing, Feels Unnecessarily Hyped
"To some extent" is something that probably characterizes it best. There is a lot that we get of that falls within the 100% or reasonably above Daily Value but there are also some stuff that we don't get at all.
In of itself, this prenatal multivitamin of New Chapter advocates the 100% Daily Value approach as far as the nutrient amounts go (or as I like to call it, the conventional approach). But I'm not a huge fan of the type of nutrient forms it uses.
I mean, it may seem natural and all, very close to doing it as naturally as possible, with deriving all of those beneficial vitamins and minerals from Fermented Media. However, it reminds me of a very poor-to-average multivitamin. Almost like Amway Nutrilite Double X or Centrum Women.
To illustrate, Magnesium Oxide, Zinc Oxide, Selenium Dioxide, Copper Sulfate Anhydrous, Manganese Chloride, Chromium Chloride, Sodium Molybdate, Ferrous Fumarate are all ranging from weak to very weak, hard to absorb nutrient forms for each of the respective minerals. They're something that we won't really get much benefit out of [R, R, R, R, R, R, R, R, R, R, R, R, R, R, R, R, R, R, R, R, R, R].
And when it comes to vitamins, it's nothing mesmerizing either. Vitamin B9 (Folate) in the form of Methylfolate is pretty much the only expection that's not rather characteristic of any poor-to-average supplement (and even that they're diluting with Folic Acid). Also, it doesn't add any preformed vitamin A (retinol) which can be so incredibly necessary during pregnancy (luckily, that's an easy fix though) [R, R, R, R, R, R, R].
Thus, as far as the raw state that the core nutrients are in, this Perfect Prenatal is definitely not looking too hot.
Beneficial Substances Seem To Be A Different Story Though, Slightly
It's really hard to typically go wrong with the beneficial substances. Basically, that's because there is a lot that can be added that can really turn the tide of an average supplement and make it viable. However, it's a much more trickier department when it comes to prenatal mutlvitamins. Mainly because otherwise beneficial stuff can become the opposite in this extremely important phase of life for both the mother and the baby.
As far as that goes, I believe New Chapter Perfect Prenatal is pretty safe with its Prenatal Herbal Blend, Breast Support Blend, Ginger, and even the small amounts of Organic Turmeric.
When it comes to the potential gains, I'm not really sure what the Prenatal Herbal Blend is aiming at. It seems to have a variety of different things there, all not necessarily completely aligned with the others. It will probably provide plenty of antioxidant power coupled with digestive, brain, immune health gains, as well as help lower cholesterol and blood sugar levels. Also, many of them are quite nutritous in of themselves [R, R, R, R, R, R, R, R, R, R, R, R, R, R, R, R, R, R, R, R, R, R, R, R, R, R]
The Breast Support Blend is kind of straight forward with its name. However, I'm not really sure either how the vegetables it couples together relate to breast support, specifically. Maybe somewhat remotely they do. But, generally speaking, they are just some of the most nutritous and healthiest vegetables there is. So, be is breast support or not, any amounts of these can help be healthier [R, R, R, R, R, R, R, R, R, R, R, R].
Whereas Ginger will probably be good for what they claim. So, it's for helping with morning sickness, as well as helping with digestive, joint, muscle, heart, brain health, blood sugar levels, and cancer prevention among other things [R, R, R, R, R, R].
Lastly, I don't think Turmeric will be good for anything in this one. It's just far too scarce as far as Curcuminoids (the main beneficial contents, typically 2-5% of raw herb) and just in general. It feels to be more for the looks of it. So, they could brag about having it in there. But it won't really amount for anything as far as realistic health gains [R, R, R, R, R, R, R, R].
So, yes, the added beneficial stuff in the New Chapter's Perfect Prenatal will be beneficial. But I see a lot of space for improvement. Thus, I wouldn't consider it anything truly great (or even something truly making up for the shortcomings of the vitamins and minerals).
More of everything would be so much better.
Additives Are Many But Almost All Are Geared Towards Extra Gains
Additives typically are the trickiest part about any supplement. They are the glue that help keep all of the beneficial stuff together. But in that, they are not always the most healthiest or even just harmless. It really depends on the substances used. For example, Amway Nutrilite Double X is a nightmare, whereas something like the Dr. Mercola Multivitamin is very thoughtful in its choices.
So, what about this New Chapter Perfect Prenatal thing?
It's quite a long and, I imagine, confusing list for many. But despite all that, I believe that there are no real dangers here.
In fact, I feel there's nothing else here but extra potential slight benefits.
Or to illustrate, there's a whole probiotic blend of 10 different probiotic strains that will help improve digestive health and help absorb more nutrients. Then there's also Papain and Bromelain that will contribute to that same notion. And there's also othere beneficial ingredients there like Carrow powder, Orange Peel powder, Alfalfa powder, Gum Acacia, Carnauba Wax, Lac Resin, as well as typically harmless stuff like Silica and Magnesium Stearate [R, R, R, R, R, R, R, R].
Hence, overall, I feel this New Chapter's prenatal multivitamin has done a very good job here.
There Are So Many Customer Reviews Driven By Ignorance Here
If we forget about the theoretical aspects of all the ingredients, there's also the aspect of customer reviews and how well the product is actually working when it comes to helping people. And through that lense, it's a pretty great one.
Much like Smarty Pants Prenatal, also the New Chapter Perfect Prenatal holds a customer review section on its product page. The huge difference though, it doesn't have as many. Only 15 pieces of feedback there. Which, needless to say, are not exactly enough to get a good sense of the actual success rates.
So, as I typically do, I did some researching. And I managed to come across quite many – both good and bad.
In total I found 2444 New Chapter Perfect Prenatal reviews. Of these, 2205 were positive (3-star, 4-star, 5-star) and 239 were negative (1-star, 2-star). Which leaves us at the global success rate of 90.2%. Which is likely higher due to people typically being far more driven to report negative experiences than positive ones.
But overall, it's definitely a really good success rate for a multivitamin.
But as it typically is, while there are a lot of people that swear by it, there are also those that condemn it. What were the most common complaints? Well, it's a variety of different stuff.
Some reported allergic reactions including nausea and bloating. Others lamented the packaging as the container was either broken or tablets had become humid. But the biggest negative emphasis was on the product containing bad, cheap, or synthetic ingredients. Most of which, by the way, are actually not true.
For example, one woman was furious because the New Chapter Perfect Prenatal contains the synthetic form of vitamin B12. Which is actually not true. Cyanocobalamin is also found in natural food sources like fish and eggs, and can also be created through Ferment Media. Which is exactly the case with this product.
Then there was this other person, who supposedly had taken these to her doctor and advised to stop taking them. The reason was because it contains too much vitamin A. But nothing can be further from the truth. The supplement doesn't actually contain any vitamin A, it's all Beta-Carotene there. And there's a huge, huge difference between the two. For Beta-Carotene, it's impossible to be harmful at those amounts (1300 micrograms).
And there are a lot of other 1- and 2-star ratings based on pure customer ignorance and negligence. So much so that I wouldn't be surprised if we were to exclude those from our global success rate estimations, it would go easily crack the 95% success rate mark.
I Feel Probably A Supplement Worth Shortlisting
To sum it all up, generally speaking, there's nothing inherently bad about the New Chapter Perfect Prenatal. There's a lot to love actually.
It basically draws its nutrients from natural sources. Which means the natural co-nutrients and co-factors are also involved. The nutrient amounts typically conform to the 100% Daily Values. It brings some extra blends and gains-oriented substances. The manufacturing quality also, generally, feels decent. It has got some third-party certifications. And it has even a reward under its belt.
That being said, I don't think it's all ideal either.
The often rather weak nutrient forms, no matter how natural, are nothing to boast about. And the dedication to quality manufacturing can always be higher or, in other words, they could also embrace third-party testing (which as of the moment, they don't).
But overall, I believe this is a product to shortlist. Not quite good enough (or rather perfect enough) to go just right ahead and buy but definitely decent-looking all in all.
Above all, I hope this New Chapter Perfect Prenatal review helped you find the information you were looking for. What do you think of the supplement? Would you bet your money on it? Let me know below.