|  Marketing  |  Ingredients  |  Additives  |  Reviews  |  Pricing  |  Overall  |
This Nature Made Acidophilus Probiotics review will be 100% devoted to this particular Probiotic supplement of the Nature Made lineup.
Our goal with this is to assess and discuss ingredients and additives. I also plan to research and look into customer reviews. And then, we'll also compare and get a good idea of what the pricing is like. But we'll start with marketing.
This Nature Made Acidophilus Probiotics Review To Secret It Out
According to the manufacturer, the Nature Made Acidophilus Probiotics is a supplement "formulated to provide 1 billion live cells per serving and support digestive balance." The way they put it, that's "because we think your gut health deserves a daily gut check." So, very straightforward and simple [R].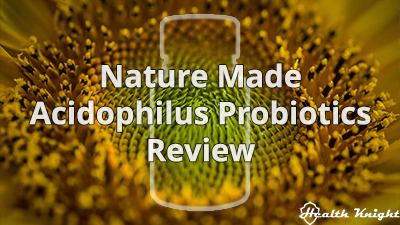 I have to say, I like what they have done with their product pages. Now, it just feels better structured and more readable. Which is always good.
I like that they don't over force it on marketing either. There are no money-back guarantees like with the BioTrust PRO-X10 Probiotic (review). There are no discounts if we buy more than one like with the 1MD Complete Probiotics Platinum (review).
All that they have is a customer review section which they didn't have before. Hence, I don't think there are many reviews on Nature Made's website yet. Whereas for their Acidophilus Probiotics, there is none at the moment. So, I wouldn't count it as marketing for now.
As for the benefits, it limits itself to the idea of a healthy digestive system and doing it by creating a bit more acidic environment in the intestinal tract. Other than that, there are no other health promises, just the quality and manufacturing-related ones.
As for any free-of claims, the Nature Made Acidophilus Probiotics promises to be without added Colors, Artificial Flavors, Gluten, and Preservatives.
So, I think it's fair to say that as a product page, it is a pretty laid-back one and they don't try to appeal to our cognitive biases. The real question is whether or not the supplement is actually worth getting.
I Would Say That Core Ingredients Choices Are Great
So, it doesn't look too promising when it comes to the core ingredients. I mean, it sure got Probiotics in there, and that Acidophilus as well. The problem is that it doesn't really add anything else to the table. And it doesn't do it abundantly enough either with what it does have.

So, per serving (two tablets), the supplement of this review offers 1 Billion CFU of the Lactobacillus acidophilus.
The way I see it, that's scarce for a number of reasons.
First, anything typically worthwhile offers at least a couple of different strains. The sweet spot is arguably the notion of having at least 10 different ones [R, R, R, R].
Second, the amounts of this are just miserable. I mean, just look at something like the Natren Healthy Trinity (review) or Health Balance Complete Probiotic (review). The former offers 5 Billion CFU and the latter 4.2 Billion of the Lactobacillus acidophilus. Plus, for both, that strain is accompanied by other ones.
So, they're both really abundant, unlike the Nature Made Acidophilus Probiotic. Either way, we should prefer the amounts of 20-40 Billion CFU according to the best practices. So, it's what it should have gone with. Furthermore, that's what is far more likely to create the full range of benefits. The way I see it, one Billion CFU is just not enough for that [R, R, R, R, R, R, R, R, R, R, R, R, R, R, R, R, R].
Third, there are no Prebiotics in this to improve all of the effects of the Probiotic. I mean, yes, how this Nature Made's Probiotic does it is a way to do it. It's not a great way though [R, R, R, R, R, R, R, R, R, R, R, R].
Another thing is the quality. By no means, I would recognize Nature Made as likely a low-quality brand. Quite to the contrary. They typically push for the third-party USP certification. Which is not the case for this, however. And it's not like USP doesn't verify Lactobacillus Acidophilus as we can see with TruNature Advanced Digestive Probiotic (review) which is USP verified [R].
Hence, so far, I'm not really a fan. The supplement of this review doesn't feel to have the juice to really help digestive health. Potential unfulfilled, the way I see it.
To Review Additives, There Are Three Quite Suboptimal Ones
And neither are the additives great. Yes, it promises to be without added Colors, Artificial Flavors, Preservatives, and even Gluten. But there are plenty of other potentially harmful choices out there. I mean, just look at something like the Dr. Ohhira Probiotics (review). It's got Carrageenan and Calcium Carbonate which can potentially be plenty of harmful, too (although those are definitely not the worst out there) [R, R, R, R].
So, how is it with the Acidophilus Probiotic of Nature Made?
As I said, not great. It uses Dibasic Calcium Phosphate, Maltodextrin, Calcium Carbonate, Corn Starch, Silicon Dioxide, and Magnesium Stearate.
Arguably the worst of these is Maltodextrin. It's a form of sugar more predatory than regular sugar on blood sugar levels used in plenty of ways in supplements. It's known to cause bloating, diarrhea, breathing difficulties, sudden headaches, and among others just negatively affecting our immune system. Furthermore, it can also be used to cover up other way more harmful additives [R, R, R, R, R, R, R].
The second-place award for bad would go to Corn Starch. It's really counter-intuative for a Probiotic since it can cause some serious digestive issues, as well as mineral deficiencies. Plus, it's likely GMO here since most of Corn Starch is produced that way, and Nature Made doesn't claim Non-GMO. Which is never a good thing [R, R, R, R, R, R, R, R, R].
The third not ideal is the Calcium Carbonate. Yes, it's a natural compound found in stuff like marble, chalk, and limestone. It's also one of the worst forms for getting Calcium in our diets. And, despite being natural, it can also bring about some unpleasant side effects to some people [R, R, R, R].
Whereas Magnesium Stearate is typically listed as a bad one. But it's none of that at all. Tons of research I've done on that. I'm sure. In fact, given our cellular biology, it's probably one of the safest ones out there [R, R, R, R, R].
Overall, they definitely could have done better. I mean, there are plenty of Probiotics, including the GoodBelly Probiotics (review), that showcase quite vividly that harmless additives are possible with Probiotics. Whereas, as far as I can say, Nature Made hasn't really decided to go that road.
Nature Made's Pretty Great Per Customer Reviews But That's The Danger
So, we did touch upon the idea that there aren't really any customer reviews on the product page of Nature Made Acidophilus Probiotic. That is not typically the case for any supplement. Take, for example, the Florastor Probiotic (review) or the Align Probiotic (review). Both got plenty of great reviews to appeal to our cognitive biases and help people decide in favor of it.
Not the case for Nature Made. But granted, the whole customer review section idea is an entirely new concept for them. As mentioned before, in the past, they didn't really have that. So, it should not be regarded as a suspicious thing that they don't have any reviews despite having been around for so long.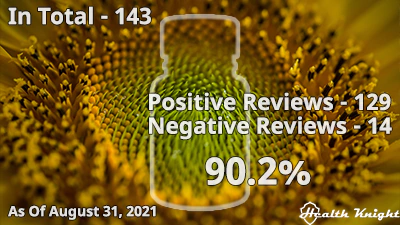 Either way, what we do want to know is how well has it worked for people generally. And there's really no better way to do it than to research all third-party resources for that.
So, in total, I managed to find 143 Nature Made Acidophilus Probiotics reviews. Of these 129 were positive (100 five-star, 18 four-star, 11 three-star) and 14 were negative (11 one-star, 3 two-star). Hence, it's sitting at a global success rate of 90.2%. Which is actually really good.
I mean, it's incredible for what it brings but then, something like the Nature's Bounty Acidophilus Probiotic (review) which offers 10-fold less in CFU amounts has got 93.3%. So, the success rate we should always kind of take with a grain of salt. Because it can be very deceptive. Plus, there are plenty of ways to influence it.
But I guess that's a story for another way. What we would here like to know about the Nature Made Acidophilus Probiotics reviews is what did the bad ones say? Because, sure, there were swearing by it. But what about those that didn't?
Well, there were a couple of reasons. For some, it was the problem of a broken bottle. For others, it was the issue of broken tablets. For some, it caused digestive issues, hence, the opposite of what it should be doing. Others said that Amazon sells fake ones. Whereas for others more, they didn't get 60 tablets; they only got 30 in their container.
For A Probiotic Supplement, It's Actually Retardedly Expensive
Now, another aspect I love to look at is pricing. Because even the best of supplements can be overpriced which makes them a lot less appealing. To that end, I didn't see anyone complaining about the price by those Nature Made Acidophilus Probiotic reviews. Still, would this mean that it's a bargain?
So, per container (60 tablets), it typically costs $8.24. That's 0.14 cents per tablet or about $0.27 per serving. And that's equal to $2.75 for every 10 Billion CFU. And that's a lot of money.
I mean, something like the Dr. Mercola Probiotics (review) costs 17.5 cents per every 10 Billion CFU. But the difference in additives, Probiotic strains, and amounts per capsule are mesmerizing. I would also say that Dr. Mercola is no less quality, in fact, it's likely more since it also offers Non-GMO.
But the Dr. Mercola is not the only option real affordable. I mean, just pick the GutPro Probiotic (review). Yes, it typically costs almost 100 bucks per container, yet there's plenty of it there. And it ends up working at 33.3 cents for every 10 Billion CFU. And it's actually got no additives and plenty of various strains.
But then, have something like the Live Conscious Pro-45 (review) go at it, and it completely knocks the Nature Made Acidophilus out of the park. Not only does it have more strains, a patented strain, patented Prebiotics, great additives, but also it costs just a bit more than the Mercola option (typically 19.4 cents per every 10 Billion CFU).
So, I'd say that on average the supplement of this review is about 10 times more expensive than the great and at least decent other options out there.
This Acidophilus Of Nature Made I'm Not Fond Of At All, Avoid It
Yeah, I wouldn't say that Nature Made is a bad brand. I don't think that. But as far as their Acidophilus Probiotic goes, I'm no fan. I mean, if I was to design it, I would have done plenty of things differently.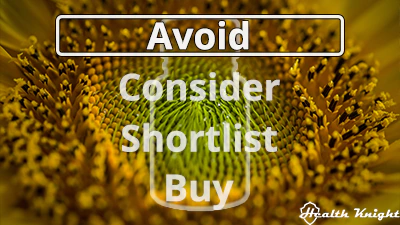 I would make sure it loses that Maltodextrin and Corn Starch. I would make sure that it uses only harmless additives. I would also add other Probiotic strains or at least specialize it in the Lactobacillus Acidophilus department by adding more of it per tablet. Or if not possible, switch to capsules. And I would third-party test it.
I would also make sure that it costs less per every 10 Billion CFU because where it is now, it is just ridiculous. And then, I bet the customer reviews would kind of take care of themselves.
So, with all these shortcomings and flaws, (out of avoid it, consider it, shortlist it, buy it) I would not even consider it. I believe it is a supplement to avoid. It should really pick up its game.
Whereas if you're interested in actually great Probiotic supplement, take a look at the Live Conscious Pro-45 (full review). It's also got the Lactobacillus Acidophilus in amounts of 13.5 Billion CFU along with a bunch of other strains, as well as proper Prebiotics.
Above all, I hope this Nature Made Acidophilus Probiotics review helped you find the information you were looking for. What is your take on it? Would you try it? Did by any chance you've already tried it? I would love to hear from you. Also, feel free to leave your own personal reviews on the product.