|  Marketing  |  Ingredients  |  Side Effects  |  Reviews  |  Pricing  |  Pros & Cons  |  Overall  |
According to the Natren Healthy Trinity Probiotic reviews posted by customers, this is a great product.
Many stated that this is the best Probiotic product they have ever taken. To that end, for truly many, the product has helped to make digestive issues a thing of the past. Others simply note that they are very pleased with the results.
This Natren Healthy Trinity Probiotic review will be fully focused on finding what this supplement is truly about.
Hence, the idea is to be no extension of the manufacturer's marketing or other similar nonsense. This is all going to be about what I feel is the truth, the whole truth, and nothing but the truth. And we'll do that in assessing for marketing, ingredients, side effects (additives), customer feedback, and pricing. We'll do it the truth-seeking way.
Marketing | This Natren Probiotic Doesn't Go Easy On Marketing
According to the manufacturer, Natren Healthy Trinity Probiotic is an amazing three-in-one probiotic product. They say this to be their most potent and popular supplement. Furthermore, each capsule is said to carry minimum of 30 billion CFU of super strains of beneficial bacteria. So, definitely promising right off the bat.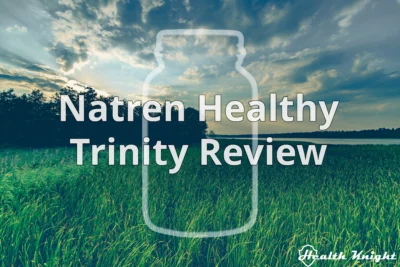 As for the product page, it feels quite brief. Which is rather refreshing after such supplements as the Bowtrol Probiotics (review) and the Dr. Ohhira Probiotics (review). That said, I wouldn't say that this Natren thing goes easy on the marketing.
The thing that springs out immediately is the subscribe-and-save deal. To that end, it's considerably more potent than many other Probiotics out there due to offering 20% off the price with the deal.
The supplement basically also offers free shipping, a money-back guarantee, and there are both testimonials and a section for Natren Healthy Trinity reviews.
As far as promised benefits, it's much like the Healthy Origins Probiotic (review). Meaning, it's one of those products that is not in our face at all.
It's mostly just ramming about this notion of beneficial bacteria. The biggest thing to an actual benefit that they mention is this idea of the supplement being devoted to complete GI (namely, gastrointestinal) health. Additionally, they make it about our digestive system working its best. But that's kind of it.
Other than that, the Natren Healthy Trinity Probiotic is said to be Non-GMO, Gluten-Free, Soy-Free, FOS-Free, and Dairy-Free. But then, it also costs $69.95 per month's supply. So, is it genuinely worth it?
Ingredients | Frankly, I Don't Really Enjoy The Idea Of Super Strains
Well, that's a tricky question to answer just by the beneficial ingredients in this case. If we disregard the price completely, it does look pretty okay but I'm not a fan. I mean, from the bright side, I feel there are a few neat, rather unique things about it. But, realistically, it doesn't look that great.
So, per serving (one capsule), the Natren Healthy Trinity offers 5 billion CFU of Lactobacillus acidophilus, 20 billion CFU of Bifidobacterium bifidum, and 5 billion CFU of Lactobacillus bulgaricus. Here's to elaborate on all that.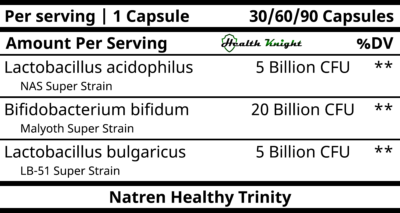 First, the potency they promise to be the case until the date of expiry. So, given that the good bacteria typically diminish over time, we're, realistically, looking at at least 30 Billion CFU. Which is a good thing. But I'm not huge on something entirely else with this.
They refer to all of these three strains as super strains. And while that is fine in of itself, I don't like the vibe that the idea gives. I mean, to me, a super strain sounds like something really awesome, something others don't do, something really, really valuable (even more so because with other Probiotic supplements we won't typically find that expression).
And so, unintentionally (or intentionally as hell and it's just marketing), we're kind of led into believing that these strains are better than what other supplements typically offer. But, frankly, all three of them are extremely common with great Probiotics. Like extremely common. Especially those that offer at least 10 strains like the Gives Health Wholesome Probiotics (review) or the Purely Optimal Probiotics (review) [R, R, R, R, R].
So, the Natren Healthy Trinity with just these three strains isn't particularly unique. But then, again, it kind specializes in offering these three and is doing so to ensure potent amounts that also correspond well with the best practices. Still, for the price, with just three of them, it feels like a straight-up rip-off to me personally [R, R, R, R, R].
And that's despite the added layer of the thing also being third-party tested and them using some kind of patented cutting-edge probiotic science in the form of an oil-matrix system to supposedly improve the efficiency of the whole thing (the latter of these is basically just a validated protection mechanism to make sure those probiotics survive stomach acid) [R, R].
The fact that the supplement of this review doesn't offer any Prebiotics I also see as a flaw. Because Prebiotics can properly augment the gains from Probiotics and only further improve our gut health [R, R, R, R, R, R, R, R, R, R, R, R, R, R].
Side Effects | To Review Additives, They're Decent But Not Ideal
Side effects are typically the product of additives. And as it naturally is, that oil-matrix system asks for a rather unconventional set of additives when it comes to the given Probiotic supplement. To illustrate, we don't ever find a set of these by such classic supplements as the Nutrition Now PB8 Probiotic (review) and Phillips' Colon Health (review). Still, luckily, the additives in Natren Healthy Trinity are not bad. Mostly [R, R, R, R, R, R, R].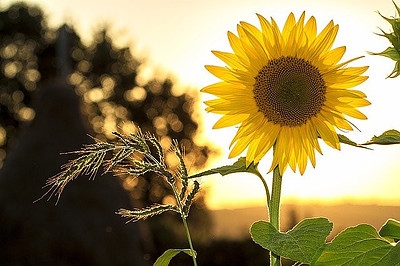 So, what are they?
The Natren thing uses Sunflower Oil, Gelatin, and Mixed Tocopherols.
Gelatin is basically Collagen. Both are essentially very helpful substances to consume. The only real drawback of it can come in the form of bad breath or a bad taste in the mouth. Other than that, even vegans should eat that stuff. It's that healthy [R, R, R, R, R, R, R].
Whereas Mixed Tocopherols are basically different shapes and sizes of vitamin E. Another extremely beneficial thing and an ideal choice for additives [R, R, R].
What I'm not so fond of is the Sunflower Oil.
Yes, there are some positive characteristics that it can bring to the table. You know, it can be helpful. But, generally speaking, it's one of the cheapest and more revenue-oriented solutions when it comes to picking an oil, at least the way I see it. Olive oil, flaxseed oil, avocado oil are just some of the very many quality choices that they could replace it with [R, R, R, R, R, R].
Either way, Sunflower Oil is definitely something I wouldn't perceive as a quality choice. And, the way I see it, this kind of just illustrates that despite the price, they kind of succumb to cost-saving over pure quality in certain aspects.
Reviews | The Supplement Gets Enough Of Not Great Customer Reviews
With Natren Healthy Trinity Probiotic, it's what we commonly find with supplements. Absolutely biased customer feedback within its review section. You know, 301 Natren Healthy Trinity Probiotic reviews, all of which are basically positive (3-star or higher). Which would mean a 100% global success rate.
But is that the accurate feedback? Is that the truth?
Hunting for every single customer comment by all third-party sellers and retailers painted a picture that I do not believe is great. I mean, for the price, the global success rate is decently miserable, the way I see it.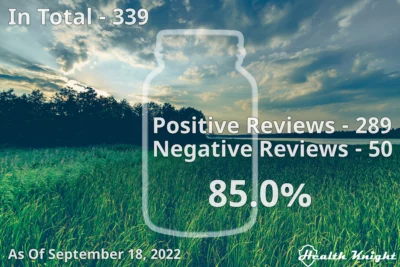 So, out of the total of 339 Natren Healthy Trinity reviews that I managed to find, 235 were five-star, 32 were four-star, 22 were three-star, 14 I found to be two-star, and 36 of them were one-star. Or a positive-negative ratio of 289 vs 50.
Which, you know, isn't great. Namely, that's only about 85.0% global success rate. Granted, it is likely higher than that due people typically reporting negative experiences far more often but it's still not very good. Not for that price.
On that note, the most common complaint category was the one related to shipping and packaging. Meaning, when it was promised to be sent with ice packs to preserve the live cultures, it often wasn't. And people did not exactly appreciate it.
Then, of course, there were those that swore by this being the best one out there (but we get those people with every product). And then, of course, there were also those who felt ripped off because, despite the price tag, the supplement did not do anything for them.
Personally, as you can probably already tell, I would have expected a much higher success rate. That said, objectively, it probably would have been significantly higher if people were given what they were promised. Or in other words, if there were those promised ice packs with every shipment of the Healthy Trinity.
But I guess we should not hold that against the manufacturer. Because this second-hand type of shipping wasn't their doing. It was that of the other resellers and on orders on platforms like Amazon.
So, it's kind of a shame. But I feel it's another one of those reasons why one should always get any supplement from the manufacturer, directly (at least whenever that is possible).
Pricing | An Incredibly Expensive Way Of Probiotics & A Crazy Price Tag
I feel I've mentioned price quite a bit throughout this review. But I truly believe it's something that kind of defines this one. Because all that the Healthy Trinity of Natren offers is fine, decent, perfectly acceptable if it was for less money. But it isn't. I mean, unless you managed to snag it off some crazy promotion or discount, I feel it's difficult to find it cheaper than what the manufacturer offers.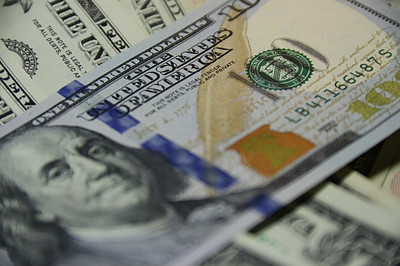 So, a container of the supplement of this review is 30 capsules. Each of those capsules is at least 30 billion CFU which typically comes for $69.95. There's the option to get it with 20% off if we subscribe to regular shipments. But other than that, it's $2.33 per capsule or 77.7 cents for every 10 billion CFU.
Which is, to tell truth, a ton of money.
Hence, very little value for the price.
To illustrate, something like the 1MD Complete Probiotics Platinum (review) comes for about 26.8 cents per 10 billion CFU. So, it's basically less than 35% of what the Natren Healthy Trinity costs.
Granted, 1MD doesn't offer third-party testing. But it has better additives, far higher strain diversity, and in-house testing will suffice.
Another example would be the Renew Life Ultimate Flora Adult 50+ Probiotic (review). This costs typically 27.2 cents for every 10 billion CFU. Which is another ridiculous difference as far as price. And there are many more examples like this even when the rivals also offer third-party testing and delayed-release capsules.
I mean, clearly, the supplement of this review might be okay in terms of ingredients. But it's sure as hell pricey.
Pros & Cons | Healthy Trinity's Biggest Flaw Is Arguably Pricing
Pros
Cons
✓ The Probiotic is Non-GMO, Gluten-Free, and Dairy-Free.

✘

The pricing is just too much. It's hellishly much.
✓ The supplement offers a potent total amount of Probiotics for a full range of benefits.

✘

I don't think that the additives are ideal or always the quality choices.
✓ The Natren Healthy Trinity is third-party tested for purity, potency, and safety.

✘

This Natren product doesn't offer any Prebiotics to augment the effects of Probiotics.
✓ The actual success rates are likely higher than they appear to be.
✓ The supplement uses a patented form of encapsulation (delayed-release capsules), so that the Probiotics wouldn't die off while traveling through the stomach acid.
Overall | Generally Speaking, I Feel We Kind Of Have To Still Consider It
Personally, I'm definitely not a fan of the Natren Healthy Trinity Probiotic. That being said, I believe (out of avoid it, consider it, shortlist it, buy it) it's still something that we should at least consider.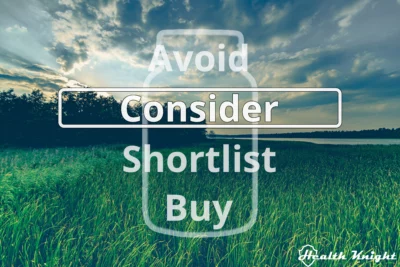 I mean, it's hard to deny. The beneficial ingredients are pretty awesome. The oil-matrix technology also sounds neat. Plus, the additives in of themselves are not the worst.
Then, the success rates may seem not that high. But if they were to correctly package it (which is the most frequent complaint), I think they would probably be at 90% and above. Plus, the third-party testing to ensure quality is awesome.
Or, in other words, it's really great if we're considering just the sheer characteristics of the thing.
But if we look at the price, it just doesn't feel worth it. I feel there are quite a few options that easily rival Natren Healthy Trinity's quality without even coming even close to that price tag. Personally, the Live Conscious Pro-45 (full review) is one of my favorite examples of that.
Above all, I hope this Natren Healthy Trinity Probiotic review helped you find the information you were looking for. If you have any thoughts or questions, I'm all here for you. And do feel free to leave your own personal reviews on the product as well.