|  Marketing  |  Ingredients  |  Additives  |  Reviews  |  Pricing  |  Overall  |
I aim this 1MD Complete Probiotics Platinum review to be the most thorough look at the supplement and all that it brings to the table of all the reviews out there.
Thus, throughout this one, we will be looking at and analyzing the promotional materials. Then, we'll turn our sights to exploring the active ingredients (all the probiotic strains) and all that they have to offer. Which we'll then transition into researching the additives and all of how do those fit into the picture. Lastly, it will be about customer reviews which we'll top off with the global success rates. And we'll also discuss pricing.
This 1MD Complete Probiotics Platinum Review To Uncover Its Secrets
According to the manufacturer, 1MD Complete Probiotics Platinum is a "doctor formulated for broad-spectrum digestive health." Per their words, it "helps encourage the digestive tract's normal microbial balance, promoting gut and immune system health." They also state that  "each vegetarian capsule is specially made to resist stomach acid and ensure safe delivery to the intestinal tract" and adds Prebiotics to "optimize effectiveness." So, there's an unquestionable emphasis on the digestive system's health and making the sure that everything works well and nothing is wasted due to stomach acid. Promising [R].
And so, on that whole idea, they promise quite a few benefits that we're to encounter.
Gastrointestinal lining support, nutrient digestion, and absorption enhancement, helping alleviate diarrhea, gas, bloating, and indigestion, helping to prevent toxins from escaping the gut and entering the bloodstream, as well as helping regulate bowel movements.
And then, there's this overarching idea of helping us bring back to feeling good. Meaning, the 1MD supplement is created to help us feel great and perpetuate the notion of true well-being, as well as making it last.
As for the product page itself, it's very readable, well-structured, resourceful yet still does not feel overwhelming in any way. To that end, it does remind me of supplements like the Align Probiotic (review) or Natren Healthy Trinity Probiotic (review). Plus, the full ingredient list is also very easy to access unlike what we've encountered with something like the Phillips' Colon Health (review).
So, overall, definitely a very well-thought-out page.
As for marketing, there are quite a few persuasion tools they use. The first and obvious one is, of course, this notion of "buy more right off the bat, get a better deal." Then there's also the "subscribe and save" option. We also find free shipping with all subscription options and all "buy more than one" options. Plus, the 90-day money-back guarantee, overwhelmingly positive customer reviews, and even a kind of a testimonial from Dr. David Kahama, MD, to help people really decide in favor of the 1MD Complete Probiotics Platinum.
But is it really what we should be deciding in favor of when looking at it objectively? And should we decide that irrelevant of all the promises and it being also Dairy-Free, Non-GMO, Soy-Free, Gluten-Free, Wheat-Free, Shellfish-Free, Peanut-Free, Preservative-Free?
Ingredients Used To Be Better, I Don't Like It As Much
When it comes to its ingredients, there is superficially much quality and superficially very little to criticize. That said, I think it has looked better in the past when there was actually the 100 milligrams of patented Prebiotics (Nutraflora) in there. Now, instead we only get some generic Fructo-oligosaccharides. But I am getting ahead of myself.
So, per serving (one capsule), the 1MD Complete Probiotics Platinum offers 51 billion CFU of the Complete Probiotic Blend. It is a blend that consists of an unspecified mix of Lactobacillus acidophilus (L61A), Bifidobacterium lactis (B42L), Bifidobacterium longum (B12L), Bifidobacterium bifidum (B66B), Lactobacillus plantarum (L23P), Lactobacillus bulgaricus (L88B) Lactobacillus casei (L30C), Lactobacillus salivarius (L1OS), Lactospore (Bacillus Coagulans), Lactobacillus gasseri (L22G), and zsxiop[p9651`qLactobacillus rhamnosus (L08R).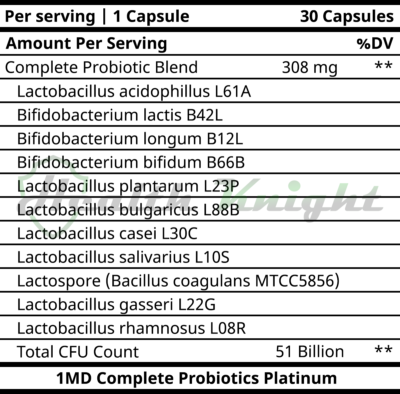 This means a few things.
First, the transparency has been reduced since in the past 1MD was very specific about how much of each strain we get per serving. As of today, that is no longer the case. Second, the composition of the strains have been altered. Third, they don't offer the Nutraflora anymore.
All of which just means that it basically is no longer the same awesome Complete Probiotics Platinum. Moreover, it definitely feels less quality. Which I'm not a fan of.
Other than that, it is still a mix of 11 different Probiotics which is a really great number. And to that end, 51 billion per capsule is another great one. It exceeds what is considered the ideal amount according to the best practices but it does so reasonably. So, it's all good [R, R, R, R].
As for the actual gains, they are to likely deliver on not only all the promises relating to digestive health. With many probiotic strains, as it is here, improving the digestive aspects is often just one of its many, also kind of most expected facets. But the strains in their uniqueness go beyond that. Which is actually one of my most favorite aspects about them [R, R, R, R, R, R, R, R, R, R, R, R, R, R, R, R, R].
Within the supplement of this review, they can even boost the immune system, skin health, and dental health, help fight diabetes and obesity, reduce blood triglycerides, "bad" cholesterol levels, and stomach pain, improve mood, and have a plethora of other potential gains [R, R, R, R, R, R, R, R, R, R, R, R, R, R, R, R, R].
Another thing that I like is that they do in-house testing on their products. Meaning, yes, the better alternative would be for the quality-assurance to be in the form of third-party testing as far as their finished products. However, given the commitment to quality, their philosophy, and how they go about it all, I genuinely don't think it's a hard flaw. It feels to be just something that would make it even better [R, R, R].
So, to sum it up, it's not as ideal in terms of beneficial ingredients as it used to be. But it's still pretty great.
To Review Additives, They've Got The Delayed-Release
There are a lot of different Probiotic supplements out there. And many of them use pretty bad "glue" ingredients (additives). There's the TruNature Advanced Digestive Probiotic (review) filled with likely nano Titanium Dioxide. There are the Schiff Digestive Advantage Probiotics (review) products that are often contaminated with sugar. Or the Nature Made Digestive Probiotics (review) that get added what likely are Artificial Colors.
Well, yeah, it's definitely a pretty big minefield. But what about the 1MD brand and the 1MD Complete Probiotics Platinum, specifically? Is it a similar story?
It's a story not like that at all. Not only does it use just four additives (Vegetable Cellulose, Rice Flour, Fructo-Oligosaccarides, and Silica), but also all of these are to the very least harmless to health [R, R, R, R, R, R, R].
One every important aspect that they ensure is the delayed-release function. Which just means that the probiotics in the capsules do not get exposed and die in part or fully in the stomach acid. But rather the capsule helps them reach intestines safely to be released there. Which is exactly what we would want. And what we get here.
And which is more than what most probiotics focus on and offer. Because most don't care about this absolutely crucial side of things. They're more focused on flashing and persuading their potential buyers with how much probiotics or how many different strains, and even other added ingredients and whatnot they offer per capsule, tablet, spoon, or whatever. And it works great for them. But isn't the most effective, beneficial, and efficient way how to go about it.
Still, there is something I don't like with the 1MD Complete Probiotics Platinum.
As noted earlier, it used to add a patented form of Prebiotics known as Nutraflora. Now, all they do is some generalistic Fructo-Oligosaccarides which they don't even bother to show the amounts of. And so, yes, it's something that can still be very helpful in augmenting the ability and capacity of Probiotics to bring more positives, advantages, gains, and to further support digestive health and immune system's function. It's just not as great as a specified amount of a patented counterpart [R, R, R, R, R, R, R, R, R, R, R, R, R, R, R, R].
Reviews Are Pretty Great For This Complete Probiotic
Now, looking at the 1MD Complete Probiotics Platinum reviews shared by their customers, it's (well, no surprise at all) overwhelmingly positive. At least that's the picture we're getting from the product page.
There we can find a total of 913 reviews with an average rating of 4.9 out of 5. Which, interestingly, is about a hundred less than what was available on the page about a year ago. While I did not go over each one of them this time, with that high of a rating I doubt there is a single 1-star or 2-star review there. I mean, it's fairly obvious that there probably isn't. All that we're likely to see are maybe some 4-star ones. Hence, likely a very warped reality if we trust these alone.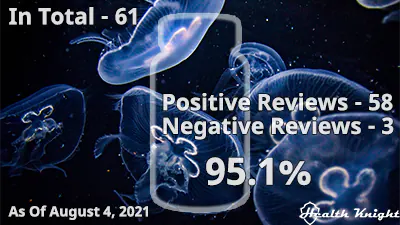 And, yes, that's fine because manufacturers have to sell. But what that feedback isn't good for, it's finding the truth. To that end, it's essentially absolutely useless to us.
And so, I did what I always do. I went and searched for every single real customer review that I could find on the supplement of this review by other sellers and retailers.
I wasn't able to come up with much.
In total, I managed to find only 573 1MD Complete Probiotics Platinum reviews. Of these, many were positive (a total of 474 or 41 thres-star, 48 four-star, 385 five-star reviews) but a whole lot of them were also negative (a total of 99 or 74 one-star, 25 two-star reviews). Hence, only a global success rate of above 82.7%.
So, there are people that absolutely swear by it, recommend it to others, and even call it out as the best Probiotic supplement, as well as praise this as the only one that has helped them despite the many they've tried. But there are also those who are not that happy with it.
On the most part, that was because they just didn't feel any gain. For others, it was the price that was the issue. For others yet, it was about the bad packaging. Which kind of leads me to the most concerning feedback I found among the negative reviews.
While at least one customer compared taking the capsules to a placebo, another one (Amazon customer) took it even further. It was reported that only about half of all capsules had contents within them. The rest were just empty capsules. This yet again brings us back to that puzzling, unsettling, unnerving trend of potentially fakes being sold through Amazon.
It's something that we've potentially come to encounter with supplements like the Bragg Apple Cider Vinegar (review), Vital Proteins Collagen Peptides (review), Code Age Multi Collagen (review), Nutrition Essentials Probiotic (review), and many more. And that's exactly why I do not recommend buying any supplements from Amazon or any other platform that brings together sellers and buyers (here's more on that).
And that brings me back to the global success rate. All of the negative reviews (except three) I gathered from Amazon. But if potential fakes are a thing there, then we should probably exclude all feedback from that platform. Which could then mean that the global success rate for the 1MD Complete Probiotics Platinum is not 82.7%. Instead, we might be looking at something of above 95.1% (which, yes, at this point could be a bit early to tell because the total review count is under a hundred if we leave out Amazon, but still).
1MD's Proclaimed Super-Expensive, Is It That Bad?
If we look at the 1MD Complete Probiotics Platinum reviews, quite many actually called it out for being a super expensive supplement. Which I feel doesn't sound appealing to a potential buyer at all. But is that genuinely the case? Is the 1MD Probiotics really what could potentially be an overpriced product?
Well, typically it will cost $40.99 per every container. That's a container of 30 servings or $1.37 per serving. With the 51 Billion CFU per capsule, that's equal to 26.8 cents for every 10 Billion CFU. So, how does that compare?
Compare it to what is a quite similar supplement like the Now Nutrition PB8 Probiotic (review) and it's actually not that bad at all. The PB8 costs typically 19.3 cents per every 10 Billion CFU. It offers also in-house testing, and it too has harmless additives. The difference is it doesn't add any Prebiotics and neither does it have as high of a number of Probiotic strains.
So, I feel the price increase with the Complete Probiotics Platinum of 1MD is definitely worth it over the PB8.
Then, if we compare the 1MD to something like the Bowtrol Probiotics (review), it's insane. The Bowtrol option costs 66.6 cents per every 10 Billion CFU. Which is more than twice of what 1MD costs.
Yes, Bowtrol has third-party testing over the Probiotics Platinum, however, it provides a fewer number of Probiotic strains. Yes, both use harmless additives. But in terms of customer reviews, the Bowtrol is an absolute mystery whereas that's not 1MD's case. Hence, taken that all into account, I would easily pick the supplement of this review over Bowtrol.
What I wouldn't pick the 1MD over is the Live Conscious Pro-45 (review). Not only it costs about a fourth less but also it brings delayed-release capsules, 11 Probiotic strains, solid additives and CFU amounts per capsule and it's third-party tested, as well as Non-GMO to top it all off. In other words, it's something I would pick every day of the week over the product of this review.
I Used To Love This Platinum, But Now I Would Simply Shortlist
Overall, I'm really disappointed as to why it was necessary to change the 1MD Complete Probiotics Platinum's formula. It's basically like a downgraded version of what the supplement used to be. It makes no sense to me as to why they no longer add the Nutraflora, as well as why they provide less transparency these days. I'm really disappointed. Because I loved it as it was before.
Still, they haven't taken that much away from it to say that it's a miserable supplement now. Not at all. It's quite a capable specimen still.
It's got great pro-bacteria strain diversity, great total amount per capsule, great additives, delayed-release capsules, very good success rates, in-house testing, and despite what people are proclaiming, it actually is pretty okay in terms of pricing.
Hence, (out of avoid it, consider it, shortlist it, buy it) I reckon we can shortlist this one. It's not as good as it used to but it still got plenty of kick. And as for any words of caution, do not get it from Amazon. And save your empty containers for the 90-day money-back guarantee.

Other than that, if you are interested in something arguably even more capable in terms of quality and pricing and something that I prefer myself, check out this review.
Above all, I hope this 1MD Complete Probiotics Platinum review helped you find the information you were looking for. How do you feel about this one? Did you like it? Is the potential for fakes with Amazon something that bothers you? Let me know below. Also, feel free to leave your own personal reviews on the product.