|  Marketing  |  Ingredients  |  Additives  |  Reviews  |  Pricing  |  Overall  |
This Align Probiotic review is all about taking a very comprehensive, in-depth look at the supplement, as well as discuss some of the other Probiotic-oriented options of the brand.
Hence, throughout this, we will be looking at a couple of things. As we typically do, we'll start of with promotional stuff and kind of an overview. Then, we'll analyze the ingredients and additives. Then, we'll research customer reviews and compare prices with other similar products. And, yes, we'll also discuss briefly the other variations of the product (I'll add that section later).
This Align Probiotic Review To Genuinely Get To The Bottom Of Things
According to the manufacturer, the Align Probiotic Supplement 24/7 Digestive Support is "#1 Doctor and Gastroenterologist recommended probiotic." Per their words, it "fortifies your digestive system with healthy bacteria 24/7." So, not exactly our humble Probiotic product. They're quite bold with their statements [R].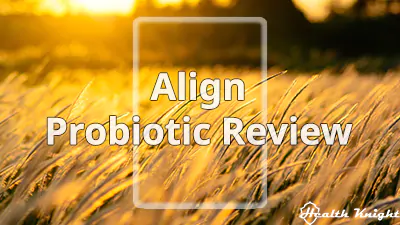 And the product page is quite bold, too. It's rather overflowing positive Align Probiotic customer reviews. Plus, they remind us that it is the winner of the 2010 Gold Edison Award, featured in more than 50 publications, and has been the #1 Probiotic for more than years.
To that end, it appears to be even more effective than the Dr. Ohhira Probiotics (review) and Smidge Sensitive Probiotic (review).
But the marketing of things doesn't stop there. Align also offers a money-back guarantee if we're not happy with it. And it is also said to be inspired by 20 years of research. Whereas the main benefit they're marketing is that of improved digestive health.
Other than that, it's promised to be Gluten-Free, Soy-Free, and Vegetarian. But is it worth the while? And more importantly, is it worth the money?
Personally, I'm Not A Fan Of These Ingredients & Confusing Marketing
While on the basis of marketing the Align Probiotic sounds like the real deal, I'm not so sure about that. I mean, as far as the beneficial ingredients go, I typically see going with at least 10 different strains as the most optimal option. Whereas this is all about providing just one.

So, per serving (one capsule), the supplement of this review offers 4 milligrams of Probiotic strain going by the name of Bifidobacterium longum subsp. longum 35624. Those 4 milligrams are said to be the equivalent of 1 Billion CFU. So, what's so special about this strain?
Bifidobacterium longum subsp. longum 35624 (previously known as Bifidobacterium longum subsp. infantis) is a patented, actually, quite fascinating Probiotic strain studied in numerous studies. Through them, its main undertaking is and has been battling and improving the symptoms of irritable bowel syndrome (IBS) [R, R, R, R, R, R, R, R, R, R].
And so, to that end, I think it's quite a decent bet. However, thinking more in terms of general health and well-being, I still believe that the standard of 10-20 Billion CFU of at least 10 different strains twice daily is probably the more capable option. On that note, by no means, would I fault the Bifidobacterium longum in the Align Probiotic [R, R, R, R, R, R, R, R, R, R, R, R, R, R, R, R, R].
There are, however, a few aspects that left me with question marks in my head.
First, on Align Probiotic's product page, they mention Prebiotics. Hence, some people may be led to believe that this product contains those, too. But that is not the case. It doesn't contain which, at least the way I see, does likely take away from what could be possible even with added tiny amounts of Prebiotics R, R, R, R, R, R, R, R, R, R, R, R, R, R].
Second, nowhere do they claim that the product is Non-GMO. Hence, from my experience, it's very likely that they actually do use GMO ingredients. Which certainly could mean nothing as far as the Probiotic strain goes. But it can mean a whole lot when it comes to the additives of Align Probiotics.
I Really Don't Like Additives In This Align, I Would Avoid These
I would like to think that typically Probiotics supplements do quite well in the additive department. I mean, something like the Renew Life Ultimate Flora Kids Probiotic Gummies (review) and Health Balance Complete Probiotic (review) are the obvious exceptions but the general rule still applies.
And so, the question is how well does the Align Probiotic do it?
One would expect it to be great in this aspect. I mean, after all, it's an award-winning supplement that has been recommended as the #1 by doctors and gastroenterologists for more than a decade. Surely, it chooses awesome additives to work with, right? Not really.
So, for additives, the Align Probiotic contains Microcrystalline Cellulose, Hypromellose, Sucrose, Magnesium Stearate, Sodium Caseinate, Titanium Dioxide, Trisodium Citrate Dihydrate, Propyl Gallate, and Gellan Gum. I have a problem with at least two of them.
Sucrose is just a fancy way of saying sugar. I mean, they might as well just use the simple version. But regardless of how we call it, it's typically something people have already too much of in their diets. And why would we ever add to contribute more to the ill effects of obesity, depression, heart disease, diabetes, stupidity, high blood pressure, eating disorders, cancer, and more through our supplement? We shouldn't [R, R, R, R, R, R].
Whereas Titanium Dioxide used to be an absolutely fine additive to consume. That was until the food industry's revolutionary idea to create nanoparticles of it. Now, it has proven to be unhealthy to consume such particles since our guts are unable to effectively filter them. And that is something that can potentially result in various organ damage. Which, needless to say, is not ideal [R, R, R, R, R, R, R, R].
Reviews Are Congruent With Percentage Recommended to Friends
Throughout the product page of Align Probiotic, they put quite an emphasis on positive customer reviews. That's something that can create the impression that undeniably it's a very good Probiotic supplement. And that's great for marketing. The only trouble is that for truth-seekers these product page customer review sections are often useless due to the fact that manufacturers have full control over them.
To that end, it's not rare at all that these sections likely get adjusted, edited, and otherwise tampered with. Natren Healthy Trinity (review), Phillips' Colon Health Probiotic (review), and many other are likely examples of that.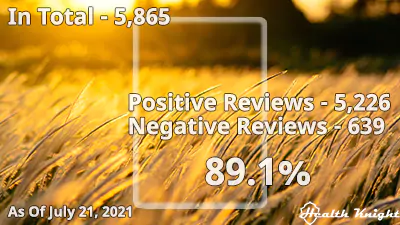 So, I typically take it to all the third-party sellers and retailers for more truth-based ratings. And I did so with the Align Probiotic reviews as well.
In total, I managed to find 5,865 pieces of feedback. Of these, 5,226 Align Probiotics reviews were positive (three-star, four-star, five-star) whereas 639 were negative (one-star, two-star). Which is a success rate congruent with the percentage of people who claim to recommend the supplement of this review to their friends.
Namely, here's a product that has a success rate of 89.1%. Which is likely higher due to the fact that people typically are more prone to reporting negative experiences than positive ones. But still, that is not a high success rate. And it certainly leaves a lot of room for unhappy customers.
So, what were they not satisfied with?
A couple of reasons typically came up within the Align Probiotic reviews. Quite a few people had to deal with the situation where the product arrived absolutely crushed or otherwise destroyed. For others, it was the notion of it causing unpleasant side effects like feeling sick, nauseous, gassy. And for others more, it did nothing.
Whereas a couple of people who've been Align for years reported it's not the same original product that gets sold on Amazon. Per their view, they are either selling fakes, or Amazon is just not storing them properly. Which is something I've found to be the case with quite many other products as well.
Supplement Of This Review Is Generally One Hell Of A Pricey Probiotic
While we didn't come across any Align Probiotic Supplement 24/7 Digestive Support reviews that would complain about the notion of expensive, that's not really a great way to estimate it. Hence, let's look at the pricing aspects of it.
So, there are a lot of different options for container size. Still, it seems that buying more doesn't really improve the price or does so very marginally. Hence, probably not worth it. Typically we would probably get the closest to a month's worth at a time. Hence, the option would be to go with a container of 28 capsules.
It costs typically $27.99. That's essentially $1.00 per serving or $10.00 per every 10 Billion CFU. And that's pricey.
Indeed, that's quite a difference if we compare it to something like the Nutrition Now PB8 Probiotic (review). I mean, sure, it doesn't add that specific patented strain to the mix. But it does add 8 different other ones at a total amount of 14 billion CFU costing 19.3 cents per every 10 billion CFU. Plus, it adds in-house testing.
To that end, I believe PB8 is the better bet. But there are even better bets. For example, the Live Conscious Pro-45 (review).
Yes, this too doesn't add the patented Bifidobacterium longum strain but it does add a patented Bacillus coagulans strain. Plus, it's third-party tested, adds patented Prebiotics, and is a fusion of 11 Probiotic strains. And it costs 19.4 cents per every 10 billion CFU. Hence, it is something that feels so much better than the Align Probiotic.
There Are No Alternatives, We Are Essentially Forced To Consider This
Personally, I find it hard to believe that the Align Probiotic is the #1 doctor-recommended Probiotic for more than 10 years. That just makes no sense to me. I mean, sure, given the general lack of knowledge in nutrition science that doctors typically display (for the record, they don't teach nutrition science in medical school), it may actually be the #1 doctor-recommended thing. But I believe that's a huge overstatement for what the supplement actually is.
Well, yes, there might be something very unique and helpful to certain people about the Bifidobacterium longum subsp. longum 35624 that Align Probiotics use.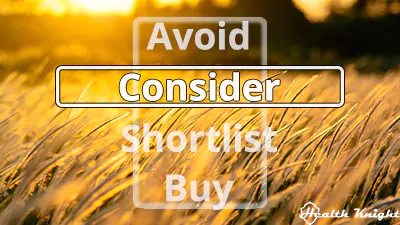 However, even when that is the case, I would go for what I believe are more quality Probiotics when it comes to general health and well-being.
That said, if you are after this strain specifically, there aren't really any alternatives out there. Align is the only brand selling it at the time of writing this article. Hence, despite the Sucrose and Titanium Dioxide, I have to categorize this (out of avoid it, consider it, shortlist it, buy it) as something to consider.
Other than that, I would highly recommend looking into the Live Conscious Pro-45 (full review). I do think it's the better and more worthwhile Probiotic overall.
Above all, I hope this Now Foods Ultra Omega-3 review helped you find the information you were looking for. Will you still buy it? Do you agree with my verdict or would you categorize it differently? Let me know below. Also, feel free to leave your own personal reviews on the product.