|  Marketing  |  Ingredients  |  Additives  |  Reviews  |  Pricing  |  Overall  |
Here's a proper Nature's Bounty Acidophilus Probiotic review to help anyone looking for more insights and a third opinion on the particular supplement.
The idea here is to look at everything. I mean, genuinely everything starting from marketing materials to ingredients to additives to customer reviews, and even pricing. And so, through that, I will do my best to make it as thorough as I can while also providing all kinds of comparisons as well.
This Nature's Bounty Acidophilus Probiotic Review To Assess Properly
According to the manufacturer, the Nature's Bounty Acidophilus Probiotic is a supplement that "contains over 100 million active Lactobacillus Acidophilus (including the naturally occurring metabolic product produced by Lactobacilli)" which is the "friendly bacteria for the digestive system." And they leave it there [R].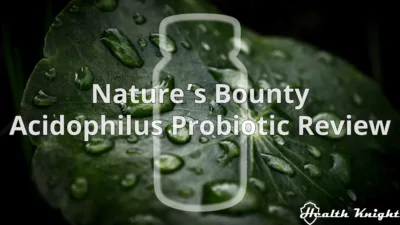 I mean, the product page is as brief as they come. To that end, it feels about as brief as what we found by the GoodBelly Probiotics (review) and the Inner-Eco Probiotic (review).
But over both of these, it does introduce marketing tactics to help people decide in favor of it. Well, it tries, anyway.
While we do get a section dedicated for Nature's Bounty Acidophilus Probiotic reviews, it's not like they're real capable in persuading anyone. The section has 8 good reviews and 4 bad ones. Plus, basically all of them are from 4 years ago. Hence, I don't think it counts as a marketing tactic this time.
Then, some favor can also earn the FAQ sections. But not so much with this one because there's just one answer there. To that end, it does look kind of unfinished. Which isn't a good look.
As for benefits, they don't go any further than friendly bacteria for digestive system. Whereas for free-of claims, we have Soy-Free, Preservative-Free, Sugar-Free, Starch-Free, Lactose-Free, Milk-Free, Wheat-Free, Gluten-Free, Fish-Free, Sodium-Free, Artificial-Colors-Flavors-Sweeteners-Free.
So, it might look decent as far as benefits and harmless as far as side-effects. But is it really worth getting?
For Ingredients, There Is Just One Strain & It's Far From Abundant
When it comes to the ingredients, the Nature's Bounty Acidophilus Probiotic doesn't do it like the Biotrust PRO-X10 Probiotic (review). It's definitely more like the Florastor Probiotic (review). But then, it just feels worse. Much, much worse.

So, per serving (one tablet), the supplement of this review offers 0.5 milligrams or 100 Million CFU of Lactobacillus Acidophilus.
And that's just bad. I mean, where do we even start?
For amounts, it should be 20-40 Billion CFU daily according to the best practices of nutrient amounts, typically. That's for a chance at the full range of benefits. But this Nature's Bounty offers 200-400 times less. Which is a huge difference. And frankly, I don't think it will do anything for our health [R, R, R, R, R, R, R, R, R, R, R, R, R, R, R, R, R].
For strain count, it offers just one strain. Granted, it's a very potent one. However, we typically should be looking at supplement that offers at least 10 different ones. But the more, the better R, R, R, R].
For Prebiotics, the supplement of this review doesn't offer those at all. They're kind of what augments the effects of Probiotics. Hence, very helpful. But the supplement add any [R, R, R, R, R, R, R, R, R, R, R, R].
Another bad aspect is that they don't promise the product to be Non-GMO. Hence, given that Nature's Bounty does list that typically within their free-of least (compare, for example, with their Probiotic 10 and B-Complex), it is very likely not the case with Acidophilus Probiotic.
But a good thing is that they are doing testing on their products. Granted, it's not the third-party testing which would be the ideal option. Still, I think it should be decent. That doesn't make up for the shortcomings in the beneficial ingredients though.
To Review Additives, Nature's Bounty Does Well In That Regard
And neither does it make up for the shortcomings with additives. Well, if there would be any. Namely, proper testing doesn't make up for poor ingredients. For example, just because a supplement is third-party tested, it won't make something like the added Artificial Colors healthy [R, R, R, R, R, R, R].
So, what is the story here for these Probiotics of Nature's Bounty?
Well, they actually look decently good.
The additives it uses are Vegetable Cellulose, Vegetable Stearic Acid, Silica, and Vegetable Magnesium Stearate. Of these, the first and the third are typically agree to be some of the harmless ones. Whereas it is not that straightforward with the other two. It's not straightforward at all.
The thing is that these two are arguably the most misunderstood ones out there. It took me a lot of time to get to the bottom of them. And it wasn't without my own missteps mistaking them for harmful ones.
Because most of the sources out there will tell you with absolute certainty that both of these ingredients cause cancer. But, in reality, they don't. It's just an ill-understanding of the available research which then spread like wildfire. The truth of the matter is that I side with the minority of doctors who try to combat this unfounded idea of them being harmful [R, R, R, R, R].
Whereas what really sends the point home is that Stearic Acid (the core culprit of this) is consumed by babies through mother's milk in amounts thousand-fold over what we ever could with supplements. So, concluding that either the Stearic Acid or the Magnesium Stearate make the Nature's Bounty Acidophilus Probiotic a harmful option, just makes no sense [R, R, R, R, R].
It's Ridiculous How Great The Customer Reviews Of This Probiotic Are
So, we did manage to touch upon this idea that the product reviews that the Nature's Bounty Acidophilus Probiotic has on its product page are no the brightest. And that's something extremely contrary to what we have seen from supplements like the 1MD Complete Probiotics Platinum (review) and the GutPro Probiotic (review), and just what we see generally.
I mean, it's typically the case of unnaturally positive feedback. That's not the case with the supplement of this review.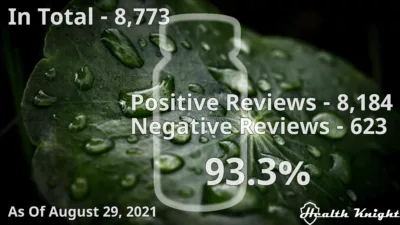 That said, the total review count is just too small to say anything about the Probiotic supplement reliably. Hence, I went and took a wholly encompassed look at all Nature's Bounty Acidophilus Probiotic reviews by third-party sellers and retailers I could find. Here's what I found.
In total, I managed to come across 8,773 Nature's Bounty Acidophilus Probiotic reviews. Of these, a total of 8,184 were positive whereas just 623 were negative. Which means that we have a global success rate of 93.3%. Which is absolutely unreal.
I mean, the success rate is purely busted. And through that, it does look like a really awesome supplement. But that's the danger there.
Yes, many people believe that this has helped them. However, judging by the active ingredients it contains, it isn't a great product. I mean, sure, it can help. To that end, there is nothing inherently bad about it. It's certainly better than no Probiotic. But saying that this actually, genuinely improved things for people I feel is a stretch, to say the least.
The way I see it, there's just not enough of the good stuff to go around. Definitely not enough for the full range of benefits. And so, if people can get some value out of just 0.1 Billion CFU, imagine what would happen if they've got 200-400 times more instead.
They could really see some genuine improvement then.
It May Seem Cheap, But It's Definitely Not Affordable
One of the greatest advantages of the Nature Bounty Acidophilus Probiotic is that it is so incredibly affordable, at least superficially. I mean, we can easily get a package of 200 tablets for a price under 10 bucks. Which does seem like a truly great deal. But is it really though?
So, per container (200 tablets), the supplement of this review costs $8.99. That's, essentially, 4.5 cents per tablet. Hence, really cheap. But what concerns is what is the cost per every 10 Billion CFU. Because that's an objective frame reference to compare Probiotic supplements by.
With this Nature's Bounty, given that it's 100 Million CFU or 0.1 Billion CFU, that's $4.50 for every 10 Billion CFU. And now, let me just say that it's cheap at all.
The Natren Healthy Trinity Probiotic (review) is one of the most expensive ones out there. It costs typically $69.95 for a container 30 capsules. Since it's 30 Billion CFU per capsule, it costs 77.7 cents per every 10 Billion CFU. And so, not only is it more than 5 times more affordable, it's also at least 10 times more capable.
I mean, instead of Nature's Bounty Acidophilus, the Natren option offers three strains. One of which, by the way, is also the Lactobacilli Acidophilus. But in it, we don't get it in amounts of 0.1 Billion, we actually get 5 Billion of it. And then, Natren is also third-party tested, Non-GMO, Gluten-Free, Dairy-Free, and Soy-Free. And it also doesn't have any harmful additives.
But a proper Probiotic doesn't have to be as expensive either. I mean, sure, it can go the other way as well with something like the Health Balance Complete Probiotic (review); it costs 14.3 cents per every 10 Billion CFU and doesn't offer nearly as much quality. Still, there are plenty of affordable option that will genuinely make a difference.
For example, we've got the Live Conscious Pro-45 (review). Not only does it offer 11 strains of different Probiotics, it also has great amounts of them per capsule, has awesome additives, offers a patented Probiotic strain, patented Prebiotics, and third-party testing. It's just skyscrapers above what the Nature's Bounty offers. And it's more than 20 times cheaper.
And so, I think we have to conclude that while Nature's Bounty may seem affordable, it isn't actually that way. It's just well marketed to appear that way.
I Wouldn't Buy Their Acidophilus Probiotic, It Underdelivers In Every Way
So, where are we with the Nature's Bounty Acidophilus Probiotic? Is it the cheapest, most affordable, best Probiotics thing on the market?
No. Hell, no. I don't think it's even close if we look at some of the other quality options out there. I mean, sure, there isn't anything inherently bad about this Nature's Bounty. But it also underdelivers in pretty much every way possible.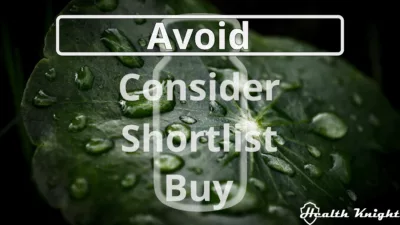 It offers just one Probiotic strain. The amounts of that strain are stupidly low per capsule. We would pretty much have to consume the entire container in one day to get to the amounts we should prefer.
Then, yes, it has harmless additives. But it doesn't offer Non-GMO. It also doesn't do third-party testing. And neither does it have Prebiotics to improve all of the effects of Probiotics.
And then, sure, it's got great success rates. But what do those matter if the potency just isn't there? Yes, it can help. Every bit of Probiotics can. Still, it won't be nearly the full range of them. Whereas the price for 10 Billion CFU is ridiculously high. Just ridiculously high.
Hence, despite the fact that it may appear affordable and decent, (out of avoid it, consider it, shortlist it, buy it) I would reckon we should just avoid it. There is no real reason to ever go for it. And even if it seems like an option to try if you're not sure whether you want Probiotics in your daily regimen or not, to kind of sample the experience. This is not the way. I believe it's a very crappy representative to sample the whole Probiotic category.
To that end, if you want to really test what the supplement category may have to offer for you, I think the Live Conscious Pro-45 (full review) is one of the best ways to go about it. Both in terms of price and quality.
Above all, I hope this Nature's Bounty Acidophilus Probiotic review helped you find the information you were looking for. I hope this was insightful. But if you have any questions, I would love to hear from you. Also, feel free to leave your own personal reviews on the product.