|  Marketing  |  Ingredients  |  Side Effects  |  Reviews  |  Pricing  |  Overall  |
According to the Pure Encapsulations Collagen JS reviews posted by customers, this has helped with cartilage health a lot. Many report noticeable improvements to their hair, skin, and nails. Some went as far as to say that they've tried many but this is the only one that worked. Others simply note that this product absolutely holds up its end of the bargain.
So, in this Pure Encapsulations Collagen JS review, we will dissect and study everything about the supplement to help you make the most informed decision.
Hence, the idea is to be no extension of the manufacturer's marketing or other BS. This is all going to be about what I feel is the truth, the whole truth, and nothing but the truth. And we'll do that in assessing for marketing, ingredients, side effects (additives), customer feedback, and pricing. We'll do it the truth-seeking way.
Marketing | I Really Like That They Don't Do Heavy Marketing
According to the manufacturer, the Pure Encapsulations Collagen JS is "a multi-molecule collagen complex that offers support for joint health as well as healthy skin." Per their words, "Collagen may support the elasticity and firmness of the skin, as well as help retain moisture." So, it sounds pretty good [R].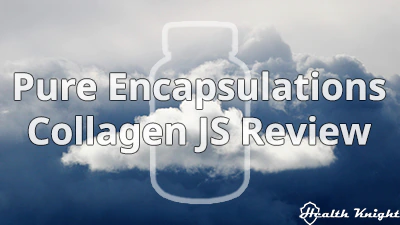 The product page of the supplement I like a lot. It is simple, straightforward, concise.
To that end, it doesn't really dive into various marketing tactics like supplements like the Doctor's Best Collagen (review) and LAC Taut Collagen (review) do. For example, it doesn't have a Pure Encapsulations Collagen JS review section or a money-back guarantee.
As for the benefits, it claims quite a few. It's said to aid skin and joint health, reduce wrinkles and fine lines, and it has the potential to support connective tissues and their well-being.
As for free-of claims, it is Gluten-Free Certified by the Gluten-Free Certification Organization. Additionally, it's also said to be Non-GMO.
On top of that, what I really like is the product information sheet they provide as it contains both claims and respective research to back that all up [R].
So, the supplement of this review looks pretty decent but is it actually worth the buy?
Ingredients | This Pure Encapsulations Uses A Great Patented Ingredient
So, there are a couple of ways in which Collagen supplements can be done. To name just a few, there's the powder option like the Skinny Fit Super Youth (review). Then, there's the kind of multivitamin-like approach like with Applied Nutrition Liquid Collagen (review). Then, there's also the option to use patented Collagen ingredients as the Pure Encapsulations Collagen JS does.
So, per serving (two capsules), the supplement of this review offers 1000 milligrams of BioCell Collagen Hydrolyzed Collagen Complex. Here's to elaborate on that.
BioCell Collagen is a patented Collagen ingredient built by a combination of uniquely synergistic ingredients that are the naturally-occurring hydrolyzed collagen type II peptides, Chondroitin Sulfate, and Hyaluronic acid. Meaning, it's a combination of those ingredients stronger and more capable than its individual parts [R].
But the best part about it is that we don't have to just blindly trust those statements. BioCell Collagen is pretty extensively studied. A good number of human clinical trials have been done on it to prove that it works and that it can be very beneficial (some of these are the gold standard studies and there are others). They also proved that it's safe in these studies [R, R, R, R, R, R, R].
So, generally speaking, this patented Collagen formulation has shown to improve skin elasticity, diminish skin dryness, improve cartilage renewal, reduce wrinkles and facial lines, lessen crow's feet, help with joint mobility, comfort, and quality of life, increase overall Collagen and Hyaluronic Acid presence (in skin and joints), foster ligament and tendon health, as well as augment post-exercise recovery [R, R, R, R, R, R, R].
That being said, 1,000 milligrams of it have mostly been associated with gains as far as skin health. Whereas for joint health, it's more like 2,000 milligrams. Which, by the way, is what the Pure Encapsulations Collagen JS (the recommendation is 1-2 servings daily) [R, R, R, R, R, R, R].
Another facet of this is that I also suspect that the formulation can provide other general Collagen-associated gains. And I would even go as far as to say that those typically associated with Chondroitin Sulfate and Hyaluronic Acid are also possible. I mean, the gains may not be present to the full extent of them but still. I think it's promising [R, R, R, R, R, R, R, R, R, R, R, R, R, R, R].
As for manufacturing quality, I used to love Pure Encapsulations' devotion to that. But that was until they were bought by Nestle. After that, I haven't been so sure since long-term customers across the internet did report a drop in quality. And Nestle just isn't the most people-oriented company anyway [R, R, R, R, R].
So, different takes on this exist. But I'm not too keen on it.
Side Effects | To Review Additives, They Are Actually Great
Side effects are the product of additives. So, to that end, additives can either be harmless or they can create potential health hazards both short-term and long-term. For example, something like Vim & Vigor Collagenate (review) uses ingredients such as Potassium Sorbate which can lead to DNA damage and all sorts of other nasty things [R, R, R, R, R, R, R, R, R].
So, choosing the supplements we use wisely is kind of a must. To that end, is the Pure Encapsulations Collagen JS a great choice?
Well, the supplement of this review uses just three additives. Cellulose, Water, and Ascorbyl Palmitate. And all of them are as harmless as they come.
Cellulose is the most abundant natural polysaccharide found in all plants. It's the thing that genuinely can't do any damage. Moreover, it's something we consume with vegetables and fruits anyway. So, it won't change anything for the worse if we have it in the supplement as well [R, R, R, R].
As for Water, I bet I don't have to explain why it is not a harmful additive. But did you know that drinking healthy amounts of water daily can be associated with such benefits as better joint health, improved skin health and every beauty aspect, healthier brain function, increased performance during exercise, and more? Cool, right [R, R, R, R]?
Lastly, Ascorbyl Palmitate is actually an ingredient not rarely used for fat-soluble vitamin C in supplements. And it's hugely beneficial that way. Here it's probably used as a preservative. But regardless of that, it should be nothing but beneficial [R, R, R, R, R].
So, as far as side effects and the Collagen JS, generally, there should be no concerns whatsoever. What can sometimes happen is that some select few can adversely react to Chondroitin contents. This can bring stomach pain, diarrhea, constipation, bloating, and headaches. But, again, these are not common. Only a few people will encounter them [R, R, R].
Reviews | The Customer Reviews Are Great But It Doesn't Matter
One practical aspect that I love to look at is customer feedback. While we didn't get any insights into that on the product page, I did research the Pure Encapsulations Collagen JS reviews across the internet on all third-party websites I could find.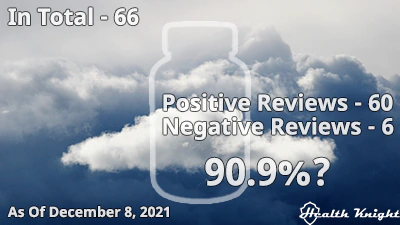 To that end, in total, I managed to come across only 66 comments and ratings on this particular supplement. Of these 66, 60 of them were positive (three-star, four-star, five-star) and 6 of them were negative (one-star, two-star). Namely, we've got a success rate of 90.9%. Which is very good.
I mean, frankly, it's likely even higher given that people are typically far more eager to report negative experiences than they are when it comes to the positive ones.
That said, I don't think that the success rating matters that much. Here's why.
The Collagen JS of Pure Encapsulations uses a patented Collagen formulation. And that's not some any Collagen formulation. That's BioCell. A formulation shown in studies to be working. Meaning, we can't really dispute that it works. Because it does. The research is solid enough to say that conclusively [R, R, R, R, R, R, R].
So, having those 90+% success rates is great. But it wouldn't matter if they weren't that way. Because the formulation works, hence the supplement will work.
Where the negative feedback emerges is when shipping is not properly sorted like with Zhou Collagen Peptides (review) or the safety seals are randomly torn off like with the Alaya Multi Collagen (review) when ordering from Amazon.
Pricing | I Did Not Expect This, Collagen JS Doesn't Feel Reasonable
Another worthwhile practical aspect to look at is the pricing. Because even the greatest of supplements can be overpriced. And to that end, I did somewhere see a Pure Encapsulations Collagen JS review stating that this, surely, is an expensive supplement. But is it, really? Let's do some math.
So, for a container (60 capsules), we typically have to pay $36.90. That's $0.61 per capsule or $1.22 for every 1 gram of BioCell Collagen. How does that compare?
To compare it with another BioCell Collagen supplement, we have the Reserveage Collagen Booster (review). It typically costs $34.96 for a container of 60 or a month's supply. That's about $1.17 per every 1000 milligrams of BioCell. So, there's basically no price difference.
But there's a huge difference in all else. I mean, Reserveage offers far more than just BioCell Collagen. On top of that, it also does third-party testing. Pure Encapsulations doesn't. Thus, the contrast between the two is massive. And I would 100% choose Reserveage over the supplement of this review.
Another interesting comparison is the Now Foods BioCell Collagen. The Now Foods option costs typically $22.81 per container of 60 servings. So, that's 38.0 cents for every 1 gram of BioCell Collagen.
Similarly, as it is with the Collagen JS of Pure Encapsulations, it also has great additives and great success rates. So, the beneficial ingredients being the same, it's effectively a three-fold difference in price. Which is why I don't think that the supplement of this review would ever be worth it.
Other than that, I would say that it is likely that we can also achieve that same level of benefits with a simple, quality, powdered Collagen. The heavy difference lies in the fact that typically this kind of Collagen is half the price. For example, with something like the Live Conscious Collagen Peptides (review), we'd have to pay less than 60.0 cents for every 10 grams of Collagen.
So, all in all, the Collagen JS is by no means an affordable supplement. I would even say that it's beyond reasonable as far as its pricing.
Overall | While It's Superficially Okay, I Wouldn't Buy It
Pure Encapsulations used to be one of my favorite brands. That's not so much the case anymore since it got bought by Nestle but still. They do offer quality supplements typically. Still, I don't think they managed to do it awesomely with their Collagen JS. I mean, there's nothing inherently wrong about it.
To that end, for positives, we have the choice of the beneficial ingredients. Which is nice. And then, the ingredients chosen for additives are great as well. And then, of course, the success rate is decent as well.
Whereas the biggest negatives are two. First, it's the pricing. I mean, it just feels to me to be beyond reason. Moreover, there are better options out there. Second, there are quality concerns due to the brand being owned by Nestle.
Thus, (out of avoid it, consider it, shortlist it, buy it) I believe we should no more than simply consider it. Yes, it has good ingredients. But so do many other Collagen supplements. Plus, I would trust the latter more in terms of sheer manufacturing quality.
On that note, a definitely better option is the Reserveage Collagen Booster (review). Another option I would propose to consider is my favorite one when it comes to Collagen (here you can read all about it).
Above all, I hope this Pure Encapsulations Collagen JS review helped you find the information you were looking for. If you have any thoughts or questions, I'm all here for you. And do feel free to leave your own personal reviews on the product as well.