|  Initial Thoughts  |  Core Ingredients & Benefits  |  Additives  |  Success Rates  |  Final Thoughts  |
This Doctor's Best Collagen review is all about looking into both versions of the supplement and fully exploring every single detail of them.
To that extent, within this article, we'll be tackling the promotional materials and see what the proposed claims are. After which we'll dive into ingredients – everything from the beneficial to the necessary for the making of the supplement. And additionally, we will discuss the results of research I performed based on every single customer review (real ones) I could find.
Claims And Promotional Materials Are Pretty Laid Back – Nothing Over The Top
When we're talking about Doctor's Best Collagen, we're typically referring to one of the two non-powder supplements. It's either the 500 mg capsule of Collagen (Types 1 & 3) or the 1000 mg tablet of Collagen (Types 1 & 3). Which for the sake of simplicity and when it matters, I will refer to each respective one by their dosage form (capsule or tablet).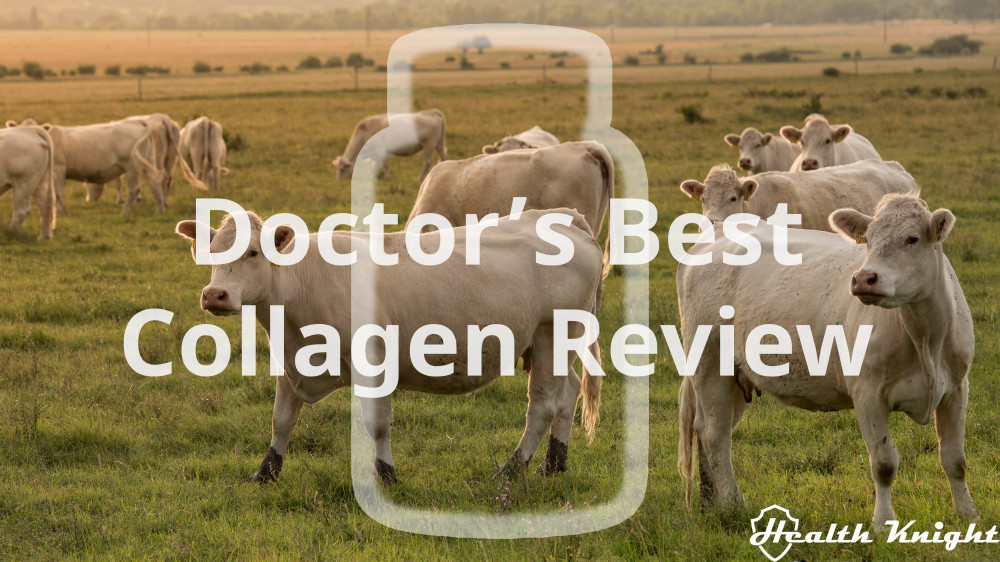 That said, while each has its own description page, as far as promotional materials go, the pages are almost identical. I mean, the text differs slightly in some places, however, when it comes to the essence of contents, it's absolutely the same [R, R].
Overall, the promotional materials are very laid back. They're not trying to persuade you into buying anything. It feels to me as if they've just made a product and are sharing information about it. To that end, something very much like the Neocell Super Collagen but exactly opposite of the Skinny Fit Super Youth.
What I truly like about Doctor's Best supplement description pages is the fact that apart from, highlights, general description, supplement facts, and safety information, they also offer proper FAQs (with a number of on-point questions and answers) and a scientific fact sheet with references grounded in science. Not a lot of manufacturers do that. And that's, to say the least [R].
And thus, they provide a marvelous piece of information to anyone looking into collagen supplements and the potentially beneficial aspects of them.
As for themselves, both of their description pages agree. With collagen in either the capsule or the tablet version you're likely to find benefits to skin, nails, hair, bones, tendons, ligaments, tissues, and thus, will improve joint health, joint comfort, overall mobility, as well as just quality of life in general.
Additionally, we see statements like "Doctor's Best Collagen Types 1&3 contains pure collagen protein enzymatically hydrolyzed into low molecular weight peptides for optimal utilization by the body." Which suggests that it's better than the typical Collagen we encounter into supplements [R, R].
Other than that, both versions of the Doctor's Best Collagen are said to be Non-GMO, Gluten-Free, and Soy-Free. So, generally speaking, they're looking really good.
Now, let's take the supplements themselves apart.
Not Sure If So Little Collagen Will Do Anything; Seems Way Too Low
There are different types of Collagen supplements out there. Some offer raw Collagen and nothing else like we've seen with Youtheory Collagen. Others are almost multivitamin-like as they add a bunch of different vitamins and minerals to the mix like it's the case with AminoSculpt Collagen Energy or Applied Nutrition Liquid Collagen. Whereas yet others opt for adding just a single one vitamin, mineral, or something added beneficial, like the AHS Super Collagen or Garden of Life Collagen.
As far as the Doctor's Best Collagen goes, both its versions are best described by the latter of the mentioned approaches.
The capsule version offers 2000 milligrams or 2 grams of Peptan Hydrolyzed Collagen (Types 1 & 3) and 30 milligrams of vitamin C per serving. Or 4000 milligrams (4 grams) of Collagen and 60 milligrams of vitamin C per day as they recommend two servings daily.
Which is quite a number of capsules for a Collagen supplement, to be frank. Namely, to get that recommended daily dose across, you have to take 4 capsules twice daily (8 capsules total). Which I feel some may not be so fond of, especially if you're doing a proper multivitamin, and a couple of other complementing supplements to that.
To that end, the tablet version offers a smaller serving size in terms of tablet count but larger in terms of Collagen amounts it provides.
It comes with 3000 milligrams or 3 grams of Hydrolyzed Collagen (Types 1 & 3) and 30 milligrams of vitamin C per single serving. Similarly, also, for this one, the recommended dose is two servings per day. Thus, we're really, ultimately looking at 6000 milligrams or 6 grams along with 60 milligrams of vitamin C.
As for the Collagen amounts in general, while the 6 grams daily are somewhat okay, 4 grams are not really. To that end, in terms of Collagen amounts, it even goes below supplements like the It Works! CollagenWorks. Which is not promising, at least superficially.
An important aspect here to consider is that the capsule version of Doctor's Best Collagen uses a patented Collagen version known as Peptan. But will that genuinely make a difference [R, R]?
In this particular case, likely not as much as we'd like to.
The thing about Peptan is that there are two types of Peptan. First, there's kind of the standard Collagen Type 1 version. Second, there's the Peptan IIm, which is kind of the more superior version of the two. As far as I can tell, this is mainly because a number of studies have specifically associated this form with a broader spectrum of benefits. However, still, supposedly the Peptan Type 1 seems solid enough and may make up for the rather scarce amounts present in the supplement [R, R, R, R, R, R, R, R, R, R, R, R, R, R].
As for that other part of both Doctor's Best Collagen supplements – vitamin C, it's solid. While there's not a whole lot of it, it comes in a form of mineral ascorbate (in this case, Calcium Ascorbate). Which is one of the most beneficial and the easiest to absorb forms for this particular vitamin (by the way, due to the nature of Calcium Ascorbate, you'll also be getting some minute amounts of Calcium to your system) [R, R].
Additives Differ Among The Versions But Everything's Solid
While 99% of supplements wouldn't exist without the addition of additives, many people still are completely oblivious to the fact that they can affect one's health negatively. This, by no means, is to say that all additives will do that. But most can. And will.
When it comes to this aspect of Doctor's Best Collagen, the different versions use slightly different additives.
The capsule version employs Microcrystalline Cellulose, Gelatin, Magnesium Stearate, and Silicon Dioxide. Whereas the tablet version takes up Microcrystalline Cellulose, Croscarmellose Sodium, Magnesium Stearate, Stearic Acid, Purified Water, and Hypromellose.
Of these, Microcrystalline Cellulose is one of the most harmless added inactive ingredients there is. The exact same goes for Silicon Dioxide. Hypromellose I've seen to be falsely called harmful by some random people; scientists not only approve it being harmless but even happen to call it beneficial [R, R, R, R, R, R, R, R, R, R, R].
As far as Gelatin goes, due to its making and very essence, it's quite towards a beneficial one (however, rarely people may come across heartburn or bad aftertaste). And Croscarmellose Sodium can only essentially be harmful if it's GMO-sourced, which in this case, it's not. So, it's harmless at worst. And as for water, water's water. If you're getting too few of it, getting it as an additive can be considered beneficial [R, R, R, R, R, R, R, R, R, R, R, R, R, R].
Lastly, there's Magnesium Stearate and Stearic Acid.
These two are extremely controversial as most of the internet, even some really reputable websites and sources are calling them harmful. But when you really get in the gist of things, and I mean, really immerse yourself into studies and research what regards every single aspect of the argument for harmfulness, it all becomes perfectly clear. Most of the internet I feel has no idea what they're talking about [R, R, R, R, R, R].
I mean, I've spent a ridiculous count of hours on this alone, and I have to conclude what the minority of high-profile doctors and scientists have concluded. It's all a huge misunderstanding of research that stems from the fact that many have not actually read the studies done on Stearic Acid (part of Magnesium Stearate and the main culprit in all this) [R, R, R, R, R].
Ultimately, both of them are some of the safest additives there is.
Thus, whether we choose the capsule or the tablet version of the Doctor's Best Collagen, it does not matter what regards additives.
Both persist on using harmless additives (that are sometimes actually beneficial) that are completely fine to be used long-term and are extremely unlikely to create any real health hazard (unless for allergies which is always a possibility).
There's Some Solid Evidence That Doctor's Best Collagen Is Doing Work
Now, all safety and theoretical beneficial aspects out of the way, it's time to switch gears a bit and have a look at how it's performing on the market. I feel this is best done through proper research on every single real customer review we can find on the web.
And I did exactly that. Performing a truly comprehensive study on all customer reviews I could find on each of the supplements revealed that they're definitely doing work.
More specifically, I managed to find 287 customer reviews (as of writing this article) for the Doctor's Best Collagen capsules of which 38 were one- and two-star ones. Thus, the global success rate for it is about 86.8%. Which is very good. And that definitely is some evidence to the fact that Peptan works. And does so even in rather small amounts.
As for Doctor's Best Collagen Tablets, it is performing much better for people. I managed to come across the total number of 1496. Of that, 137 were one- and two-star reviews, which means that the global success rates are sitting at around 90.8%.
Ultimately though, these estimates in real life are likely even higher than that as people typically are more prone to reporting bad experiences than positive ones.
Thus, I feel it's pretty safe to say that both versions of the Doctor's Best Collagen are delivering results. But are they truly what you should invest in?
Overall, They Can Definitely Help, However, I Believe There Are Better Options
So, let's recap the Doctor's Best Collagen supplements.
The capsule version while offers not that much Collagen still seems to be beneficial to by far most people who try it. The supplement refrains from using truly devastating additives, as well as adds a bit of solid form vitamin C. Whereas the tablet version offers more Collagen and consequently, has proven itself to be more often beneficial for people. And while it does employ more additives, they're still all safe to ingest.
Ultimately, despite this rather positive profile, I would not recommend investing in these. This is purely due to the fact that there are just outright better options out there.
Plus, while the rather small amounts of Collagen (4-6 grams that we have here) can deliver benefits, it's unlikely that they will deliver the full range of them. Whereas that's something you could never say about this supplement (full review). It's as abundant and resourceful as they come. And extremely affordable as well.
And finally, although Collagen supplements can somewhat improve joint health and well-being, they're not the most optimal choice if that's what you're most after. Instead, try embracing a proper Turmeric Curcumin supplement for that.
Above all, I hope this Doctor's Best Collagen review helped you find the information you were looking for. Do you feel Collagen in capsules is a must for you? Or are you pretty open to having it also in the powder form? Let me know below.