|  Overview  |  Nutrient Forms  |  Nutrient Amounts  |  Beneficial Substances  |  Additives  |  Conclusions  |
In this Optimum Nutrition Opti-Women Review, we will take a close in-depth look at all of what this supplement has to offer.
Or to make it more clear, we'll start out by looking at the claims the manufacturer makes about the supplement. Then we'll continue on by evaluating the supplement as a whole. Meaning, we'll look at the vitamin and mineral forms, find out how much of them are there, dissect the additional beneficial substances.
Optimum Nutrition Opti-Women Review – Overview
Opti-Women is a supplement manufactured by Optimum Nutrition that is geared towards women's well-being and is comprised of 23 essential vitamins and minerals, as well as 17 different additional ingredients to make it a rather comprehensive multivitamin for active women.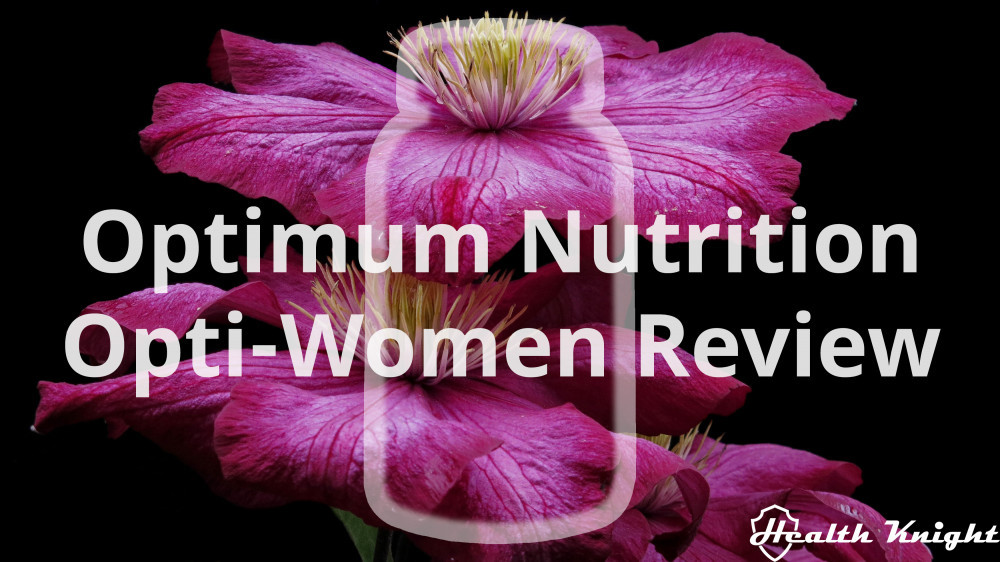 In truth, there is not much to dissect on the supplement's product page.
Essentially, there are only two sentences about the supplement.
The first one of them, in essence, states the absolute same message I provided in the first paragraph of this section. And then the second one gives some insight into what kind of ingredients are added to the supplement.
Thus, all in all, the description page of Opti-Women is a very pleasant place to visit as it does not contain any hype or empty claims about what the supplement will do for you.
Which I do see both as a noble and a humble thing to do. That definitely earns respect.
Nutrient Forms – In Part Basic, In Part Awesome
Optimum Nutrition Opti-Women offers a great variety of vitamins and minerals. They certainly weren't misleading when stated that the supplement contains 23 different vitamin and minerals.
One distinct characteristic that the Opti-Women has over Opti-Men is that it offers a preformed form of vitamin A. Thus, making it more well-rounded.
Overall, vitamin forms on the most part are certainly not in their best shape but they should still account for a solid benefit.
To be more concrete, the lesser forms in the supplement are for vitamin C, B1, B6, B9, and B12. [R] [R] [R] [R] [R] [R] [R] [R] [R] [R] [R]
On the other hand, as far as minerals go their forms are pretty solid all throughout. Don't get me wrong, much of the time those also are not the absolute best ones, however, in of themselves, they are very effective.
So, needless to say, that they will account for a solid benefit.
The only ones I'm not really a fan of are for Magnesium and Calcium. Although each of these come in two different forms, one of which is a great option, the other one (Magnesium Oxide and Calcium Carbonate) are not as much. [R] [R] [R] [R] [R] [R]
Truth be told, they're pretty miserable in terms of providing you with any kind of benefit.
Nutrient Amounts Are Generally On The Scarce Side
When it comes to the actual nutrient amounts, it certainly does not look as convincing.
First off, there are two minerals that the Optimum Nutrition Opti-Women does not incorporate at all. Those are Vanadium and Boron. Both very crucial, both needed for well-being.
Second, there are only a handful of vitamins that live up to the amounts defined by Prime Daily Values. Those are preformed vitamin A, vitamin D, K, and B7.
The rest, although are not too far off of the Prime Daily Values most of the time, would regardless be of more benefit to you if the amounts of those were slightly increased.
In regards to the minerals, it's not as bad though.
There's the typical lack of Calcium and Magnesium but other than that only Selenium is somewhat short-handed (apart from the already mentioned Vanadium and Boron).
And lastly, the supplement does not incorporate any Choline, Inositol, and any additional variety of Carotenoids although are there, however, in quite little amounts.
Additional Beneficial Substances Will Mostly Add To Your Well-Being
All in all, the supplement does deliver. It does offer the said 17 of beneficial substances. However, 5 of those are various Carotenoids, which I myself would not count as something among the beneficial substances. I'd much rather add them to the list of vitamin A.
So, at the end of the day, we're left with 12 beneficial substances – Dong Quai, Chasteberry (Vitex agnus-castus) 4:1 Berry Extract, Garcinia Extract, Uva Ursi, Horse Chestnut Extract, Alpha Lipoic Acid, Butchers Broom, Ostivone, Grape Seed Extract, Deodorized Garlic, Citrus Bioflavonoids, and Soy Isoflavones. [R]
In this review, to not make it too long we'll look at some of them. But either way, you are welcome to google the rest if you feel the need to.
Dong Quai, also known as the female ginseng, is a herb used as herbal medicine for more than 2000 years. And thus, obviously, it has quite a list of benefits. [R] [R] [R]
Here are some attributed to its name – improves blood pressure, reduces inflammation, improves heart health, reduces menstrual cramps, has a pain-relieving effect, as well as works as a muscle relaxant, improves bone health, supports against depression, alleviates menopause symptoms among many other benefits. [R] [R] [R] [R] [R]
There are, however, certain risks also involved with the female ginseng as it may cause certain side effects to a number of people. Such include headaches, drowsiness, bloating, nausea, difficulties breathing, sweating, trouble sleeping, as well as sensitivity to sunlight among other unpleasant effects. [R] [R] [R] [R]
On top of that, also it can be extremely detrimental to pregnant and nursing women. [R] [R] [R] [R]
Uva Ursi is a plant that grows around the globe. It's known for its benefits to skin, hair, as well as a remedy for urinary tract infections, improves kidney health and joint health, additionally supposedly also working as a muscle relaxant. On top of all that, it's also an amazing antioxidant. [R] [R] [R] [R]
However, do keep in mind that this one also comes with a bunch of warnings as it can cause liver damage. And pregnant and nursing women should avoid it at all costs. [R] [R] [R]
Ostivone is the commercial name of the naturally occurring bioflavonoid ipriflavone. Ipriflavone is a well-researched ingredient known for its many all-round benefits to bone health. [R] [R] [R] [R]
It's also considered to be a non-hormonal estrogen alternative, which can be used both by women and men to avoid certain health conditions. [R] [R] [R] [R]
So, all in all, although the additional beneficial substances are guaranteed to provide some solid health boosts, you must be careful with them. This is because some of the ingredients have the capacity to backfire at your health.
Additives Are Looking Good
Opti-Women employs a complete number of 5 different additives – Hypromellose, Magnesium Stearate, Calcium phosphate, Microcrystalline Cellulose, Silica.
As regards to all of these, they're safe to use and should not cause any health issues or just harm your health later on down the line.
Thus, it's very much unlike many other supplements, which do so incredibly awful in regards to this.
Final Thoughts On Optimum Nutrition Opti-Women
While Optimum Nutrition Opti-Women should not be considered the perfect option, it seems like a solid option for improving one's well-being nonetheless.
But it must be noted that there are a few concerns that may arise due to some of the beneficial substances in the supplement.
And thus, if at any given time you're experiencing what you believe is a side effect of a beneficial substance, stop using the supplement immediately.
On that same note, if you're rather interested in awesome multivitamin supplements that won't do anything but improve your health and well-being, have a look at the article of the best multivitamin supplements.