|  Marketing  |  Ingredients  |  Side Effects  |  Reviews  |  Pricing  |  Pros & Cons  |  Overall  |
According to the Great HealthWorks Omega XL reviews posted by customers, this has been amazing for pain relief.
For many people, it has profoundly helped with their arthritis. Others had the luxury of retiring their pain medications when they started using this. And others more said that this helped their joints when nothing else that they've tried could.
This Great HealthWorks Omega XL review is all about exploring what the thing is actually about. And with that, we'll also explore whether it's worth the purchase and price they are asking.
Hence, the idea is to be no extension of the manufacturer's marketing or other similar nonsense. This is all going to be about what I feel is the truth, the whole truth, and nothing but the truth. And we'll do that by assessing marketing, ingredients, side effects (additives), customer feedback, and pricing. We'll do it the truth-seeking way.
Marketing | It Offers A Lot Of Free Stuff When We Buy At Least One
According to the manufacturer, Great HealthWorks Omega XL Fish Oil is "a powerful essential fatty acid combination from the pristine waters of New Zealand." Per their words, "like you, OmegaXL is made for more." Which is kind of their way of expressing the product's superiority over anything else on the market [R].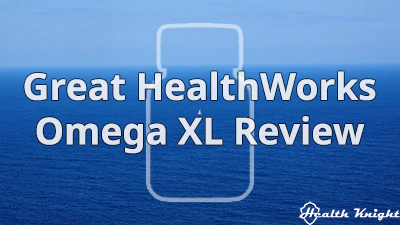 As for the product page itself, it's very readable, much like the NutraSea Omega-3 (review). It doesn't contain a lot of straight-up text; instead, it's mostly expressed through various visuals and there's even a table comparing what they have with the supposedly average supplement.
The main claim that they go with is that this OmegaXL supplement will help joint health. Which is not something we typically see claimed with an Omega-3 Fatty Acid supplement. For example, we don't find such promises with stuff like the Kirkland Wild Alaskan Fish Oil (review).
Instead, we typically get something along the lines of better respiratory, heart, and immune health which we, by the way, get also here. But still, the emphasis is on joint health and mobility, as well as muscle health.
Other than that, the way I see it, there's a lot of marketing involved. Yes, they do not offer the "by more, save more" or "subscribe and save" options like many others. However, there are quite a bit of other tools they use.
For example, right off the bat it's this idea "buy one and get one for free" which I bet sells like crazy (if only the base price was lower). Then, they used to use a famous figure which is another tactic but now it's just a free D3 supplement instead. Then, there's also a 60-day money-back guarantee. And then, there's also free shipping.
But is this Omega XL truly an essential component of our daily wellness routine as they claim it?
Ingredients | The Contents May Sound Nice But No Third-Party Test
To tell the truth, that's very hard to tell right off the bat. I mean, despite all the praise and the notion of superiority we get bombarded with, they still fail to clearly present us with the supplement facts or core ingredients. Which I feel is not what quality manufacturers typically do.
I mean, there's all this worship but no mention of what is actually in the product. Yeah, of course, apart from some extremely generalistic statements like Fish Oil from New Zealand or 20x more effective, or whatever. It doesn't really tell the full story. So, I had to do some research in search of the actual ingredients.

I found that per serving (two softgels), the Great HealthWorks Omega XL contains 300 milligrams of OmegaXL Proprietary Blend. Which is a blend of Green Lipped Mussel Oil extract that's comprised of Omega Fatty Acids, Extra Virgin Olive Oil, and some D-Alpha Tocopherol.
So, the two secondary additions are great. Extra Virgin Olive Oil has never hurt anybody, it's a great anti-inflammation promoting tool. As for D-Alpha Tocopherol, it is one of the eight natural vitamin E forms, something that is absolutely okay to consume. Whereas it's a bit trickier with Omega Fatty Acids from Green Lipped Mussel [R, R, R, R, R, R, R, R, R, R, R, R, R, R]
On one hand, we have this unconventional, awesome idea that has this wide profile of different Omegas within it. And it's a supplement that has been tested in quite a few studies (I found nine total) which is something that definitely can't be said about most other supplements [R, R, R, R, R, R, R, R, R].
It has proven, to some extent, that it can help Osteoarthritis patients with joint health when compared to what they call industry-standard Fish Oil (which, by the way, is nothing like the very best Fish Oil). It has shown some promise in helping muscle health after muscle-damaging exercise and reducing pain sensations after a 30-kilometer run. And there is something in helping ADHD children as well [R, R, R, R, R, R, R, R, R].
But on the other hand of all that, it doesn't provide significant numbers of the most important EPA and DHA. At least that's as far as I can tell (they don't bother to list those separately on the label, hence, probably not that much there). Of these two Omega-3s, we should get at least 1000 milligrams combined daily. With Omega XL, there's no telling of how much or if any we get [R, R, R, R].
Hence, sure, we could get this. But we would still need another separate Omega-3 supplement to kind of cover all the EPAs and DHAs. So, is this really a needed luxury?
I mean, frankly, even if we are considering this because of the joint health, do we really want to go for it? I mean, there's not that much proof that it will truly be helpful. Furthermore, I believe Turmeric Curcumin is just a significantly better, far more documented option to help with joints (here's a real decent supplement of those, full review). I mean, personally, I would even consider a patented Collagen product for joints over the supplement of this review.
But there is one other more serious concern, why I believe that this OmegaXL can potentially be even more bad than good.
As a species of clam, they absorb pollution quite a bit, typically more than fish. Which only emphasizes how incredibly important it is that this oil is properly purified. And if you've read any of my Fish Oil reviews, I'm strongly against any Fish Oil that hasn't been third-party tested for purity and potency [R, R, R, R, R].
And so, OmegaXL claims to be purified from harmful levels of mercury and chemicals. However, just about any Fish Oil out there claims that. But what do true quality options do? They third-party test. Which this Great HealthWorks product doesn't.
Which isn't exactly ideal, to say the least. It's a HUUUGE drawback. I mean, personally, I would never go for such a thing. Because if by chance the oil is contaminated, it's likely to potentially bring more harm than good.
Side Effects | To Review Additives, Great HealthWorks Omega XL Is Decent
Side effects are the product of additives. But additives are one of the trickiest aspects of any supplement. Did you notice them claiming to have no fishy aftertaste? It's something usually achieved through adding some potentially harmful additives to the mix like Polysorbate 80 as we've seen in the Nature Made Fish Oil (review) [R, R, R, R, R, R, R, R, R, R].
But what about the additives in this Omega XL? Does it also use similar ingredients to that?
No, it does not. But that notion of no fishy aftertaste is also not thanks to its other ingredients. It's rather because of the way this thing is sourced. It's because of the clams which are not fish.
So, the three inactive ingredients that the supplement of this review has are Gelatin, Glycerin, and Purified Water. Of these, the latter two are harmless. Whereas the very first is actually beneficial. Granted, it might not be as useful given the fact that it's likely sourced from Porcine but still (this is an assumption stemmed by the fact that they don't specify its Gelatin-sourcing and Porcine is the cheapest way to do it) [R, R, R, R, R, R, R, R, R, R].
Thus, at least as far as this aspect of the OmegaXL is something not troublesome.
Reviews | Real Customer Feedback Is Hard To Find With The Supplement
If you do a google search, you'll find an absolute ton of biased Great HealthWorks Omega XL reviews. They are just trying to sell without really in-depth researching the thing. And that's fine. But it does not help us learn how helpful the product has actually been to people.
There's also nothing on the product page that helps us genuinely learn about unbiased feedback. Hence, I dived right into the vastness of the internet to find some by third-party sellers and retailers. And I did.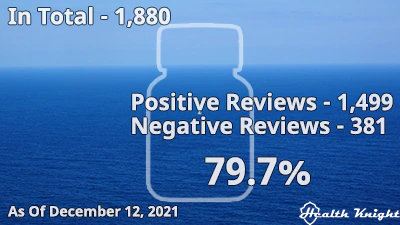 I managed to find a total of 1,880 OmegaXL reviews. Of these, 1,499 were positive (3-star, 4-star, 5-star) and 381 were negative (1-star, 2-star). Which means it has a below 80% global success rate (79.7% to be precise). Which is not exactly ideal.
I mean, personally, that's bad. Sure, it kind of means that it still supposedly helps 4 out of 5 people. Plus, the notion that people typically are more eager in reporting the negative experiences over positive ones. But still, I do not see it as a good success rate.
Now, granted, the success rate doesn't matter that much whenever we're talking about properly and extensively studied ingredients. I mean, something like the Pure Encapsulations Collagen JS (review) or Genacol Pain Relief (review) are prime examples of that.
These could have a 2% success rate, and it would hardly matter because of the properly designed studies that have shown the ingredient efficacy. I mean, there certainly would be problems but those wouldn't be related to the beneficial ingredients used.
As for the Great HealthWorks OmegaXL supplement, despite the existing studies, I'm actually not that sure where it stands. There is some evidence with a rather small sample size to prove that it works. But, on the other hand, not only has it earned itself an FDA warning due to drug claims, but also third-party laboratory has checked its EPA and DHA contents, and those were rubbish [R, R].
Pricing | I Have To Add That It Does Feel Excessively Expensive
Since we did Great HealthWorks Omega XL reviews, we have to do pricing as well. And that's a bit tricky, to say the least. Because we don't really have an equal product or a similar product as far as its beneficial ingredients. To that end, the supplement of this review is absolutely unique. And hence, we will be taking a different approach.
We'll assess it by the outcome.
So, per container, the Omega supplement offers 60 softgels. Since it is two of those per serving, we get 30 servings. A container typically costs $39.95. Hence, to do the math, that's $1.33 a day for a chance at improved joint health. So, how does that compare?
Let's take something like the Health Logics BioCell Collagen (review). It's a supplement using a patented Collagen formulation known as BioCell. It's got some real quality studies behind it. Thus, the math on it is 84.8 cents a day for highly likely improving joint health. So, it's some 40% more affordable.
Both have good additives. Health Logics has way better success rates. And Health Logics is actually third-party tested. Which is something that can't be said about the Great HealthWorks at all. I mean, all in all, I wouldn't ever pick the supplement of this review over the Health Logics one. It just makes no sense, the way I see it.
Here's another supplement category that's been extremely helpful to people when it comes to joint health. Turmeric Curcumin supplements. For example, let's use the NutriCology CurcuWIN (review).
So, the NutriCology supplement uses a patented Curcumin formulation known as CurcuWIN. It's something that has been proven in various studies to be an extremely effective form of delivering Curcuminoids and all their associated gains. This thing costs 66.5 cents a day for highly likely improving joint health.
It has great additives, just like the HealthWorks product. It's got a decent success rate. And it's third-party tested on top of it all. I mean, not only are Curcuminoids far better inherently to tackle joint health, but also it's half the price of Omega XL. Plus, Curcuminoids are known to provide a ton of other extra benefits. And the supplement of this review doesn't really offer EPA and DHA.
I mean, to put it mildly, I feel comparing the NutriCology CurcuWIN and Great HealthWorks Omega XL is kind of like comparing the dueling power of a lion and a hamster. And Omega XL is not the lion here.
Pros & Cons | Positives Are Weak & Cons Are Strong
Pros
Cons
✓ The supplement offers a wide profile of different Omega Fatty Acids.

✘

The actual quality and testing of the Great HealthWorks Omega XL is a huge question mark. They don't do third-party testing either.
✓ It seems to have good additives.

✘

This product likely contains GMO ingredients (no Non-GMO claim).

✘

It doesn't specify the EPA and DHA amounts. And it likely has very little of them.

✘

While supposedly 4 out of 5 people like this, that's actually a pretty low success rate, generally speaking.

✘

The Omega XL is a very expensive supplement when compared to other even better categories of supplements for joint health.
Overall | I Would Not Spend My Money On This Omega XL Product
I think there's a ton of hype built around the Great Omega XL. And then, the marketing they use just further augments that. And so, I believe a ton of people just kind of ride that hype train happily and never critically look at it. At the end of the day, it's just not that good of a supplement.
I mean, yes, for positives, we have some studies and the beneficial ingredients being absolutely unique. To that end, it's a very unconventional approach. And then, they do also use decent additives, and the success rates are fine. But there are at least three major flaws with it.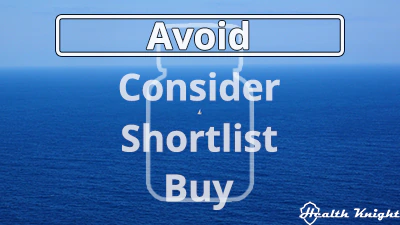 First, it doesn't do third-party testing which in the form of pollution (mercury, lead, etc.) can come back to bite us real hard. So much so that we'd be better off never trying it.
Second, it likely doesn't offer any meaningful EPA and DHA contents. So, we might be led into believing that this replaces a need for a proper Fish Oil supplement. In reality, it doesn't.
Third, we don't live on an island where the only option for joint health is this Omega XL of Great HealthWorks. There are at least two other supplement categories that, in my opinion, can tackle the joint health issue so much better.
And thus, (out of avoid it, consider it, shortlist it, buy it) I believe that the supplement of this review is avoidable. I mean, I personally wouldn't ever use it. And, frankly, I don't see a reason for anyone to ever use it.
You'd be much better off with either the NutriCology CurcuWIN (review) or the Health Logics BioCell Collagen (review). And even if these two wouldn't exist, there is a bunch of other stuff that you could try like the Alaya Multi Collagen (review). You never need to risk it with a clam-based product that doesn't have lab results to show for its purity.
Above all, I hope this Great HealthWorks Omega XL review helped you find the information you were looking for. If you have any thoughts or questions, I'm all here for you. And do feel free to leave your own personal reviews on the product as well.