|  Marketing  |  Ingredients  |  Additives  |  Reviews  |  Pricing  |  Pros & Cons  |  Overall  |
According to the Kirkland Wild Alaska Fish Oil reviews posted by customers, this is the best Fish Oil we can get for the price. Others praise the fact that there's no aftertaste or just taste in general for these. Others compliment the quality of the product. Whereas others more simply note that it's absolutely worth the money.
So, in this Kirkland Wild Alaskan Fish Oil review, we will explore this particular Omega-3 Fatty Acids supplement in all of its detail and glory (or not).
Hence, the idea is to be no extension of the manufacturer's marketing or other similar nonsense. This is all going to be about what I feel is the truth, the whole truth, and nothing but the truth. And we'll do that in assessing for marketing, ingredients, side effects (additives), customer feedback, and pricing. We'll do it the truth-seeking way.
Marketing | USP Makes This A Valuable Fish Oil Supplement In Many Eyes
Typically I tend to use this section to look at various aspects of the product page for the particular supplement. However, in the case of Kirkland Wild Alaskan Fish Oil, I'm unable to access it. Costco (the real brand behind the supplement) is not really welcoming to traffic from Europe. Moreover, they're not showing any love to free proxy servers either.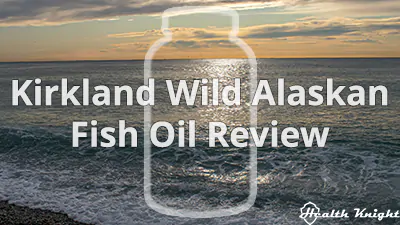 So, this time we'll have to limit ourselves to what we can deduct from the entirety of the supplement label [R].
Right off the bat, there are the two primary health claims they make. So, according to them, this is going to help support heart health and foster a normal range of Triglycerides.
Hence, generally speaking, really generalistic claims. It feels as if they don't want to invest in that aspect for whatever reason.
Another thing that immediately springs into view is the USP-verified seal. Which is a certification which carries the meaning of being properly tested for purity and potency. Furthermore, it does also show up on the official USP-approved products list [R].
Another thing they put on the label is this notion of being sustainably sourced. But it doesn't come with third-party certifications for that. It's kind of their self-proclaimed thing.
As for any free-of claims, they do not bother to list anything.
But overall, USP certification is probably the biggest factor in people trusting this as a viable Fish Oil. But is this Kirkland Wild Alaskan Fish Oil truly worth the money?
Ingredients | To Review Beneficial Aspects, It Is Still Very Questionable
The Kirkland Wild Alaskan Fish Oil is a rather potent, good-looking, supposedly trustable product. At least that's what I thought when I first saw the label. The truth, however, seems to be a bit more complex than that.
So, per serving (one capsule), the supplement of this review offers 1,400 milligrams of 100% Natural Fish Oil in which we'll find 330 milligrams of Omega-3 Fatty Acids, 670 milligrams of Omega-5, Omega-6, Omega-7, Omega-9, Omega-11 Fatty Acids, and 270 milligrams of Other Fatty Acids. On top of that, there are also 270 micrograms or 900 IU of vitamin A (as Retinol) and 0.75 micrograms or 30 IU of vitamin D3 (as Cholecalciferol).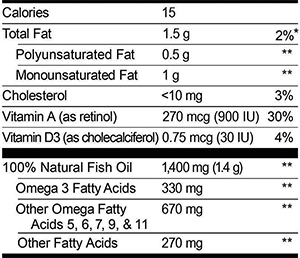 Thus, supposedly everything looks really good, especially given that there's the USP certification badge.
So, tell me. What's the first thing that comes to your mind when you see this certification?
Do you immediately see the product as something tested for purity, tested for safety, tested for potency, and thus, something definitely worth checking out?
That's what I do. Typically. In the case of this one, it's quite controversial, however.
As it turns out, despite this certification the Kirkland Wild Alaskan Fish Oil doesn't deliver what it promises. It actually has less than half of what they promise on the label. I mean, how's that possible? But it is [R, R].
It's hard to say whether this is something that would raise concerns in trusting the USP's accuracy in general or is it the doing of Kirkland Signature where, for example, half of the batch fits every label claim and the other half doesn't (because no third-party laboratory tests every supplement in the batch; it's usually a select few of each totally by random that get tested).
And so, two things I feel are for sure.
First, given that USP doesn't provide any actual certificates of analysis (only a list of supplements that have supposedly passed the testing and its set criteria), I think it's the less trustable of all third-party certifications. They should really start providing those certificates on analysis. And second, Kirkland is a brand to avoid until, so to say, further notice [R].
It's just too big of a risk, in my opinion, to get scammed and not get a quality product. A risk that certainly is not worth taking given the many quality options out there.
And, really, there's another aspect. Yes, the other Omega Fatty Acids (5, 6, 7, 9, 11) look nice. But what we're really after is Omega-3; more specifically DHA and EPA amounts. And this doesn't specify those at all (not all Omega-3s are either DHA or EPA). So, it likely does not contain much of them at all [R, R, R, R, R, R, R, R, R].
Plus, the Kirkland Wild Alaskan Fish Oil doesn't even remotely get to the 1000 milligrams of combined EPA and DHA (in the ratio of 3:2) that is considered to be the best and most optimal approach for general health and well-being [R, R, R, R, R, R, R, R, R, R, R].
Side Effects | This Supplement Does Not Struggle With Additives
Side effects are typically the product of additives whereas additives come in all kinds of shapes and forms. Many people are completely unaware of the fact that while many are harmless, there are also those that don't fit that mold at all. Cancer, liver disease, and heart disease are just a few of the ailments that can be created by consuming the wrong kind of ingredients [R, R, R, R, R, R, R, R, R, R, R, R, R, R, R, R, R, R, R, R, R].
So, how well does the Alaskan Fish Oil of Kirkland does in this regard?
Well, it's not something plagued by Polysorbates like we've seen to be the case with Nature Made Fish Oils (review). It's also not the case of likely using Shellac like what we've seen with Dr. Tobias Fish Oil (review). And neither has it fallen prey to sugar and some of its worst forms like what we've seen with some of the Nature's Bounty Fish Oil (review) supplements [R, R, R, R, R, R, R, R, R, R, R, R, R, R, R].
It's all quite well and good actually. Kind of like NutraSea Omega-3 (review) or New Chapter Wholemega (review).
In this Kirkland Fish Oil, there's Gelatin, which in its essence is an extremely beneficial substance. Then there's Water. There's also Glycerin that is something harmless. And finally, there's vitamin E as a Mixed Tocopherol to preserve freshness. Something that's commonly used in supplements as the beneficial ingredient as well [R, R, R, R, R, R, R, R, R, R, R, R, R, R, R, R].
So, as far as the other added ingredients, at least there's nothing disastrous there. Whereas being an improperly purified Fish Oil can mean high Mercury, Lead, and other admixture levels. And this can lead to a wide variety of different problems, as well as a plethora of various chronic diseases [R, R, R, R, R, R].
Reviews | The Incredible Feedback In Reviews Masks The Reality Well
Generally speaking, customer reviews and global success rates are a highly controversial subject for the Kirkland Signature Alaskan Fish Oil. To an extent, they are terribly misleading about the overall beneficialness of the product. But one step at a time.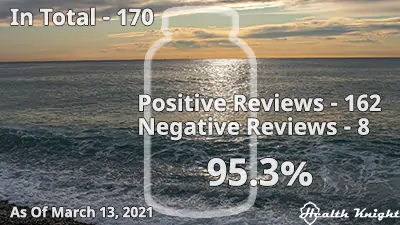 First, the manufacturer's own accumulated reviews; that's what I typically look at.
Well, given that I have no access to Costco's website, we won't be looking at those. But that's not a big loss given how often these are straight out deceiving and often adjusted, and just generally feel tampered with.
And thus, they are kind of useless when it comes to seeking truth and finding the actual global success rates.
And so, let's go into those that I found by other sellers and retailers.
In total, I managed to come across 170 Kirkland Wild Alaskan Fish Oil reviews. Of these, 162 were positive and eight were negative. Hence, standing for a very, very high global success rate of 95.3%. But as great as it sounds, there's a danger here.
It's not uncommon from time to time to come across supplements that have a success rate that they don't really deserve. I am yet to encounter that by Fish Oils but with multivitamins, it's no rare thing. The Centrum Women (review) and the Smarty Pants Prenatal (review) are just some of a plethora of examples.
The true danger here is that although these supplements all enjoy high and sometimes ridiculously high success rates, they are not great or even just good supplements to take. And the same I feel is with this Wild Alaskan Fish Oil created by Kirkland.
Do you recall what we talked about earlier in the section when discussing core ingredients? This notion that it has less than a half in it of what it claims on the label?
And God knows, what else doesn't fit what they are saying. I mean, for all we know, it may not be a pure enough Fish Oil at all. It's just something that no amount of great success rates can erase.
I mean, it may still look so good on paper. But when it comes to reality, from what I can tell, it's bad. I wouldn't ever take it myself, even if I got paid to do it.
Pricing | I Wouldn't Say Wild Alaskan Fish Oil Is Awesomely Priced Either
When we look at the Kirkland Wild Alaskan Fish Oil reviews, not a lot of them complain about the price. I mean, frankly, there are none at all that do that. But is the price genuinely a good deal?
So, the product typically costs around $25.38 per container. That's for 230 softgels. Hence, given that one serving is one softgel, that's a price of 11.0 cents per serving (softgel). Or that's 33.3 cents per every 1000 milligrams of Omega-3 Fatty Acids. Well, how does that compare?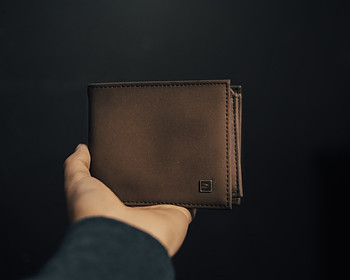 If we compare it to something like the Viva Naturals Fish Oil (review), the difference is actually staggering.
Meaning, this one comes for $38.95 per container. That's 90 servings of 2000 milligrams of Omega-3. Or to do the math, that's $0.43 per serving or 21.6 cents per every 1000 milligrams of Omega-3. Hence, that's a good 35% less than the supplement of this review.
I mean, it's not just that. It's not just the price. Viva Naturals adds proper amounts of DHA and EPA which when it comes to Kirkland, we know nothing about. Sure, it adds those other Omegas but we don't quite need those like we need Omega-3s. Plus, Viva Naturals is properly purity-tested by IFOS.
There's like a Grand Canyon between the two. I mean, I wouldn't ever risk Kirkland. But Viva Naturals I'd be happy to do.
Now, throw that against something like the Nordic Naturals Ultimate Omega (review), and the picture doesn't change much. I mean, sure, Nordic Naturals typically are almost two times the price. Still, the difference in quality, EPA/DHA ratios, additives, and just everything else is uncanny. It absolutely knocks out of the park.
And despite the price difference, I would personally always prefer it over this rather extremely mediocre and unreliable Kirkland Fish Oil. Plus, if the price is truly a very important factor, Viva Naturals is the significantly better bet.
I mean, the way I see it, it doesn't really ever make sense to go with the product of this review.
Pros & Cons | Kirkland Fish Oil Has Way Too Strong Flaws
Pros
Cons
✓ The product offers a wide variety of Omega Fatty Acids.

✘

Despite the USP certification, the Kirkland Wild Alaska Fish Oil has been found to not be pure and congruent with what they list on the label. It can be extremely dangerous and detrimental to consume Fish Oils like that.
✓ It has good additives.

✘

The supplement doesn't contain any meaningful amounts of Omega-3 (the most important Omega Fatty Acid).
✓ It has good success rates and customer reviews.

✘

It likely doesn't contain any meaningful EPA and DHA amounts (two most important Omega-3 Fatty Acids).

✘

The price is actually not good for what we're getting.
Overall | Looking Good On Paper Is Not The Same As Actually Being Good
People will say that there's a lot to love about this Wild Alaskan Fish Oil of Kirkland. That it's great and that it has helped them a lot and whatnot. However, the way I see it, the truth is something significantly more different.
Sure, everything on the label seems fine (apart from this low-quality approach of not clearly indicating EPA and DHA amounts). Additives look fine. Success rates look amazing. But what about that notion of having 40-50% of the good stuff that the label claims despite having a third-party certification of potency, as well as purity and safety?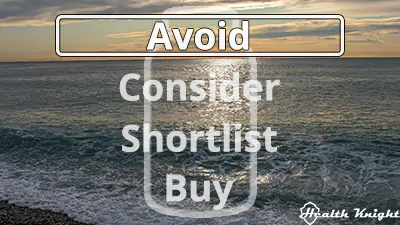 Yeah, not exactly what high-quality brands do. I mean, can you even for a brief moment imagine this being the case with brands like Nutrigold, Nordic Naturals, or Wiley's Finest? I can't. And that's my point.
I feel I've echoed this throughout the review again and again but it bears one last emphasis. I believe the Kirkland Fish Oil is not even a poor Fish Oil. It's far beyond that. And hence, (out of avoid it, consider it, shortlist it, buy it) I recommend that we all avoid it.
On that note, I have done some truly in-depth research on what the actually best Fish Oils are. Here's the article if you're interested.
Above all, I hope this Kirkland Wild Alaskan Fish Oil review helped you find the information you were looking for. If you have any thoughts or questions, I'm all here for you. And do feel free to leave your own personal reviews on the product as well.