|  Marketing  |  Ingredients  |  Side Effects  |  Reviews  |  Pricing  |  Overall  |
According to the Health Logics Biocell Collagen reviews posted by customers, many people have utterly enjoyed the supplement. Many have found this to help with their joint pain and stiffness, as well as help improve joint health in general. Others have simply experienced some profound improvements as far as skin and nail health go. Others more simply said that it is unbelievable.
So, in this Health Logics Biocell Collagen review, we will do everything to learn everything, so that this could truly help people in making an informed decision.
Hence, the idea is to be no extension of the manufacturer's marketing or other BS. This is all going to be about what I feel is the truth, the whole truth, and nothing but the truth. And we'll do that in assessing for marketing, ingredients, side effects (additives), customer feedback, and pricing. We'll do it the truth-seeking way.
Marketing | The Supplement Promises So Much & Markets Itself As Well
According to the manufacturer, the Health Logics BioCell Collagen uses "not just an ordinary collagen ingredient." Per their words, "It's holistic and natural approach to maintaining healthy connective tissue, joints, and skin is unmatched by any other product on the market." So, as always, it sounds great [R].
As for the product page, it's far more thorough and extensive than what we've seen with supplements like the Genacol Pain Relief (review) or Primal Kitchen Collagen Peptides (review).
And hence, not only do they offer a number of claims, but also they use quite a bit of marketing to sell the thing.
So, for benefits, the Collagen supplement promises to foster joint comfort and mobility, improve synovial fluid health, aid post-workout recovery, support cartilage health, reduce crow's feet, eliminate facial lines and wrinkles, diminish skin dryness, boost skin elasticity, and more.
Whereas for marketing, while they do not have their own Health Logics BioCell Collagen review section, we do have the nowadays classic subscribe and save (15% discount). Additionally, they also offer a 30-day money-back guarantee and free shipping on orders over $50.
As for any free-of claims, it's said to be Non-GMO and Gluten-Free. Additionally, it's Soy-Free, Milk-Free, Fish-Free, Egg-Free, Sugar-Free, Peanuts-Free, and Shellfish-Free. And then, it's also NSF Certified Sport [R].
So, all in all, it looks very good. But is it actually worth the money?
Ingredients | Not Only Patented Ingredients, But Also Third-Party Testing
Collagen supplements can come in all kinds of shapes and sizes. A classic approach to this protein is through various flavored and unflavored powders like the Alaya Multi Collagen (review). Another approach to things can be about using tablets like the Doctor's Best Collagen (review). Or it can be through capsules as is the case with the supplement of this review.
So, per serving (two capsules), the Health Logics BioCell Collagen offers 1000 milligrams of BioCell Collagen which consists of 600 milligrams of Hydrolyzed Collagen Type II, 200 milligrams of Chondroitin Sulfate, and 100 milligrams of Hyaluronic Acid. Now, here's to elaborate on that.
BioCell Collagen is a patented Collagen formulation. It's built out of three main ingredients (those mentioned in the previous paragraph) while ensuring a unique kind of synergy between them. Hence, it's, essentially, the better version of all those ingredients apart [R].
But what I like most about the BioCell is that it's also been proven to be effective, beneficial, and safe in some top-notch human studies. And the product page of the Health Logics BioCell Collagen does a pretty great job of breaking all that research down. Which is awesome [R, R, R, R, R, R, R].
So, as far as the specific gains it can provide, it's all of the mentioned and promised ones. Furthermore, Health Logics is very thorough with that in the sense that they do specify the amount needed to get to a certain benefit. Namely, 1,000 milligrams are for skin health, 2,000 milligrams are for joint health, and 3,000 milligrams are what gets post-workout recovery going [R, R, R, R, R, R, R].
Consequently, while the supplement of this review recommends 2,000 milligrams daily (two capsules twice a day), we have the option to easily adjust for 3,000 milligrams if that's best suited to our needs.
On top of all this, I do also suspect that any other Collagen-associated gains are possible. Furthermore, I even think that the ones typically associated with the Chondroitin Sulfate and Hyaluronic Acid use are possible as well. I mean, it might not be the absolutely full extent of them but still. I think it's promising [R, R, R, R, R, R, R, R, R, R, R, R, R, R, R].
And then, for manufacturing quality, we have the NSF Certified Sport. What this third-party certification means is that the supplement of this review is not only void of any forbidden substances for athletes, but also it approves the purity, safety, and potency of the product [R].
Thus, I can't really fault the BioCell Collagen of Health Logics as far as the beneficial ingredients go. It's kind of as awesome as they come.
Side Effects | To Review Additives, This BioCell Collagen Does Well, Too
Side effects happen because of poor choice of additives. Whereas additives are the often necessary ingredients for the making of the supplements that we can't really do without. I mean, many Collagen powders can avoid them completely like the Zhou Collagen Peptides (review).
But on the contrary, there also exist those that use potentially harmful ingredients like Sucralose in supplements like the LAC Taut Collagen (review). Which is an artificial sweetener that can cause leaky gut, diabetes, depression, cancer, obesity, and more [R, R, R, R, R, R, R, R, R, R, R].
So, additives definitely matter. Here's to consider what the Health Logics BioCell Collagen uses.
It's about three additives. Gelatin, Organic Rice Hull Concentrate, and Cellulose.
Gelatin is a very safe ingredient. It's basically Collagen; it's just cooked differently. And since it's full of various useful amino acids, it's something that has also been associated with plenty of gains. It's helpful more than anything but occasionally it can still cause bad breath or taste in the mouth; heartburn is also possible.
As for Rice Hull Concentrate, we got to love the fact that it's organically sourced. Rice as an ingredient won't really have any side effects. In fact, it can be quite beneficial as well.
Lastly, Cellulose is one of the safest additives there is. It's, essentially, the natural polysaccharide found in all plants. Meaning, we consume tons of it with vegetables and fruits anyway. So, a little tiny extra in a supplement won't ever cause problems [R, R, R, R].
So, with additives themselves, the side effects will be pretty non-existent for the Health Logics Collagen. However, a few can arise for some select few people with Chondroitin. Namely, while this is a hugely beneficial ingredient, it can cause side effects like constipation, stomach pain, headaches, bloating, and diarrhea for some people [R, R, R].
Reviews | People Have Been, Generally, Very Happy Per Customer Reviews
So, we've discussed all of the ingredients the supplement of this review carries. But what about some practical aspects that are a part of it all. Like what about Health Logics BioCell Collagen customer reviews? Are they good? Has it helped people genuinely?
Well, when it comes to that, we don't really get any insight into that on the manufacturer's page. And that's fine because typically those are rigged anyway as we've seen with the Skinny Fit Super Youth (review), Truvani Marine Collagen (review), and many other Collagens.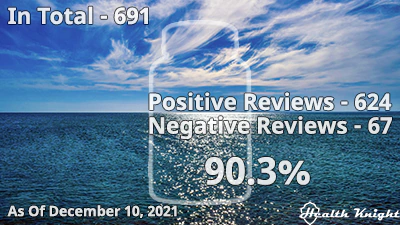 So, what we're actually interested in is all the feedback we can gather from third-party sites because when it comes to them it's less likely that they have been tampered with.
On that note, in total, I managed to find 691 Health Logics BioCell Collagen reviews. Of these, 624 were positive (three-star, four-star, five-star) and 67 were negative (one-star, two-star). Hence, the Collagen supplement is sitting at a global success rate of 90.3%.
And while it is a really great one (which is, by the way, likely even higher), I don't really think that it matters too much.
Why? Because the patented Collagen formulation has been tested in a number of studies. And it's pretty conclusive that it has some really cool benefits to offer. Thus, it definitely works. Whereas, if people can't stick with it consistently enough, that's 100% on them and not the supplement [R, R, R, R, R, R, R].
But completely another thing is when we do encounter allergic reactions to some of the ingredients. And those are widely impossible to predict, and they can happen with any supplement. This is also what most negative reviews had to say. Other than that, there were also problems with shipping and expired supplements, as well as, in some cases, it might just be a fake sold (Amazon).
Which is something people have likely encountered with a ton of other supplements, especially when ordering through Amazon [R, R, R].
Pricing | This Health Logics Collagen Has An Incredible Value-For-Price
Now, another very important practical aspect is pricing. Because we don't want to be paying an unfair or somehow inflated price for a product that's not worth it. On that note, the Health Logics BioCell Collagen reviews didn't really complain about the cost being high. But would that imply that's it's fair or affordable?
So, per container (120 capsules), the supplement of this review costs typically $25.46. To do the math, that's about $0.42 per serving or 42.4 cents for every 1,000 milligrams of BioCell Collagen. Now, how does that stack against other similar supplements?
Well, it actually holds its own against those very well. Here's to illustrate.
If we throw it against something like the Pure Encapsulations Collagen JS (review), the difference is massive. I mean, Pure Encapsulations option typically $36.90 for a container. That's $1.22 for every 1,000 milligrams of BioCell Collagen. So, it's, essentially, three times the price.
But Pure Encapsulations does not offer third-party testing. Yes, both have great additives and both use just the BioCell as its active ingredient. But the value that Health Logics offers is infinitely better. Thus, I would absolutely choose it between the two.
The same I would say is the case when comparing it with the Reserveage Collagen Booster (review). Yes, Reserveage adds more substances on top of the BioCell for the price about equal to Pure Encapsulations. Both Reserveage and Health Logics have third-party testing. And, personally, I would prefer the latter.
In fact, I would even prefer it when compared to something like the Now Foods BioCell Collagen which costs typically 38.0 cents for every 1,000 milligrams of BioCell. The value that the Health Logics alternative offers is just better. The price increase over Now Foods is so much worth it. Because Health Logics has third-party testing. Now Foods doesn't.
Overall | All In All, I Think This Is A Hell Of A Collagen
I have to admit that the Health Logics of this review did kind of surprise me. I mean, yes, it seemed like a nice supplement overall right off the bat. But what I did not expect was how well it was actually priced. I mean, it's just insane value.
So, to that end, for positives, we have great beneficial ingredients, great additives (no side effects), decent success rates, and price is reasonable, to say the least. Plus, it is also third-party tested for purity, potency, and safety by NSF Sport. Which is huge.
Thus, it's kind of perfect the way it is. I mean, it's really hard to come up with any real negatives. I mean, we could say that the fact that people experience allergic reactions from this is a negative. But that's kind of true for every supplement.
Hence, I'm not really sure if that would be fair to somehow specifically emphasize it with just this Collagen product.
All in all, (out of avoid it, consider it, shortlist it, buy it) I believe that the Health Logics BioCell Collagen is buyable, for sure. It's just really solid ingredients with proper third-party testing which is also augmented by the fair price they ask for it.
Other than that, other great patented Collagen options do include the Reserveage Collagen Booster (review). And if you ever decide to try a Collagen powder, here's my favorite one (full review).
Above all, I hope this Health Logics BioCell Collagen review helped you find the information you were looking for. If you have any thoughts or questions, I'm all here for you. And do feel free to leave your own personal reviews on the product as well.