|  Marketing  |  Ingredients  |  Additives  |  Reviews  |  Pricing  |  Overall  |
In this Live Conscious Beyond Collagen review, I plan to go really in-depth when it comes to this particular Collagen supplement.
To really make that the case, we will go through quite a few things. First, we'll start with somewhat of a baseline exploring what the manufacturer is saying and the marketing they use. Then, we will make it all about the beneficial ingredients. Then, we'll explore the inactive ones. Then, we will research customer reviews and see what the global success rates are like. Lastly, we'll tackle pricing and compare this to what else is out there.
This Live Conscious Beyond Collagen Review To Cut It Wide Open
According to the manufacturer, the Live Conscious Beyond Collagen is a "collagen complemented by extras" in an effort to "take your collagen experience to the next level." It is a supplement to "to the beauty of your hair, skin, nail, and joint health, and the addition of biotin and vitamin C amplifies collagen synthesis in the body, magnifying beauty benefits." In other words, what they're saying is that it's about creating the strongest, most capable Collagen-driven supplement [R].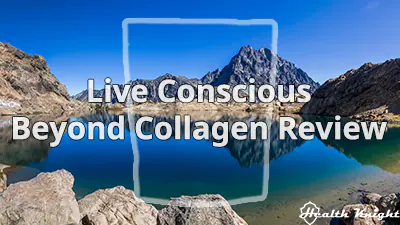 As for the product page, I really like it. There are plenty of visuals and great readability through plenty of bite-size pieces of text. Plus, the marketing they use isn't oppressive.
Yes, they offer plenty of options when it comes to making a purchase. Basically, the higher number of bags we buy right off the bat, the higher the discount.
Then, we get extra discounts and free shipping if we subscribe to monthly shipments. Which, by the way, are thoroughly flexible as we can pause or cancel them anytime. And yes, they even offer a whole year of a money-back guarantee. There is also a customer review section and even some testimonials to really help people get over the fence and drive sales.
As for the benefits, the Live Conscious Beyond Collagen promises improved skin, hair, nail, joint health. The way they put it, it's about bringing true radiance and strength to all four of those. And to make sure that it improves our health at a cellular level and beyond. Hence, the name. Beyond Collagen.
Other than that, it's promised to be Dairy-Free, Gluten-Free, Keto-Friendly, Non-GMO, Peanut-Free, Preservative-Free, Shellfish-Free, Soy-Free, and third-party tested. But does it really have what it takes? To not just be an awesome Collagen supplement but to really go beyond?
I Love That Beyond Collagen Proprietary Blend, It's Really Awesome
As far as the beneficial ingredient goes, I think that is genuinely the case. I mean, it's not just pure quality Collagen. It's quite more than that to truly deliver on what it promises. To that end, I really like how it specializes when compared to other Multi Collagens out there, like the Ancient Nutrition Multi Collagen (review) or the Vitauthority Multi Collagen Protein (review).
So, per serving (10.4 grams), the Live Conscious Beyond Collagen offers 10.1 grams of Beyond Collagen Proprietary Blend which consists of a mixture of Types I & III Bovine Collagen, Type II Marine Collagen, Type II Chicken Sternum Collagen, and Types I, V & X Eggshell Membrane Collagen. Then, alongside that, we also get 2500 micrograms of Biotin and 90 milligrams of vitamin C.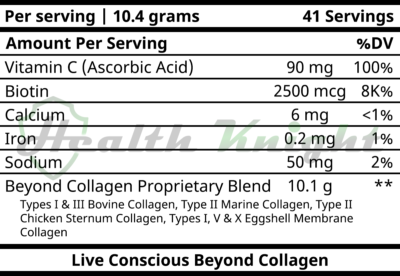 So, what does that all mean?
Well, frankly, the supplement of this review is the newer addition to Live Conscious Collagens' line-up. In its essence, it is the fusion of the other two extremely capable and top-notch quality supplements in the category. Namely, it's the fusion of Live Conscious Collagen Peptides (review) and their Beyond Collagen capsules.
Hence, we've got that same Non-GMO, Hormone-Free, Pasture-Raised, Grass-Fed, Grade A, third-party tested Collagen that is all about harnessing and delivering the highest quality possible. I mean, it even uses the Type II Marine Collagen which is typically a very hard one to come by. Only a couple of other Marine Collagens on the market, like the Truvani Marine Collagen (review), offer it [R, R, R, R, R, R, R, R, R].
But the Beyond Collagen doesn't really stop there.
It also brings to the table 2500 micrograms of Biotin which is a very decent amount alongside what is plenty in Collagen. It's something that quite many supplements fall back to when it comes to delivering gains to hair, skin, and nail health. Because it is a potent option. Whereas in this context, it's for the added extra layer of potential benefits. And then, just some extra vitamin C on top of that which doesn't really ever hurt [R, R, R, R, R].
The way I see it, the product of this review is truly about bringing the entire notion of Collagen-induced benefits to a whole new level. I feel it just has every core tool to do it.
For Additives, The Supplement Takes The Most Quality Path I Know
I really don't like the notion of Preservative-Free. I mean, people typically don't associate this with how Preservative-Free is used in the marketing materials. You see, people typically associate this with the idea that there are no added extra ingredients for the purposes of keeping it all together (additives). But preservatives are just a group of additives intended to keep any given product fresh and help it avoid becoming rancid.
So, how true is the notion of Preservative-Free in the Live Conscious Beyond Collagen?
It's actually true no matter the interpretation you end up pursuing or having. Meaning, not only does it not have any Preservatives, it also doesn't use any additives whatsoever.
And that's something that isn't too common across various supplement categories. For example, we won't ever find multivitamins or vitamin B12 supplements that don't use any additives. It's just not possible to make those without these extra ingredients.
But the real reason why we do take these into account when assessing supplements is because there are plenty of substances that can't exactly be considered harmless.
For example, gummy vitamins often contain Glucose syrup. It allows for saving costs as far as the sweetening of the thing goes. But then, it's something known to be an alternative name for the High-Fructose Corn Syrup which can lead to heart disease, eating disorders, weight gain, high blood pressure, obesity, learning difficulties, cancer, and a whole lot of other ailments [R, R, R, R, R, R, R].
But as I mentioned, as far as the Live Conscious of this review goes, this is not a concern at all since it's 100% the beneficial ingredients. And no additive whatsoever.
As Far As Current Customer Reviews, It's So Well-Received
Customer reviews are never a straightforward and easy thing to look at when it comes to supplements. Because we can have the most suboptimal or poorly formulated supplement but it will have decent success rates regardless. I mean, just look at the Centrum Silver Men 50+ (review) or NeoCell Gummy Glow (review). Still, I believe that any proper review not looking at them just isn't giving a fully encompassing and dynamic look at what the product is actually about.
So, how is it looking when it comes to the reviews of Live Conscious Beyond Collagen?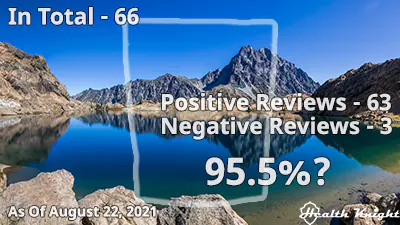 Well, the product page is not abundant with them at all. I mean, at the writing of this article, they only like five comments on it (all of the five-star).
And that's something that brings me back to this notion that the supplement is really new to the market. Live Conscious first had their Collagen Peptides. Then, they created the Beyond Collagen capsules. And only then, we got this. The Beyond Collagen powder.
Hence, it's very likely there won't be much feedback on it out there yet. And that's something that did, indeed, prove to be the case when I researched every third-party seller and retailer for Live Conscious Beyond Collagen reviews.
I mean, when you do the search what typically will come up are the reviews for their Beyond Collagen capsules. In fact, the only other website apart from the manufacturer's one, I found only Amazon containing customer ratings so far.
And as you can probably expect, even with having them, there weren't many. Meaning, I did manage to find only 66. Of these, 63 were positive (three-star, four-star, five-star) and just three were negative (one-star, two-star). Which means that while it is a bit early to tell, the global success rate is fluctuating around 95.5%.
And that's a pretty impressive success rate. Even more so, because it's likely even higher given that people often are intrinsically far more driven to report negative experiences than positive ones.
So, per the Live Conscious Beyond Collagen reviews, it seems to be a great product. Which is, even more, the case if we look at the negative feedback. Because those ones only complain about it clunking together when, in reality, I wouldn't be surprised that it's simply due to the fact that it was probably stored in Amazon warehouses. And those often don't contain the most optimal conditions for storing supplements just in general. Which, the way I see it, can easily take quite a lot away from the helpfulness of any supplement.
To Review Cost, Live Conscious Offers Incredibly Well-Priced Multi Collagen
Another practical aspect that I don't believe enough reviews consider properly is the aspect of pricing. I mean, when we see a great product, people often just try to sell it to us no matter its actual cost. But, in reality, I wouldn't ever want an amazing Collagen (even if it's the best one on the market) for a price of $10 grand per container. Hence, it only makes sense that we assess it. The price has to be reasonable.
So, per bag, the Live Conscious Beyond Collagen typically costs $38.99 (but we can get it for as low as $34.99). That's the price for 41 servings of 10.1 grams of Multi Collagen. So, it's 95.1 cents per serving or 94.1 cents for every 10 grams of Multi Collagen (or 84.5 cents of that with the lowest possible price). So, how does that compare to what else is out there?
Well, to tell the truth, I think the top-echelon competition is very fierce for Multi Collagens.
For example, compare it to something like the Ancient Nutrition Multi Collagen Peptides Protein Powder (review). The Ancient Nutrition costs typically $38.21 per container. That's 45 servings of 10 grams each; namely, that's 84.9 cents for every 10 grams of Multi Collagen. In other words, that's very similar in price (about 10% difference or no difference at all if we consider the lowest price).
Now, both offer the same extremely high-quality Collagen sourcing. The difference lies within the fact that Ancient Nutrition doesn't add any Biotin for an extra layer of hair, skin, nail benefits. What it does, however, do is provide 2 Billion CFU of the Probiotic Bacillus Coagulans. And then, as far as I can tell, Ancient Nutrition realistically doesn't do third-party testing.
Hence, between the two, I would prefer the supplement of this review.
On that note, arguably Live Conscious' most capable rival is the BioTrust Ageless Multi Collagen (review). Hence, we absolutely have to compare it to that one.
So, the two supplements are the same when it comes to quality. In fact, both do third-party testing as well. What BioTrust adds that Live Conscious doesn't is L-Tryptophan. Which, to some degree, is a tricky substance but, for the sake of argument, let's say that the Biotin and vitamin C in Beyond Collagen level it out.
In other words, it all comes down to the price. BioTrust is typically $31 per 20 servings of 11.25 grams of Multi Collagen. That's $1.55 per serving or $1.38 for every 10 grams of Multi Collagen. Hence, if we do the math, that's about 60% more than what the supplement of this review costs.
I guess needless to say that it's significant of a difference.
I Do Believe That It Is An Exceptional, Very Worthwhile, Buy-Able Product
So, where does it all leave us with the Live Conscious Beyond Collagen? Is it really like an amazing product? Or should we just prefer the other options that are out there?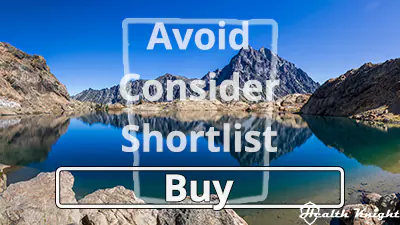 Personally, I was really excited when I learned that Live Conscious decided to do an attempt at a Multi Collagen powder.
Because so far, the two most capable options with Multi Collagen were the Ancient Nutrition Multi Collagen Peptides Protein Powder and the BioTrust Ageless Multi Collagen (the ones we compared it to in the previous section).
But each of these had its slight shortcomings. We either had to forgo third-party testing with Ancient Nutrition, or we had to put up with the rather high price increase to ensure that with BioTrust. Whereas Live Conscious takes the golden middle road.
It's the highest Collagen quality possible with third-party testing like BioTrust and with a very minor price increase over Ancient Nutrition. Furthermore, it also adds decent amounts of Biotin and some vitamin C, has no additives, and has better success rates than any other two.
So, with that in mind, I believe that it's arguably the best Multi Collagen out there. Hence, (out of avoid it, consider it, shortlist it, buy it) I believe that it's fine to just go ahead and buy this one. I feel you can't go wrong with it, especially if you're after a Multi Collagen, specifically.

Above all, I hope this Live Conscious Beyond Collagen review helped you find the information you were looking for. What do you think is its best suit? Did you enjoy it more than its rivals? Let me know below. Also, feel free to leave your own personal reviews on the product.