|  Initial Thoughts  |  Core Ingredients & Benefits  |  Additives  |  Success Rate  |  Final Thoughts  |
This Doctor's Best Collagen Powder review will be fully devoted to exploring every little detail about the particular supplement.
To that end, we will not only be exploring the beneficial ingredients but also the inactive ones (additives). We will also have a look at the promotional materials and claims, assess how true they hold, and do a comprehensive study on every real customer review findable to get a good sense of the global success rates.
As I See It, Collagen Powder Of Doctor's Best Is Not Marketing-Heavy
It's not rare to come across supplements that are ridiculously intrusive in how they're marketed. The promotional materials for those are tailored in a way to tick off every box in the book to simply get people to buy without much concern of whether it's in their best interest or not. This we've seen with supplements like the Skinny Fit Super Youth Collagen.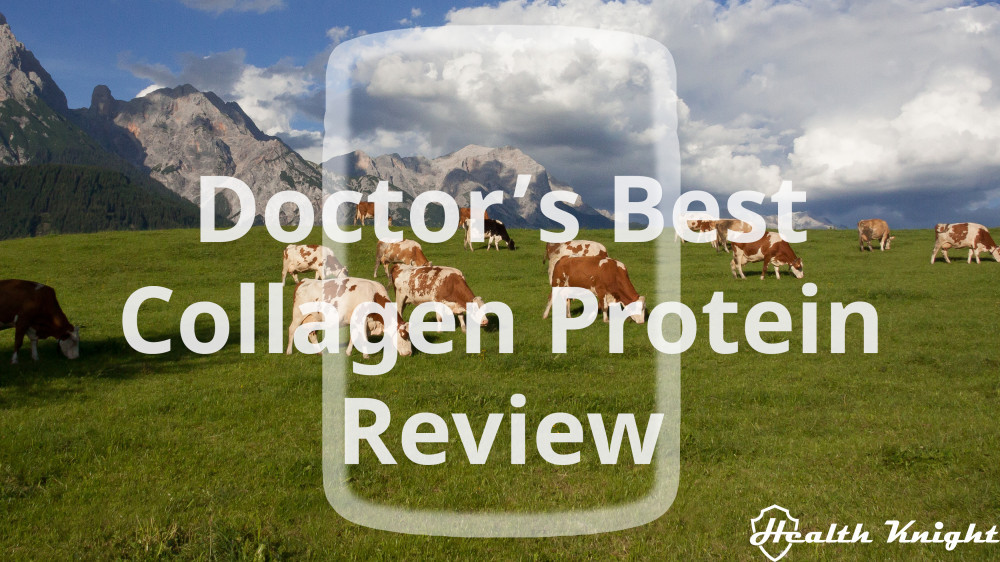 To that extent, the description page of the Doctor's Best Collagen Powder is not like that at all. It's extremely down to earth, not a marketing-heavy exemplar. And thus, a rather pleasant place to be [R].
Truth told, the description page is extremely similar to that which they have for Doctor's Best Collagen tablets and capsules. This too offers highlights, general info, supplement facts, decent FAQs, safety information, and, best of all, scientific fact sheet that essentially backs up every single claim they make for the supplement [R].
With the Doctor's Best Collagen Powder they promise benefits to hair, nail, skin, bone, ligament, tendon health. There's also promises to better joint health and comfort, as well as mobility and just overall quality of life.
Apart from all that, they also persist on this notion that the supplement "contains pure collagen protein enzymatically hydrolyzed into low molecular weight peptides for optimal utilization by the body." Which if we paraphrase, basically implies that their Collagen is the better option than the typical one [R].
Oddly enough, the powder version, as opposed to capsule and tablet versions, is not claimed to be GMO-Free, only Gluten-Free, and Soy-Free. At least so it's noted on that description page. The supplement label itself does, however, indicate that this notion of GMO-Free-ness is to be true.
So, without any real surprises, as far as the promotional material goes, it all looks great. But let's not stop here, rather let's explore further.
Not The Beefiest But Still Pretty Solid As Far As Amounts Go
Generally speaking, there is nothing special about the Doctor's Best Collagen Powder. It doesn't add any additional nutrients like the AHS Super Collagen or any additional substances like the Health Direct AminoSculpt Collagen. And neither is it like some of the multivitamin-like Collagen supplements out there like the Applied Nutrition Liquid Collagen. Instead, it's just Collagen.
And not that great amounts of it.
The Doctor's Best Collagen Powder offers 6.6 grams or 6600 milligrams of Hydrolyzed Collagen Types 1 & 3 (out of Bovine) per serving (scoop). While this is considerably less with what the Garden of Life Collagen supplements offer, it's still beyond what you find in something like the It Works CollagenWorks or most other Collagen supplements out there.
I mean, it essentially is as abundant as the Youtheory Collagen or NeoCell Collagen are, both of which have been proven through global success rates to be beneficial.
So, it should be decent as far as that goes. Still, what about their claims of improved absorption and thus, benefits when it comes to this one?
Well, I believe they don't exactly apply. I feel this claim is sort of a residue of what this supplement used to be. Meaning, if I'm not mistaking they used to use Peptan patented Collagen in the Doctor's Best Powder but not anymore. Now, it's only the luxury of the capsule version of the supplement.
Thus, we're likely, in reality, looking at our typical Collagen. Whereas while it might not be as effective as the Peptan one, I feel it's still very capable in bringing about the already previously listed benefits and gains [R, R, R, R, R, R, R, R, R, R, R, R, R, R, R, R, R, R, R].
Additives Usually Are A Hurdle; What About Them In This Case?
Now, we've discussed beneficial ingredients. What about all the other ones that get typically added to supplements (additives)?
While many people fear them (though they're actually often very necessary) and even more people don't pay any attention to them, it has to be said that these ingredients (as anything we consume) can affect us in a variety of ways. And yes, that includes negatively.
To avoid that, preferably we should always research them before embarking on a new supplement. But in this particular case, there is nothing additional necessary to research about the Doctor's Best Collagen Powder.
The reason being is that the supplement literally has no added extra ingredients.
While this is rare and about 99% of the time not possible, on occasion it's doable. We have seen this to be the case with MCT Oil supplements and Carotenoid ones. And it's exactly the case also here.
Thus, with this particular product, we're essentially getting all the benefits with no regard and zero concern about any side effects or just any negatives in general.
There's A Ton Of Evidence The Supplement Is Delivering
All of the theoretical ingredient aspects out of the way, let's look into how well the Powder version of the Doctor's Best Collagen delivers.
Going all out and conducting a comprehensive study considering every single real customer review I could find online, revealed that this particular supplement is considerably better received than most Collagen supplements out there.
Or to be more specific, at the writing of this article, I managed to find a complete number of 2366 reviews. Of these, 2168 were satisfactory and positive ones (3-, 4-, 5-star ones) whereas 198 were negatives (1-, 2-star ones).
Doing the math, this means that Doctor's Best Collagen Powder is currently enjoying the global success rate of 91.6%. Which if we're absolutely on point, is likely even higher than that as people naturally are way more eager to report negative experiences than positive ones.
To compare that to it's some of its viable competitors, Youtheory Collagen hits the above 90% mark whereas Garden of Life Collagen depending on the version averagely enjoys above 88% of people.
So, to paraphrase, at least in terms, of the success rates it compares favorably and thus, seems to be a good bet.
But is it actually worth the money?
Being Worth The Money Is One Thing But Is It The Better Choice?
Given all that the Doctor's Best Collagen Powder is – 6.6 grams of Hydrolyzed Collagen without a single additive that enjoys above 91.6% global success rate – and given how incredibly affordable it is, I think it's a great bet.
It's definitely a good price for the value.
However, is this as good as they get or is there something that would outrank this and thus, would be the preferred choice?
I like to believe that there is a better alternative. It's something I would go for if I ever felt the need for a Collagen supplement or if my wife would ever ask for one. Here's my full review with a summary of it.
Above all, I hope this Doctor's Best Collagen Powder review helped you find the information you were looking for. When it comes to this one which do you believe is its biggest strength? Do you think those success rates are solid? What about them not claiming that their Collagen is Grass-Fed?