|  Marketing  |  Ingredients  |  Side Effects: Additives, Beneficial Ingredients  |  Reviews  |  Pricing  |  Overall  |
According to the Natrol Biotin 5000 Mcg (Extra Strength) reviews by customers, people are perfectly satisfied with it. People report nails not being so brittle anymore and just being stronger overall. The same is said about hair as well. Others were just super impressed with the taste, quality, and how rapidly they dissolve. Others more said that the results were very fast.
So, in this Natrol Biotin 5000 Mcg review, we'll dissect everything in-depth and in utmost detail.
Hence, the idea is to be no extension of the manufacturer's marketing or other BS. This is all going to be about what I feel is the truth, the whole truth, and nothing but the truth. And we'll do that in assessing for marketing, ingredients, side effects (additives), customer feedback, and pricing. We'll do it the truth-seeking way.
Marketing | Marketing Is Brief & Not Oppressive At All
According to the manufacturer, the Natrol Biotin Extra Strength (5000 Mcg) is "known for supporting healthy hair growth, radiant skin, and stronger nails. It comes in a strawberry flavor that tastes great and can be taken anytime, anywhere. No water needed. It is fast-acting and perfect for those that have a hard time swallowing vitamins and supplements" [R].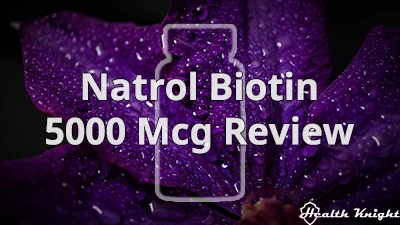 So, there we have the promised benefits. They go for stronger hair, healthier skin, and improved nail health. But they don't actually stop there.
This Natrol Biotin is also promised to promote energy metabolism, as well as helping the conversion of food into energy. Above all, for them, this is nourishing our inner beauty.
As for marketing tactics, it's not too oppressive. It's kind of like NeoCell Collagen Beauty Builder (review) and Nature's Bounty Biotin (review). Namely, there are a few tactics but not too many.
First, they offer free shipping on orders over $35. Second, there's a 60-day money-back guarantee. And third, there's a Natrol Biotin 5000 Mcg review section as well [R].
And there are some, what I refer to as semi-marketing tactics, too. For example, we've got a FAQ and a social share count.
As for any free-of claims, there are a bunch. It's said to be Fish-Free, Milk-Free, Shellfish-Free, Egg-Free, Yeast-Free, Peanuts-Free, Tree-Nuts-Free, Soy-Free, Artificial-Colors-Free, Artificial-Flavor-Free, and Artificial-Preservatives-Free. It's said to contain Wheat and to be Vegetarian-Friendly.
So, the Natrol Biotin 5000 Mcg looks fine. The real question is whether we should really want it or not.
Ingredients | Beneficial Stuff This Biotin Supplement Does Really Well
Gains to hair, skin, and nails can be brought in a couple of different ways, to name a few. One common way is to do it through Collagen like with the Skinny Fit Super Youth (review). Another one is to do it by Keratin like in the Olly Undeniable Beauty (review). And there's also, of course, the way of having tons of Biotin like with the NeoCell Biotin Bursts (review).
As the name already gives it away, the supplement of this review picks the last one.

So, per serving (one tablet), the Natrol Biotin Extra Strength offers 5000 micrograms of Biotin. Well, what do we make of it and what does it mean?
First, it's worth noting that optimal and intensified Biotin intake can bring a variety of benefits just in general.
It can contribute to hair, nail, and skin health. It can also help lower blood glucose levels, fight diabetes, improve liver metabolism and nervous system's health, play an important role in energy and macronutrient metabolism, help battle conditions like Crohn's disease, Parkinson's disease, Rett syndrome, cancer, and many others [R, R, R, R, R, R].
So, it can be very helpful, indeed.
Second, 5000 micrograms (or more) are the amount to do it. It's a very effective amount as far as all the benefits of the vitamin. So, to that end, it has every reason to be capable of providing that [R, R, R, R, R].
Third, none of the benefits will be compromised due to the Natrol Biotin Extra Strength using what likely is the synthetic form of the vitamin.
Meaning, they don't specify Biotin's form on the label. And since they don't, I highly doubt that it's the d-Biotin form which is the natural form of the vitamin. Still, for Biotin (vitamin B7), which one exactly doesn't matter that much. Because are very well absorbed and used by the body. So, it's more like a side note and shouldn't really be seen as a flaw [R, R, R, R].
But speaking of flaws, when it comes to the beneficial ingredients, there aren't really any hard ones. I mean, the fact that Natrol doesn't do third-party testing can be seen as a flaw. Still, I think their in-house testing is superb, hence the supplement of this review should be more than fine as far as quality.
Side Effects | We're Reviewing Side Effects From Two Different Angles
What they are not, however, doing a very good job with is the other ingredients within the supplement. The other ingredients are commonly known as additives, and they are primarily the reason for any and all side effects. That said, it sometimes is also possible to get side effects from the beneficial ingredients as well.
We'll look at both.
Additives Carry Troubles From Stomach Problems To Compromised Immune Health
So, for additives, the Natrol Biotin 5000 Mcg uses Xylitol, Cellulose Gum, Maltodextrin, Crospovidone, Modified Food Starch, Malic Acid, Silicon Dioxide, Natural Flavor, Stearic Acid, Beet Root Extract, Magnesium Stearate, and Citric Acid. In other words, quite a number, indeed. And there are a couple of discussion-worthy aspects here, the way I see it.
First, we have Xylitol. It's a sugar alcohol that can let itself be known by stomach-related issues, typically bloating. That being said, I think we shouldn't fear it. It's got plenty of good aspects and slight gains to offer as well.  [R, R, R, R, R, R, R].
Second, we've got Maltodextrin. And that's, essentially, the biggest problem when it comes to Natrol's additives as a whole.
It's a form of sugar used in various different ways in supplements. It's more detrimental than regular sugar. And it can cause sudden headaches, bloating, diarrhea, and breathing difficulties. Plus, it can also wreak havoc on our immune health while also being a cover-up ingredient for other harmful ones like flavor enhancers and sweeteners [R, R, R, R, R, R, R].
Third, we have to discuss Stearic Acid and Magnesium Stearate. These are very controversial substances since most of the internet will try to convince us that they are harmful. Still, that's not the case at all if we thoroughly study the research. And the minority of high-profile doctors do agree with that [R, R, R, R, R].
Fourth, Citric Acid needs some attention as well. There are three instances when it can be harmful. One has to do with it being GMO. Another can be the case if there's too much of it in our diet (it's added to plenty of processed foods). The final one has to do with improved Aluminum absorption [R, R, R, R, R, R, R, R, R, R, R, R].
But being a GMO in the Natrol Biotin 5000 Mcg is a real possibility since it doesn't bother to claim that it's Non-GMO. Hence, it likely is. Which just means that it can quite possibly cause joint swelling, stiffness, and pain. It can also contribute to stomach and muscular pain, shortness of breath, as well as among other weaker immune systems [R, R, R, R].
Fifth, Modified Food Starch is another potential problem. This is also likely a GMO, mostly likely corn-sourced. While there isn't too much information available, it's likely just a chemically altered Corn Starch. And thus, it can potentially cause all of the problems associated with it like immense digestive problems and mineral deficiencies [R, R, R, R, R, R, R, R, R].
So, definitely, overall, not the healthiest bunch. But there is more with the Natrol Extra Strength Biotin.
Natrol's 5000 Mcg Of Vitamin B7 Can Potentially Wreak Havoc Too With Prolonged Use
As kind of mentioned earlier, while additives are typically what bring side effects, they can also be caused by the beneficial ingredients. And that's especially the case if there's an overwhelming overabundance of them. And the supplement of this review does fit that description.
I mean, 5000 mcg in the Natrol Biotin Extra Strength is a lot of Biotin (vitamin B7). It's five times the maximum margin based on the best practices for nutrient amounts. But what we're really interested in in this regard are the Upper Tolerable Intake Levels.
These are the levels that, essentially, identify the highest amount of a particular nutrient that may be consumed daily safely (poses no risk of adverse effects) when used for very long periods of time or lifetime [R, R].
Sadly, Upper Tolerable Intake Levels for vitamin B7 haven't been established. So, we're a little bit in the uncharted waters. Still, Biotin is a water-soluble vitamin. Meaning, it's of a group of vitamins that are known for being easily excretable if our body recognizes that there's too much of it [R, R, R].
And so, our bodies can self-regulate if that is necessary and thus, get rid of what is the overabundance. That said, even with water-soluble vitamins, too long periods of time whilst too large doses can still create adverse effects, for example, as is the case with vitamin B6 [R, R, R].
So, the word of caution would be to take it for no more than three months at a time and reassess if a break period is needed. And definitely listen to your body; do what feels right to you; seek out capable professionals if needed.
Lastly, overconsumption may be accompanied potentially and most commonly by side effects like skin allergies (flushing, rashes, itchiness), insomnia, excessive thirst, excessive urination, flushing, rashes, or itchiness on or in the chest or throat, weaker immunity, increased blood sugar levels, and some others [R, R, R, R].
Reviews | Success Rate Is High, Reviews Are Great But That's The Danger
For this section, we'll be looking at all Natrol Biotin 5000 Mcg reviews posted by customers. It's a very tricky and always interesting thing to look at. I mean, it's worth noting that customer feedback for supplements is never as straightforward as we get those for products like PCs and TVs (because we can't really measure innocent ignorance).
But still, they do give a more comprehensive and dynamic look at the product. So, I do dive into it.
On the manufacturer's page, we typically get unnaturally positive reviews. Great examples of this are both Orgain Collagen Peptides (review) and Primal Kitchen Collagen Peptides (review). But not so much the case with Natrol. The Biotin 5000 Mcg has got 12 reviews total and one is negative.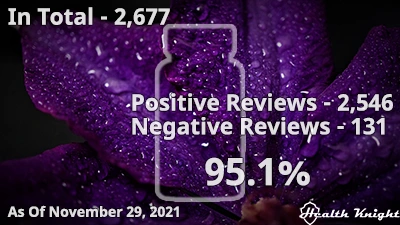 In other words, that way too early to tell if it's going to be the kind of likely adjusted and tampered with section as such sections typically are. Time will tell.
But regardless of that, I did research by all third-party sellers and retailers I could find having the product.
In total, I managed to come across 2,677 Natrol Biotin 5000 Mcg reviews. Of these, 2,546 were positive (three-star, four-star, five-star) and 131 were negative (one-star, two-star). Hence, it leaves us at a global success rate of 95.1%. Which is pretty neat.
I mean, that's definitely high. But that's the danger. Even supplements with potentially hazardous additives typically get really great success rates. And there are a couple of reasons why that is. But, in essence, it's because customer reviews are the what-I-feel-at-this-moment type of comments.
So, those can be terribly subjective and often inaccurate. Plus, there's always the option of buying yourself into great reviews even on third-party sites, for example, like it was with Sanar Collagen Wrinkle Formula (review) on Amazon.
Nevertheless, I'm more interested in what the negative ratings had to say. So, here's how it was.
For truly many people it caused horrendous break outs in pimples and acne which, needless to say, is the exact opposite of the desired effect. For others, it has shipping problems and broken tablets that got them. Others mentioned side effects like horrible headaches. And a good number of people weren't happy because it didn't do anything for them.
Pricing | Natrol Is Considerably More Expensive & Not Taking The Tradeoff
Another practical aspect to definitely look at is pricing. Because we don't want to be sold supplements that are not a good value for the price. So, let's really look at that.
So, per container (90 tablets), the Natrol Biotin 5000 Mcg typically costs $13.99. To do the math, that's 15.5 cents for every 5000 micrograms of Biotin. Now, how does that compare?
If we compare it to something like the Doctor's Best Biotin 5,000 Mcg, that's really expensive. I mean, the Doctor's Best option costs typically $9.53. To do the numbers, that's 7.9 cents for every 5000 micrograms of Biotin. Meaning, it's basically half the price.
But that's not all. Doctor's Best is Non-GMO and Gluten-Free; Natrol is none of those things. Doctor's Best uses only harmless additives; it can't really be said the same about the Natrol 5000 Mcg option. Thus, Doctor's Best is way better.
Another option way better than the supplement of this review is the Now Foods Biotin 5,000 Mcg. This one costs typically $6.25 for every container of 60 capsules. That's 10.4 cents for every 5000 Mcg of Biotin. And it's Non-GMO, Vegan, and Kosher. Natrol's none of those things.
I mean, the only upside to Natrol, when compared to its rivals, is that it's tasty. But is that a tradeoff you would make (especially considering all the other non-optimal aspects about it)? Personally, I wouldn't.
Pros & Cons | The Positives Only Look Good In Isolation
Pros
Cons
✓ It offers potent amounts of Biotin.

✘

Yes, it's tasty but that hasn't been done in a way that's healthy.
✓ It's tasty.

✘

It should be used only for a limited time with appropriate break periods due to its heavy vitamin B7 contents.
✓ The Natrol Biotin 5000 Mcg has good success rates.

✘

The supplement of this review likely contains GMO ingredients.
✓ Natrol does in-house testing.

✘

No third-party testing is done on the product.
✓ It offers a 60-day money-back guarantee.
Overall | Ingredients & Customer Feedback Are Ok But I Would Avoid It
As for the final words, I think the Natrol Biotin 5000 Mcg looks really good if we just look at the ingredients superficially and don't analyze or research anything. But if we do end up researching it properly, its somewhat perfect look gets shattered into pieces. At least that's how I see it.
I mean, sure, there are still plenty of positives. If offers a capable Biotin amount, the quality is there, the success rates and customer reviews do speak for themselves, and it's a tasty alternative to simple vegetable capsules.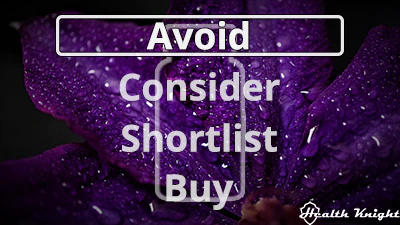 However, I think that the negatives do get the best of these positives. I mean, the positives are not worth it.
Because the additives are far from good. Especially Maltodextrin and Modified Food Starch. Plus, the fact that GMO ingredients are likely present brings out other possible harms. And then, in terms of pricing, there are just far better alternatives in terms of value, even if they don't offer tasty options.
Hence, (out of avoid it, consider it, shortlist it, buy it) I believe we should avoid the Natrol Biotin 5000 Mcg (Extra Strength). I mean, if it wasn't for the GMO ingredients, I would say that it's probably fine to consider it since it's a tasty option and other tasty options typically have it worse as far as vitamin B7. But still.
To that end, if improved hair, skin, and nail health is your goal, I would highly recommend looking into a proper Collagen supplement like this one (full review). These I believe can take us far further along in gains (plus, anti-aging effects) and they don't have the inherent limitation of potential vitamin overdose. But if it has to be a Biotin supplement, I would pick this one.
Other than that, I hope this Natrol Biotin 5000 Mcg (Extra Strength) review helped you find the information you were looking for. Would you still buy it despite my view on it? Is tastiness a must for you? Let me know below. And do feel free to leave your own personal reviews on the product as well.