| Initial Thoughts  |  Turmeric Amounts  |  The Benefits  |  Additives  |  Success Rates  |  Conclusions  |
This Nature's Nutrition Turmeric Curcumin review is about revealing everything and getting to the truth regarding all 5 Turmeric supplements of Nature's Nutrition.
Thus, throughout this review, we will be looking at a number of things. The claims, the active ingredients (those that provide benefit), the additives (those that generally do not), as well as all the potential benefits, customer experiences and the global success rate.
Nature's Nutrition Turmeric Curcumin Is Not The Easiest To Find
According to the manufacturer… Well, the truth is I had legitimate difficulties finding the manufacturer's homepage. At least initially.
I mean, there are a bunch of manufacturers, stores, and retailers that all have chosen to call themselves Nature's Nutrition. Which makes it incredibly confusing.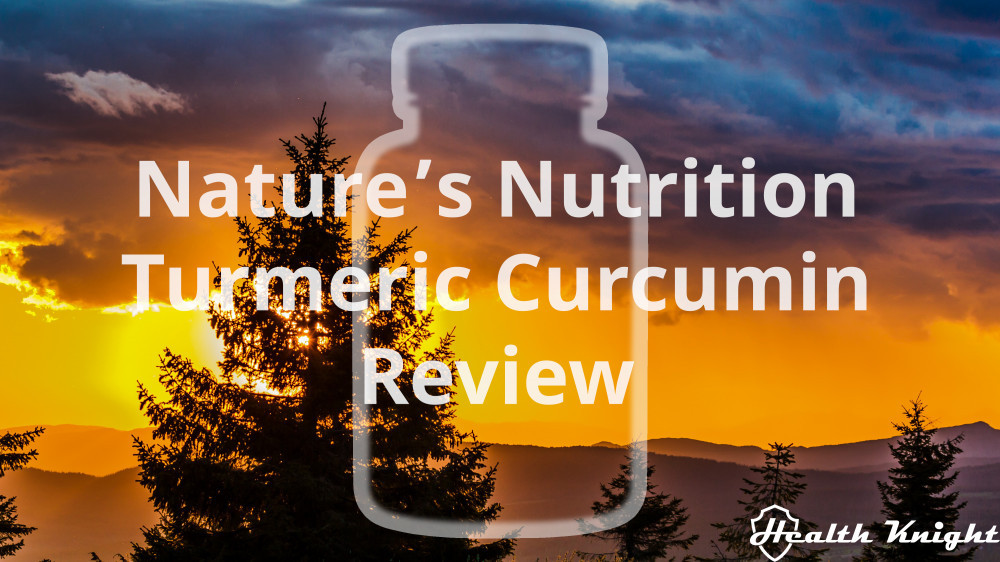 And even when you do finally stumble across the right page, it doesn't seem like the home of Nature's Nutrition supplements at all (a brand under SilverOnix). Luckily they have a pretty easily identifiable Twitter account, which in this regard helped immensely.
The truth is that when speaking of Nature's Nutrition Turmeric Curcumin there is a total number of 5 supplements we have to look at. And in making this review as thorough as it can possibly be, we will be looking at all of them [R, R, R, R, R].
Each of these supplements has its own description page. But despite that, all of them primarily promise the exact same thing with their own little variation and/or twist on it depending on the exact ingredients any of the supplements use.
So, the primary benefit resolves around providing amazing anti-inflammatory and antioxidant properties to improve health and well-being and through which support joint, heart, and brain health.
On top of that, most of the supplements are claimed to be free of Soy, Gluten, Milk, Egg, Wheat, GMOs, Peanuts, Sweeteners, Shellfish, and Sugar.
But to solidify customer's trust in them, every single Nature's Nutrition Turmeric Curcumin supplement comes with a 100% money-back guarantee. Thus, supposedly if for any reason you're not satisfied with their supplement (at least as far as I can tell) you can get your money back (but no indications of how long the guarantee can be taken advantage of).
Anyhow, taking all of this into account, these supplements may superficially seem like a great option.
But are they really?
Most Are Looking Really Good As Far As Active Ingredients Go
Given that each of the Nature's Nutrition Turmeric Curcumin supplements has their own unique ingredient composition, let's briefly look at all of them individually. And let's then discuss, which are likely to be the most beneficial and viable options.
But before we do that, let's get some of the potentially confusing aspects regarding labels out of the way.
So, why do they list Turmeric 95% Curcuminoids separately from the basic Turmeric extract (Curcuma Longa, root)?
Firstly, it has to be noted that Curcuminoids are the compounds found in Turmeric that are typically associated with the benefits of Turmeric Curcumin supplementation [R, R, R, R, R, R, R, R].
Secondly, raw Turmeric extract contains only about 3% of these incredible compounds. Whereas, as you can probably tell, listing "Turmeric 95% Curcuminoids" means that it contains 95% of them (other times this very same notion is referred to with the term "Standardized"). Which is really, really good [R, R, R, R, R, R, R, R, R, R, R].
Of the pack, it's a must to first look at what should be considered the Nature's Nutrition flagship Turmeric Curcumin supplement.
By name, it's referred to as Turmeric Curcumin with Bioperine Black Pepper. It offers 1800 mg of Turmeric (Curcuma Longa) root extract coupled with 150 mg of Turmeric 95% Curcuminoids and 15 mg of Black Pepper Extract (BioPerine).
For those of you unfamiliar with this, BioPerine is a patented and very capable version of Black Pepper extract/Piperine known to be incredibly beneficial when improving the effects of Curcuminoids (but more on that later).
The second on the line-up is named Turmeric Curcumin Max Potency With BioPerine. It's essentially an overall and in every way better version of the supplement.
This is because not only it offers more of raw Turmeric extract and 95% Curcuminoids (2400 mg and 200 mg, respectively) but also it doesn't forget about that BioPerine that must be added to the mix, which it also offers slightly more of.
As the third, we have Nature's Nutrition Turmeric Curcumin 100% Pure Extract. The name of which kind of speaks for itself. Meaning, this supplement doesn't bother with raw Turmeric.
Instead, it simply adds 1400 mg of Turmeric extract standardized to 95% Curcuminoids. Thus, providing you with a lot more (7-9 times more) Curcuminoids than any of the previously discussed supplements.
On top of that, this one also adds 90 mg of Ginger Root Powder and 10 mg of Black Pepper Extract (Piperine) that is not, however, BioPerine. Still, it will help a lot.
As the fourth, we have the supplement going by the name of Nature's Nutrition Turmeric & Ginger with BioPerine. This one cuts down on Curcuminoids, adds some raw Turmeric, as well as Ginger Extract. And finishes it off with, you guessed it, BioPerine.
Of these ingredients, you get 150 mg, 1500 mg, 300 mg, and 15 mg, respectively.
Thus, it's somewhat of a fusion between the Nature's Nutrition flagship supplement and the Turmeric Curcumin 100% Pure Extract. Only one with less raw Turmeric, more Ginger, and BioPerine.
Lastly, we have the one called Nature's Nutrition Turmeric Platinum that, quite honestly, isn't really a Turmeric supplement.
I mean, it has "Turmeric" within its name and among its contents both as raw Turmeric and as 95% Curcuminoids extract. However, it throws a lot more stuff in there.
You get some amounts of Glucosamine Sulfate, Ginger Extract, Chondroitin Sulfate, Boswellia Extract, MSM (Methylsulfonylmethane), BioPerine, Quercetin, Methionine, and Bromelain.
Ultimately, it definitely feels more like a proper blend for promoting joint, heart, and brain health (more on the potential benefits later).
So, which of these is likely the best and potentially most meaningful and viable option?
While the Nature's Nutrition flagship supplement reminds me of many similar formulas out there that have been shown to work, I do believe it's not the most optimal choice.
The most optimal choice will likely be the Turmeric Curcumin 100% Pure Extract. This is purely due to it offering the most Curcuminoids with some added Ginger and Black Pepper that has shown to work really, really well in the past (though the success rates will lure us into a different direction) [R, R, R, R, R].
Other than that, the Nature's Nutrition Turmeric Platinum may also be an interesting option. However, it will be extremely difficult to assess whether or not customers have found it beneficial as it's very new and is likely to have a shortage of customer reviews.
And even then I doubt it would actually surpass the 100% Pure Extract in terms of effectiveness. Granted, it may, however, add some other benefits that do stretch beyond the capabilities of Curcumin supplementation.
Now, the supplement composition's out of the way, let's step into the likely benefits.
The Supplements Do Live Up To The Claims
Despite the fact that not all Nature's Nutrition Turmeric Curcumin supplements are exactly the same, they still are to bring about very similar benefits (some more likely than others though). They're all about Turmeric after all.
That said the benefits of this yellow substance do not limit themselves only to improved joint, heart, and brain health.
No, not at all. It's also capable of delivering a huge number of other positives.
It can but is not limited to promote liver and vascular health, battle diabetes, as well as obesity, lower cholesterol levels, ease depression, protect against metal toxicity and cancer, effectively combat Arthritis, slow down aging, improve immune system's function and detoxification, as well as just help fight inflammation in general among a plethora of other benefits [R, R, R, R, R, R, R, R].
Plus, there's not one person in existence that wouldn't benefit from Curcumin as a compound – even the healthiest among healthy individuals will. Turmeric and Curcuminoids are that powerful [R, R, R, R, R, R, R, R].
Apart from this, in every Nature's Nutrition Turmeric supplement you also (in one form or another) get Black Pepper or Piperine.
And yes, while it can provide some benefits on its own, that's not its primary function here. In Turmeric supplements, it's present because it has shown to profoundly improve the effectiveness of them (by up to 20 times) [R, R, R, R].
Which is, needless to say, too significant to ever pass in such a supplement.
Apart from this, in 3 out of the 5 supplements, you're also getting Ginger.
It is known to help inhibit cancer growth, aid digestion, enhance brain function, reduce inflammation, treat nausea, menstrual pains, and stomach ulcers, as well as relieve joint and muscle pain along with a number of other benefits. Plus, it's known to work well with Turmeric Curcumin supplements to amplify their effects [R, R, R, R, R, R].
These three ingredients pretty much exhaust that what is found in 4 out of the 5 Nature's Nutrition Turmeric Curcumin supplements.
But as for the 5th Nature's Nutrition Turmeric Platinum, although it offers a variety of highly beneficial ingredients to heart and brain health with most emphasis on joint health, I'm not really sure how much of that will go through and in reality provide any gains [R, R, R, R, R, R, R, R, R, R, R, R, R, R, R, R, R, R, R, R].
What I basically mean is that there seems to be just too little of everything.
For example, Nature Made TripleFlex Triple Strength, a supplement that is known to be highly beneficial to joint health, offers way more amounts of what regards a number of key ingredients found also in Turmeric Platinum.
There's the MSM (or Methylsulfonylmethane). The Turmeric Platinum offers 15 mg of that, TripleFlex goes with 750 mg. That's a 50-time difference.
Then there's the Glucosamine Sulfate. Nature's Nutrition in their supplement provides 300 mg of that. Whereas Nature Made supplement goes with 1500 mg, namely, 5 times more.
Lastly, there's also the Chondroitin Sulfate. Of this ingredient, we're looking at amounts of 75 mg and 800 mg for Turmeric Platinum and TripleFlex Triple Strength, respectively. That's an above 10 times increase in favor of the latter.
Hence, given the massive differences between dosages that can be considered effective and that which are found in Nature's Nutrition Turmeric Platinum, I doubt it will be of any significance to anyone.
Of course, the time will show. But as far as I can tell at this time, it's an incredibly mediocre supplement trying to tick all the boxes but then at the end forgetting to provide any meaningful contribution to people's health.
In a sense, great for marketing. Not so great for people who are looking for a solution in this.
Nature's Nutrition Truly Knows Their Stuff In Making Turmeric Curcumin
When talking about any supplement, one ridiculously underappreciated aspect of them is what kind of additives ('the other ingredients') any particular supplement uses.
This is important because not all ingredients (hence, supplements) have your best interest in mind. Many are there just to make a buck. Whereas relying on all the additives being harmless is a fool's game. You must not be that naive.
In this regard, if you ever need any assistance, we're here for you.
As regards the Nature's Nutrition Turmeric Curcumin supplements, it's a similar story it was with the key ingredients.
They typically don't use the exact same additives for all of their supplements. However, there is not a huge variety either.
Among the 5 different supplements, you will only manage to find no more than 4 different additives (Cellulose, Microcrystalline Cellulose, Silicon Dioxide, Rice Flour). Furthermore, not one of them ever uses more than three at a time.
As for their safety, these are some of the most harmless "other ingredients" out there. Even people with otherwise pretty severe and common allergies across a variety of fields should be completely fine when using these.
Thus, it must be said that Nature's Nutrition is a very mindful manufacturer, one that is extremely likely to not only care about its financial interests.
Success Rates Are Ranging From 90% To 94% – Beyond Just Good
Given all that we've gone over so far, you can say for sure that Nature's Nutrition Turmeric Curcumin supplements are not about using harmful ingredients. They care too much about their customer health for that.
While all of that is great, it's not the only thing we're after when buying for a supplement. We're also interested in whether or not they can actually help us.
Granted, they have all the ingredients to potentially make that happen. But will they make that happen in reality?
Or to put it in other words, do people that have tried and used them actually experience the benefits?
This is where global success rates come in. Looking at every single real customer review I could find online revealed that Nature's Nutrition Turmeric Curcumin supplement success rates range from 90% to 94%.
Or to be more specific:
Nature's Nutrition Turmeric Curcumin with Bioperine Black Pepper enjoys above 93% success rate,
Nature's Nutrition Turmeric Curcumin Max Potency With BioPerine goes with one of 90%,
Nature's Nutrition Turmeric Curcumin 100% Pure Extract also lives up to a success rate of 90%,
Nature's Nutrition Turmeric & Ginger with BioPerine hits almost exactly the 94% mark,
whereas in regards to the Nature's Nutrition Turmeric Platinum, given that it's completely new, it's too early to say for sure.
In regards to all this, it must be noted that people are typically more inclined to report negative experiences (as in seeking retribution) than they are to report the positive ones. Hence, the actual success rates are likely to be higher than those assessed.
In regards to this, from the global success rate assessments, I excluded customer reviews found on the manufacturer's website. This is because they may be tampered with given that there basically are no bad reviews. Which is never the case for any supplement.
Furthermore, if they were true, that would suggest the success rates being as high as or close to 100%. Which, however, when we compare it to success rates found on third party seller and retailer websites suggest that it shouldn't be the case at all.
Still, one is for sure. Despite the fact that the reviews on Nature's Nutrition's website are likely altered, the actual success rates overall are definitely solid.
A fascinating question in this regard is – how do these compare to its rivals?
One viable alternative is the Youtheory Turmeric which enjoys a success rate of at least 93%. Whereas Nutrigold Turmeric Curcumin Gold, the vegan-certified alternative, is rated at above 89%.
Thus, it can be said that Nature's Nutrition Turmeric Curcumin supplements look also very good when compared to some of its most capable competitors.
So, are any of them worth the buy?
There's Definitely Potential – Still, Other Options Are Better
Overall Nature's Nutrition Turmeric Curcumin stands for great supplements that have everything going for them.
They offer loads of Turmeric with guaranteed Curcuminoids, they use only completely harmless additives, they're most of the time free of a big variety of allergens, they're non-GMO, and they have solid success rates to finish it all off.
Still, would I recommend these in place of some of its rivals?
No, I would not.
Don't get me wrong, as far as I can tell, Nature's Nutrition Turmeric Curcumin brand supplements do seem very capable. However, I'm not really a fan of all the potential misleading with those on description-page reviews.
Plus, that 100% money-back guarantee may be removing quite a number of negative reviews, even when the supplement is not bringing any benefits for people. So, with these, you may be just wasting your time.
The way I see it, neither of Nature's Nutrition does outclass the Nutrigold Turmeric Curcumin Gold (review). And so what that this one has a slightly lower success rate (the already mentioned 89%)? If anything that's a very weak indication of the actual quality and ingredient capability as proved by supplements like Angry Supplements Ultra Pure Turmeric or NatureWise Curcumin.
But if you're hunting for the very best as far as Turmeric Curcumin supplements go, I've done the research. Here's the full review on that one.
Other than that, I hope this Nature's Nutrition Turmeric Curcumin review of all 5 supplements helped you find the information you were looking for. Are these worth the money, in your option? Which would you say is the worst of them all? Would you buy any of them if they were 50% off? Let me know below.
This article was last updated on July 9, 2020.