|  Initial Thoughts  |  Core Ingredients  |  Additives  |  Success Rate  |  Final Thoughts  |
In this Nature's Truth Multi Collagen Complex review, we will cut it wide open and explore everything there is to know.
To make that happen, we will dive into all promotional materials and claims they put on this thing. After that, we will examine in detail every ingredient that the supplement carries. Which we'll finish off with customer reviews and global success rates.
The goal here is to create a review so thorough that there would not be a need for you to ever look at another supplement review for this specific supplement. Therefore, if there is a section or aspect I haven't covered but you're interested in, let me know. And I'll add that to the review.
Nature's Truth Multi Collagen Complex Review – Initial Thoughts & Overview
According to the manufacturer, "Nature's Truth Multi Collagen Complex is specifically designed for multi-functional support!" That's the core of it. But after that, it's pretty much all basic Collagen stuff [R].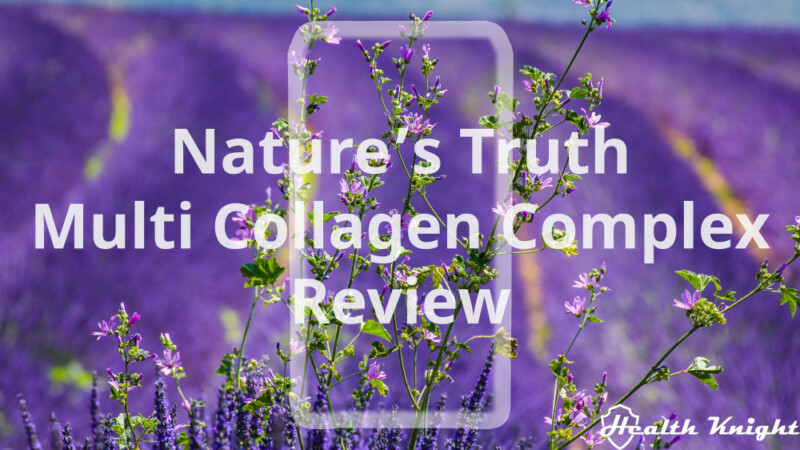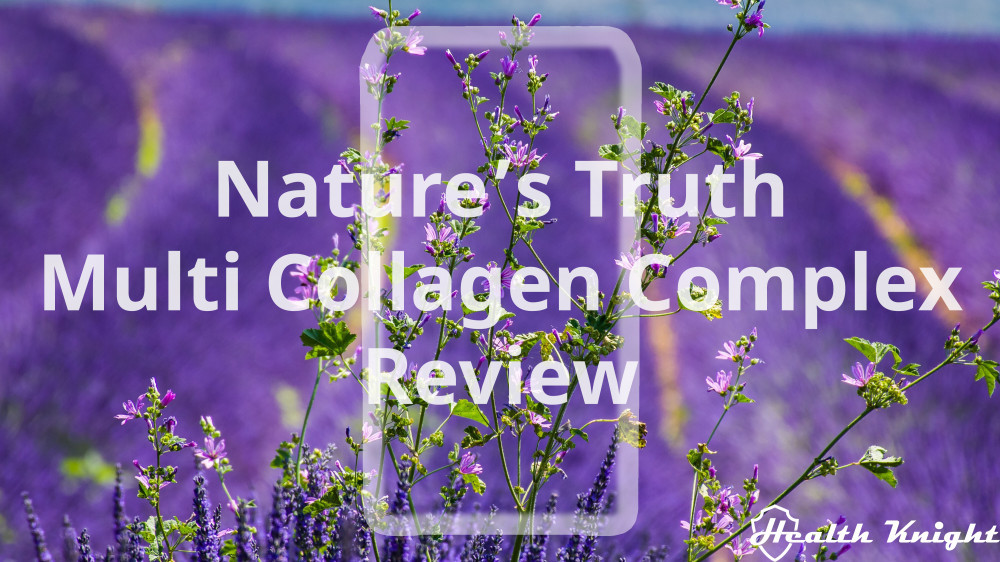 They go on to explain that "one of the most abundant proteins in our body, Collagen is primarily found in our muscles, bones, skin, and tendons. It's known as a vital building block for our bodies that can play a crucial role in your skin's natural glow, your gorgeous hair, strong nails, and healthy joints, making it the perfect addition to any wellness routine." Which basically gives us all of their claims [R].
So, great-looking skin, awesome hair, indestructible nails, and well-working joints. All pretty basic, the most common claims, much like those made for supplements like Vital Proteins Collagen Peptides or Garden of Life Collagen.
That notion of "any wellness routine" is, however, a much more fascinating thing. At the core, that's because they are essentially saying that whoever we are, whatever we do, whatever are our health goals this can help. And, sure, while that may be true to some extent, I do believe that's pretty vague.
Other than that, I'm quite a big fan of how Nature's Truth manages its product description pages. Personally, I really enjoy that they are brief (like Nature's Life Marine Collagen or Great Lakes Gelatin Collagen) and well-structured (like NeoCell Liquid Collagen or Amandean Marine Collagen). But what's even more important is that they are void of heavy marketing and drowning people into information; quite the opposite of what we've experienced with supplements like Organixx Collagen or Ideal Collagen.
Apart from that Nature's Truth Multi Collagen Complex is said to be Non-GMO, Gluten-Free, Dairy-Free, Soy-Free, and void of some other stuff as well. Which may sound fine. But they are forgetting something.
Or is it rather not the case here?
Core Ingredients Seem To Step Away From Grass-Fed, Pasture-Raised
Superficially, the core difference between this and their Nature's Truth Ultra Collagen Powder is that this provides 5 types of Collagen. So is it better?
Well, for starters it doesn't contain as much Collagen as it's Ultra Collagen counterpart. Per 4 capsules, it's said to contain only 2,000 milligrams of the vital protein total. Which doesn't really make it any more abundant than Ancient Nutrition Multi Collagen, Doctor's Best Collagen, or any other typical capsuled Collagen product.
Second, there's, of course, this aspect of capsules versus powder. And so, while it may be easier to consume, especially if you're not too fond of the taste or tasting supplements in general,
But the biggest reason of all (and my biggest concern) is that this Multi Collagen Complex is not even said to be from pasture-raised, grass-fed animals. So, it's terribly likely that it's not. Even more so, because for other Collagen supplements of the brand that information is like all over the place. Whereas with this one, it doesn't even get a mention.
Hence, apart from the fact that there's very little actual Collagen per serving, it also seems to not be a quality one. I mean, sure, all of the promised benefits may still be there. However, is it really worth embracing that when there are so many other options that are properly-sourced and thus, inherently far more rewarding [R, R, R, R, R, R, R, R, R]?
Not Many Additives To Discuss; All Of Them Are Generally Harmless
So, it's not exactly a great story with the Nature's Truth Multi Collagen Complex as far as the beneficial ingredients go. But does it also sin like Applied Nutrition Liquid Collagen or Pure Gold Collagen?
The clear problem with those two is that they don't really care much for using only the most harmless of additives. Instead, they pretty much opt for the easiest (and often cheapest) known way to make the supplement tastier. Namely, they did so through arguably some of the worst sweeteners [R, R, R, R, R, R, R, R, R, R, R, R].
But the Multi Collagen Complex of Nature's Truth does no such thing.
It uses Gelatin Capsule (it's essentially Collagen, only in a different form), Rice Powder (which, quite frankly will only be beneficial), Silica (a typically harmless additive), and Vegetable Magnesium Stearate (a typically very controversial one that is, however, completely harmless given the proper interpretation of the relevant research) [R, R, R, R, R, R, R, R, R, R, R, R, R, R, R, R, R, R, R, R, R, R, R, R, R, R, R].
So, it's a very decent one in this regard.
Nonetheless… Does it really matter what the added extra ingredients are to make the capsules possible? Does that really matter given that the actual active ingredients are likely lacking in proper sourcing?
No, it does not.
Customer Reviews Are… Well… I Didn't See This One Coming
Success rates and customer reviews are typically a very fascinating aspect to look at. They usually give a pretty accurate estimate of where exactly any given supplement stands in the real-life and how much it has (or hasn't) helped people.
That in mind, the Nature's Truth Multi Collagen Complex does seem to offer a proper review section. I mean, gladly, it's not like one of those useless ones that don't really represent anything (and are more like testimonials) that we've seen by supplement like Vim & Vigor Collagenate. That said, it's not the most insightful section for the time being either.
The reason being, there are no on-page Nature's Truth Multi Collagen Complex reviews at the writing of this article. To an extent, similar stuff that we've encountered by Genacol Collagen.
So, there's really no insight to gain there. Which kind of inherently makes us turn to find all and any feedback recorded by other sellers and retailers.
Which, ultimately, was a rather surprising encounter.
Meaning, going all out, I was unable to scrape together even a few reviews. It's not yet sold on Amazon or pretty much anywhere else. And so, there kind of are no ratings to be found for this one. Yet.
I do expect that to change as time goes on. But for the time being, there is no knowledge to be gained here. Something I'll probably have to return to in the future.
This Nature's Truth Superficially May Seem Okay, But I Wouldn't Bet My Money On It
Overall, the Nature's Truth Multi Collagen Complex may seem like a decent supplement, especially if we pay zero attention to the absence of such sourcing claims as grass-fed or pasture-raised.
I imagine that the fact of five types of Collagen, being Non-GMO, and being made through only harmless additives can persuade quite a few people to actually get it. However, I do not see that to be in their best interest.
Truth told, there are many much more promising and capable Collagen supplements. If I were to ever get one, I would pursue this (review) while also shortlisting this one (review). Whereas if it had to be a capsule or tablet Collagen, I would not hesitate to pick this (review). To that end, I feel another decent option would be this NeoCell (review).
Above all, I hope this Nature's Truth Multi Collagen Complex review helped you find the information you were looking for. But if not, definitely let me know in the comments on how I could further improve it.
If you have as much as 15-30 seconds to spare, even one line in the comments helps a ton and will be highly and sincerely appreciated.
See you in another article!
Cheers, Stay Healthy & Have a Great One!