|  Marketing  |  Ingredients  |  Side Effects  |  Reviews  |  Pricing  |  Pros & Cons  |  Ranking  |  Overall  |
If there were any Seven Nutrition Turmeric Curcumin reviews posted by customers, they would probably say how amazingly beneficial of a supplement this is.
I mean, they would probably emphasize how this helped their joint health and pain relief just in general. They would probably argue that this might be the best Turmeric Curcumin supplement out there. And some would probably say that they've tried many but this is the most helpful one.
Either way, in this actual Seven Nutrition Turmeric Curcumin review, we will thoroughly dig through the product to find if it's genuinely worth it or not.
Hence, the idea is to be no extension of the manufacturer's marketing or other similar nonsense. This is all going to be about what I feel is the truth, the whole truth, and nothing but the truth. And we'll do that by assessing marketing, ingredients, side effects (additives), customer feedback, and pricing. We'll do it the truth-seeking way.
Marketing | It Promises Us The World & Kind Of Beyond That As Well
According to the manufacturer, the Seven Nutrition Turmeric Curcumin is a supplement containing a herb used for 4,000 years for its health-promoting properties. Per their words, it carries a compound known as Curcumin which is a powerful anti-inflammation compound.
Looking at the promotional materials, it's probably one of the most heavily marketed supplements alongside the Organixx (review) and BioTrust (review) options.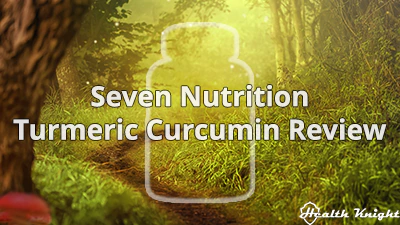 It offers all kinds of deals if we buy it in bulk. It also offers a 60-day money-back guarantee. They even offer free ebooks with the purchase. A FAQ and related products section. And it's even got some testimonials (but no section for raw Seven Nutrition Turmeric Curcumin reviews by customers).
So, plenty to help convince potential buyers like us into purchasing it.
On top of that, it claims to ensure a long list of positives. It's said to help inflammation (thus, aiding with depression, cancer, diabetes, and more), promote joint health, digestive, heart, liver health, boost cognitive function, reduce blood cholesterol levels, and more.
Whereas as far as the free-of claims go, it persists on the notion of Non-GMO, Gluten-Free, Vegan-Certified, Dairy-Free, and Egg-Free.
But is the Turmeric Curcumin of Seven Nutrition actually worth the purchase? Is it good enough to justify the investment?
Ingredients | To Review Contents, Seven Nutrition Turmeric Is Rubbish
Turmeric Curcumin supplements can be done in a ton of different ways. Patented Curcumin formulation like the Kyolic Curcumin (review) is arguably my favorite. But doing it with 95% Curcuminoids and Black Pepper is the significantly more popular way to do it.
So, per serving (two capsules), the supplement of this review offers 1200 milligrams of Organic Turmeric, 100 milligrams of 95% Curcuminoids, and 10 milligrams of Black Pepper.
Hence, it's kind of a duplicate of what supplements like the Puritan's Pride Turmeric Curcumin (review) or Bio Schwartz Turmeric (review) offer. But here's to properly elaborate.
So, 1,200 milligrams of Organic Turmeric may sound awesome. But it's actually pretty rubbish since it contains very little Curcuminoids (typically 2-5%). But Curcuminoids are the compounds we want in spades [R, R, R, R, R, R, R, R].
To that end, the 100 milligrams 95% Curcuminoid extract helps a little bit. But per serving, it typically won't exceed 130-135 milligrams of Curcuminoids. Which is bonkers low. I mean, it's like 7 times fewer than what it should be [R, R, R, R, R, R, R, R].
And let me just say, that a scarcity like that has every reason not to deliver on all of those claims that they make about the Seven Nutrition Turmeric Curcumin. I mean, the benefits will likely be limited at best [R, R, R, R, R, R, R, R].
On that note, it might seem that the Black Pepper aspect helps with that. I mean, they do state that in their promotional materials and it's correct that it improves Curcuminoid absorption 20-fold [R, R].
But the supplements that carry 7 times more Curcuminoids do that, too. So, it doesn't actually save anything. I mean, to that end, the product of this review is kind of a money-grabber. It appears as if it offers plenty of Turmeric. But it's the Curcuminoids that we actually want.
Lastly, speaking of manufacturing quality, the brand doesn't even care to share that at all. Which just leads me to think that they likely don't care about it much. Which is always a problem. Which is especially true with Turmeric since a few suppliers intentionally contaminate it to improve harvest [R, R].
Side Effects | Additives Are Great & There Shouldn't Be Any Problems
Side effects are the product of additives. But when it comes to Turmeric Curcumin supplements as a supplement category, they don't really get it wrong too often.
I mean, we do sometimes encounter supplements like the Solgar Full Spectrum Curcumin (review) which has Polysorbate 80 (stomach pain, irritation, coughing, among ton of more violent ways and allergic reactions. But that's an exception rather than a rule [R, R, R, R, R, R, R, R, R, R].
So, what's up with the Turmeric Curcumin of Seven Nutrition?
It does it the right way. It does it by the way of Vegetable Cellulose and Microcrystalline Cellulose.
Vegetable Cellulose is something extremely common in our diet already. It's a thing found in basically all vegetables and fruits. And realistically, it can't ever cause any negative effects on our health [R, R, R].
Whereas Microcrystalline Cellulose is just another version of that. In fact, when they do studies to test the benefits of any herb or substance, Microcrystalline Cellulose is what they most often use in the placebo pills. Because it literally doesn't do anything for or to our health  [R, R, R, R].
Reviews | They Want You To Buy The Seven Curcumin Blind
Frankly, I don't even know where to start with this section. I mean, typically, customer feedback can be very helpful in identifying any potential problems and aiding in gaining a broader perspective on the thing. And so, generally speaking, the Seven Nutrition Turmeric Curcumin reviews by customers would also serve that purpose.
But with the supplement of this review, we don't actually have that luxury.
I mean, we do get offered some generalistic testimonials where people fully praise the product and claim that it helped them with arthritis, eczema, and pain relief. But that's it.
There are no negative reviews. None can be found on the product page. And none did I find across the internet on third-party sites.
Frankly, honest and real customer reviews are as void on the internet as water is in the Sahara desert. They just don't exist. There are none.
And truly don't like that for a couple of reasons.
First, we've no idea of whether or not this is actually helping anyone. Second, as far as transparency, it's a terrible vibe. Because, yes, they are probably trying to avoid negative feedback (and thus, just have a void of ratings) but then, ask yourself this.
What manufacturer wants the customers not to talk about its product if it's that insanely well-formulated, helpful, and positively impactful on people's lives?
None. They would all jump on that. That is unless they themselves are a bit unsure whether the product is actually helpful. Then, the tactic of not having any reviews feels like the better one, for sure. Which I would say is likely the case here.
Pricing | The Product Should Cost Like 2,000% Less That What It Is
An interesting thing about pricing is that quality supplements almost never overcharge people for their products. Whereas the low-quality ones do that all the time. I mean, they have skillful marketing to hide that. But that doesn't change the reality.
So, per container (30 servings), the supplement of this review typically costs $47. In other words, the Seven Nutrition Turmeric Curcumin costs $1.57 for every serving of the product. That's effectively $15.67 for every 1000 milligrams of 95% Curcuminoids.
And let me just say that the price is absolutely, utterly, disgustingly retarded (pardon my directness). I mean, wow, how much it costs.
Here are a few examples to really hammer that point.
Take, for example, something like the Me First Living Turmeric Curcumin (review). This is a supplement that comes at a price of $26.95 for a container. To do the math, that's 90.0 cents for every 1000 milligrams of 95% Curcuminoids.
Meaning, not only does it third-party test it, is Organic in origins, and has great additives, but also it costs like 15-fold less. More quality for so much less money. It's an absolutely retarded difference, the way I see it.
Another supplement to illustrate that could be the NutriGold Turmeric Curcumin Gold (review). This one typically costs $18.38 for a container or 61.3 cents for every 1,000 milligrams of 95% Curcuminoids.
Hence, it is literally just 4% or 25 times less than what the Seven Nutrition Turmeric Curcumin prices. And NutriGold has great third-party certifications, third-party testing, and awesome additives, and hugely positive success rates.
The difference remains insane.
Pros & Cons | The Positives Don't Help To Offset Negatives At All
Pros
Cons
✓ The supplement of this review offers Black Pepper to augment absorption and improve benefits.

✘

The Seven Nutrition doesn't have enough Curcuminoids to meaningfully contribute to anti-inflammation and other benefits.
✓ The product is Non-GMO, Gluten-Free, and Vegan-Certified.

✘

We've no idea what their manufacturing is like. The brand might not even do in-house testing.
✓ Seven Turmeric Curcumin has good additives.

✘

It's beyond retarded how expensive it is.

✘

There's zero transparency when it comes to real customer feedback.
Ranking | Where Does This Turmeric Curcumin Rank (In 2022)?
Overall | I Believe That It's Just A Money-Grabber Supplement
There is absolutely nothing unique about the Seven Nutrition Turmeric Curcumin when compared to other Turmeric brands out there. I mean, it's a blatantly simple, likely not very helpful specimen of a supplement. It's a money-grabber basically.
For positives, it has good additives. It is also Non-GMO. And it doesn't forget Black Pepper to augment absorption like some of the other brands out there do.
But in the light of negatives, these don't matter.
There just isn't enough of the good stuff to go around. Hence, it likely won't be that helpful at all. The transparency on manufacturing quality and customer feedback is an obvious red flag.
And then, it bears repeating. It's crazy to me as to how much it costs.
Hence, (out of avoid it, consider it, shortlist it, buy it) I would propose to give this one a hard pass and avoid it completely. The way I see it, this is just selling for profits without actually trying to help people and deliver true value.
On that note, if you are interested in something a ton more capable and a lot less pricey, I propose you look into this one (review). This is the exact one I use daily.
Above all, I hope this Seven Nutrition Turmeric Curcumin review helped you find the information you were looking for. If you have any thoughts or questions, I'm just a comment away. And do feel free to leave your own personal reviews on the product as well.
Health Knight Rating: 2.0/10