|  Overview  |  Probiotic Strains  |  Amounts  |  Beneficial Substances  |  Additives  |  Conclusions  |
In this TruNature Digestive Probiotic Review, we will get to the bottom of everything that the supplement has to offer.
We will explore the claims and we'll see how true they hold. We will dive deep into the strains that the supplement provides, as well as the amounts of them. Furthermore, we will also explore the stuff that most other reviews do not – the additives.
TruNature Digestive Probiotic Review – The Overview
TruNature Digestive Probiotic is gluten, soy, dairy-free probiotic supplement that combines within itself three different probiotic strains for improved gut health.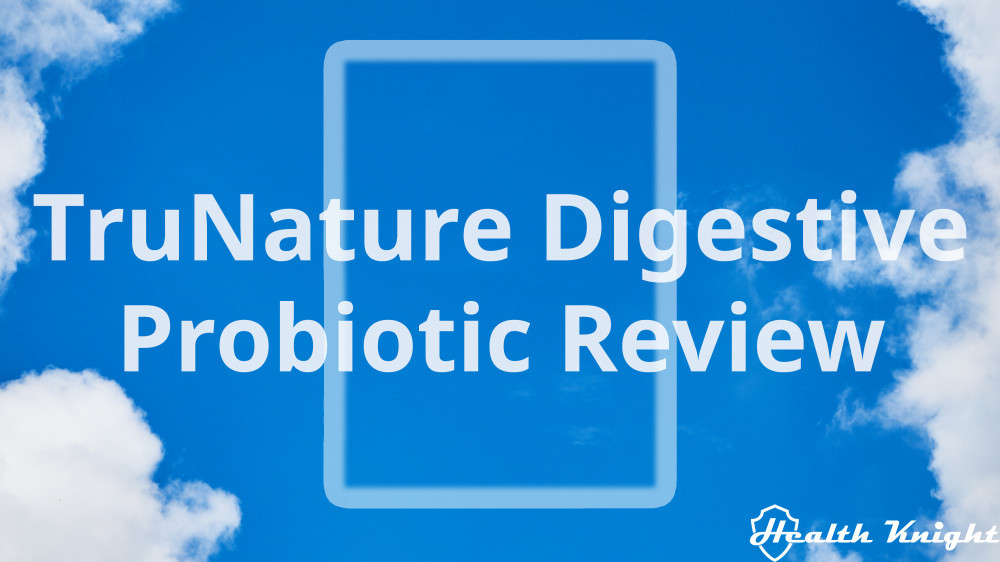 Normally I do an overview of all the claims that the manufacturer associates with the use of their supplement. However, this time I was not able to access the particular description page.
I tried using Wifi network, mobile data connection, and I even went to the library to check if I can access the website from there. Ultimately, I believe the website might not be available for EU residents, which most probably is the case because of GDPR.
Either way, for the purpose of this section we'll look at the claims visible on the packaging of the supplement. And there is not much.
In essence, there is only information what regards to positive benefits of the general use of probiotics. For example, they claim to restore the natural balance of the intestinal tract, help maintain digestive health, support a healthy immune system, as well as promote a general feeling of well-being [R, R, R, R, R, R, R].
As I mentioned earlier in that little definition for the supplement, it is also free of Gluten, Dairy, and Soy. Which is a good thing. But that pretty much exhausts it.
Then again it's not something absolutely crucial to make a good sense of what the supplement is truly about.
That sense is conveyed through supplement facts more than anything.
The Supplement Offers A Variety Of Probiotic Strains
I wouldn't say TruNature Digestive Probiotic is a particularly abundant supplement when it comes to employing various different probiotic strains.
It is, however, abundant enough.
The supplement offers the following three strains of Probiotics – Lactobacillus Acidophilus, Bifidobacterium Lactis, and L. Rhamnosus GG.
Lactobacillus Acidophilus is one of the most common types of probiotics that can be found not only in supplements, fermented foods, and yogurt but also in the human body [R, R, R, R].
It is quite an extensively studied probiotic, which has proven to have the potential to benefit your health in numerous ways [R, R, R, R].
For example, Lactobacillus Acidophilus is known to prevent and reduce diarrhea, bloating, and cramps, promote weight loss, prevent and reduce cold and flu symptoms, reduce cholesterol, improve the symptoms of irritable bowel syndrome, has other benefits and above all it just generally improves gut health [R, R, R, R].
Bifidobacterium Lactis is a very powerful transient probiotic bacteria that is found in many mammals, including humans. In its very essence, it is also amazing in terms of the benefits that it provides [R, R, R, R].
This probiotic has been proven to enhance immunity, improve digestion, aid the absorption of various vitamins and minerals, lower cholesterol, combat obesity, and diabetes, alleviate inflammation and allergies, and even fight tumor growth [R, R, R, R].
And last of the three L. Rhamnosus GG is a probiotic bacteria that is a part of the normal gut microflora in humans. And thus, as of itself, it is pretty common both in supplements and in various foods [R, R, R, R, R, R].
This probiotic is known to alleviate dermatitis, and asthma, combat allergies, obesity, and diabetes, as well as depression, anxiety, and OCD, reduce the duration of gastrointestinal infections and diarrhea, promote weight loss, prevent cancer, improve immune system's function, and among other benefits just improve gut health overall [R, R, R, R, R, R].
So, all of these three are very potent in improving anyone's well-being and making the benefits happen.
As far as supplements go, a simple general rule to follow is that the more various species of probiotics the supplement contains the better [R, R, R, R].
Thus, in the particular case with TruNature Digestive Probiotic, although it's not something as diverse as Nature's Bounty Probiotic 10 or Nature Made Digestive Probiotics Multi-Strain 12 Ultra-Strength, it still is a very viable choice when it comes to strain-diversity.
TruNature Digestive Probiotic's Half Of Best Practices
Many probiotic supplements do provide what is considered insufficient amounts of total CFU (Colony-Forming Unit). While all of them still has the potential to induce benefits, they are pretty much guaranteed to be not as effective as they potentially could be.
TruNature Digestive Probiotic offering the recommended dose of 10 billion daily essentially is only half of that.
The best practices suggest that you need 10-20 billion of a population of probiotic bacteria twice daily. Or to be more exact, it should be around 20-40 billion of probiotic CFU a day.
While as I mentioned earlier, it can work, it would, however, be much more beneficial to have that minimum of 20 billion a day, especially if you do catch yourself regularly with some fast food or something of the sweet treats.
Therefore, I would suggest going with a double dose of the TruNature Digestive Probiotic. One capsule in the morning and one capsule in the evening.
This way it should benefit you the most. However, at the end of the day, it's still your call.
So, go with whatever you feel comfortable with.
"No" To Additional Beneficial Substances
While many probiotic supplements out there offer various beneficial substances to improve the benefits of the probiotics, TruNature Digestive Probiotic does not.
One such extremely popular substance among probiotic supplements is Inulin. It's well known for its positive effects on gut health and on probiotic effectiveness as such, however, can also be acquired naturally from vegetables like Garlic or Onions [R, R, R, R, R, R, R, R, R, R, R, R, R, R, R, R, R].
There are, however, others as well.
Flawed Fusion Of Additives
Additives are an absolutely necessary addition to 99.9% of supplements. Furthermore, it can't be done at all without them when it comes to probiotic ones.
Additives matter greatly in everything that we consume – be it food or supplements. Thus, it's always worth checking if a supplement has any harmful ones that may come back later to bite you.
In the case with TruNature Digestive Probiotic, there is one that has that potential to.
The supplement has four – Cellulose, Silicon Dioxide, Vegetable Magnesium Stearate, and Titanium Dioxide. Of these, the very last one is to blame.
In truth, Titanium Dioxide used to be one of the most harmless and natural additives out there. Not anymore [R, R, R, R, R, R, R].
Quite recently the food industry has come up with this revolutionary idea to made Titanium Dioxide of nanoparticles because this way it makes the white color of the tablet, capsule, food or anything else that it gets added to more appealing to the eye [R, R, R, R, R, R, R].
Sadly, this is not without health implications as these nanoparticles are recognized to be too small for our guts to filter. Thus, resulting in all kinds of nasty potential side-effects in the long-term, like lung damage, brain damage, etc [R, R, R, R, R, R, R, R].
They should have best gone without that stuff.
Final Thoughts On TruNature Digestive Probiotic
Although the TruNature Digestive Probiotic offers solid amounts of the good bacteria (double recommended dose), this is a supplement I would strongly advise to avoid.
This is generally because of the additive Titanium Dioxide, which can lead to a plethora of various adverse effects that although might not be immediately noticeable but will affect you sooner or later nonetheless.
There are many much better probiotic supplements out there. Thus, no need to settle for something average like this one. To that end, if you're in interested in something genuinely capable, check out this one (full review).
Above all, I hope this TruNature Digestive Probiotic review helped you find the information you were looking for.