In this Wellpath Renew Collagen review, we will do a proper archaeological dig for every detail, every aspect worth knowing when it comes to this supplement.
And so, with that in mind, we will go through a number of things. We will first immerse ourselves in its promotional materials, promises, and claims. Then through researching all ingredients (both active and inactive), we will see how well they hold up. And we'll then finish the whole thing off with customer reviews and global success rates.
Wellpath Renew Collagen Review – Initial Thoughts & Overview
According to the manufacturer, Wellpath Renew Collagen is "a premium multi collagen protein powder to support long-term beauty and wellness." It's said to be "expertly formulated with 5 nutrient-rich sources of natural collagen peptides" whereas the very goal of making it, as they put it, was because "we all want to stay young forever, retain our youthful glow, and move with ease" [R].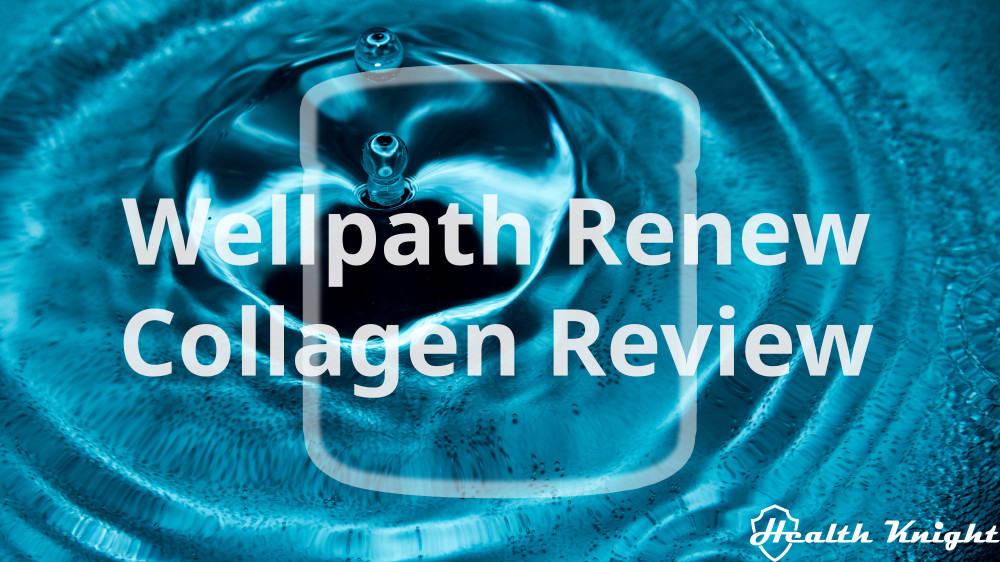 And so, with that, they promise that the supplement will be the support for "the ultimate beauty and health benefits as you age." Or to be more specific, it will promote glowing skin, strong and vibrant hair and nails, durable joints and bones, as well as foster digestive health [R].
So, the adjectives may be somewhat unique to them but the promised benefits are the exact same ones most other Collagen supplements persist on. Here something like the Ancient Nutrition Multi Collagen Protein immediately springs to mind. To compare, Primal Harvest Primal Collagen also promises liver health, whereas stuff like Vitauthority Multi Collagen Protein claims muscle health.
Overall, the description page for the Wellpath Renew Collagen is nowhere near as overwhelming as those we've seen with supplements like Ideal Collagen or Vim & Vigor Collagenate. To tell the truth, it's quite unique in its design. It's well-structured and collected like NeoCell Super Collagen or Physician's Choice Collagen Peptides. But with its own one of a kind character that I've not seen any other Collagen supplements try to imitate.
Similar elements still persist though. It educates at least a bit on the background of Collagen like Organixx Collagen or Code Age Collagen do. It also mentions some studies but it's nothing even remotely similar to Genacol Collagen or Reserveage Collagen Booster where the exact ingredients they contain have been clinically tested.
A definite breeze of fresh air is the notion that they don't do heavy marketing. No notion of the more we buy, the cheaper it comes. No testimonials. No reviews. No subscribe and save. No free shipping. No money-back guarantee. They're just not using the tactics that brands like Live Conscious or PureNature are using to help people decide in their favor. And as I see it, that's awesome.
But that alone doesn't guarantee it's a great supplement. I mean, is the Wellpath Renew supplement itself (at its core) worth the input?
It's Likely That They Are Not Quality-Sourcing Their Beneficial Ingredients
From the onset, the Wellpath Renew Collagen heavily reminds me of supplements like Skinny Fit Super Youth and Further Food Collagen. It's an only-Collagen-focused product that's quite mediocre in terms of the amounts per serving.
The supplement of this review offers 7.8 grams of Multi Collagen Complex comprised out of Hydrolyzed bovine Collagen (Type I & III), Hydrolyzed Fish Collagen, Beef Stock, Hydrolyzed Chicken Collagen (Type III), and Chicken Egg Membrane (Type I, V & X). Superficially, that may seem solid but I don't quite think that's the case here.
As I see it, 7.8 grams is not quite enough for the potential of the full range of benefits. Sure, it's more than what a typical Collagen capsule supplement like Vitauthority Multi Collagen or Physician's Choice Collagen offers. But it's still not quite ideal. And hence, while in theory all of the promised benefits can be there, in reality, it's extremely likely that they'll be at least somewhat limited as far as gains go [R, R, R, R, R, R, R, R, R].
But this is not the biggest issue I have with this supplement.
Do you know how so many manufacturers out there like Nature's Truth or Vital Proteins persist on this notion that their Collagen is from pasture-raised, grass-fed, cage-free animals? Because that's the quality Collagen we all should strive for.
Well, for the Wellpath Renew Collagen, we won't a single statement like that. And thus, my guess is that they are actually not doing grass-fed, pasture-raised, hormone-free, cage-free stuff with their Collagen. Which basically means that it's a Collagen not nearly as healthy to consume as those by most of their competitors.
All things considered, this is like the primary reason for me I would never go this supplement. The chance of them not sourcing their stuff from high-quality origins is just too great.
There Are No Additives In This Renew Thing; At Least Side-Effect Free
For this Renew product of Wellpath, this section is an empty one. What I mean is, there is actually nothing to consider here given that the supplement doesn't use any additives whatsoever.
But this is certainly not the case for every Collagen supplement.
To illustrate, supplements like Applied Nutrition Liquid Collagen add Sucralose, an artificial sweetener known to possess some pretty devastating effects on health. Then there are also supplements like Health Direct AminoSculpt Collagen Original which uses stuff like Potassium Sorbate. Which is, again, a pretty hazardous thing as well [R, R, R, R, R, R, R, R, R, R, R, R, R, R, R, R, R, R, R].
So, I guess it's fair to say that it's worth to always look into those. Whereas if you ever need any assistance with that, we'll be happy to provide that for you. No costs, commitments, or anything similar of any kind.
Customer Reviews & Success Rates
Coming very soon.
Final Thoughts
Coming very soon.