|  Marketing  |  Ingredients  |  Side Effects  |  Reviews  |  Pricing  |  Pros & Cons  |  Ranking  |  Overall  |
According to the Himalaya Curcumin Complete reviews posted by customers, this supplement tastes great, is helping a lot, and is very miracle-like overall.
Many people are thrilled with the kind of joint health and anti-inflammation results they are seeing. Others praise its capsules for being very easy to swallow. For some, this has replaced their pain medication. Whereas others more simply commend the brand due to its trustable quality.
So, in this Himalaya Curcumin Complete review, we will give this Turmeric brand with 90 years of history a good squeeze and discuss everything that there is worth knowing.
Hence, the idea is to be no extension of the manufacturer's marketing or other similar nonsense. This is all going to be about what I feel is the truth, the whole truth, and nothing but the truth. And we'll do that by assessing marketing, ingredients, side effects (additives), customer feedback, and pricing. We'll do it the truth-seeking way.
Marketing | The Supplement Promises A Ton Of Joint-Related Stuff
According to the manufacturer, the Himalaya Curcumin Complete is a supplement for seniors, athletes, and essentially anyone else who would find comfort in extra day-to-day joint support. Per their words, it's about combining Curcumin with other powerful herbs for a fuller type of joint support.
Its product page is a very simple one. It's far simpler than what we have found with supplements like the Seven Nutrition Turmeric Curcumin (review) and the Bio Schwartz Turmeric Curcumin (review).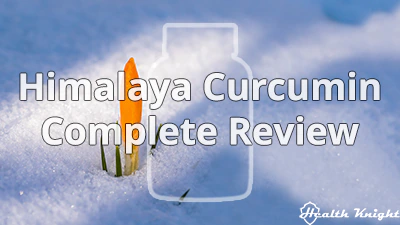 As far as marketing tactics, the only thing that they offer is a 100% satisfaction guarantee. Aside from that, there are no subscription options or options to buy in bulk and get a discount. There even aren't any customer reviews for the Himalaya Curcumin Complete.
I mean, the product page is truly a brief place. That is, unless we're talking about the potential benefits.
Meaning, it mentions many. It's said to foster comfortable movement, improved joint flexibility, enhanced mobility and range of motion, better circulation. Furthermore, it also aids immune support.
As for free-of claims, it doesn't contain Soy, Dairy, and Gluten. There's also no Corn, and it's 100% vegan.
So, it may sound pretty solid. But is it actually worth investing in?
Ingredients | With Contents, Scarcity Feels Like Everything
The days of it being just Turmeric in the supplement have long gone. I mean, that doesn't apply to weakly formulated supplements like the Jarrow Formulas Curcumin (review) or the GNC Turmeric (review). But, generally speaking, Curcumin supplements don't just have Turmeric alone. And here, we have that, too.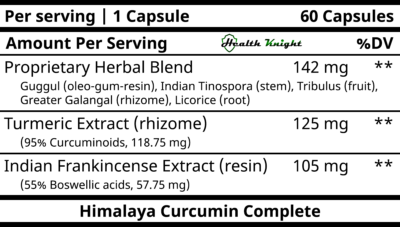 So, per serving (one capsule), the Himalaya Curcumin Complete offers 142 milligrams of a Proprietary Herbal Blend, 125 milligrams of Standardized Turmeric Extract, and 105 milligrams of Indian Frankincense Extract. Here's to elaborate.
For the main ingredient, we have Turmeric Extract. And with this, I feel there is more bad than good to report.
I mean, it's good that 95% of those 125 milligrams are Curcuminoids. What's not so great is that at amounts of 118.75 milligrams, that's still not a lot. In fact, that's very scarce. Which is even worse considering that it's neither a patented formulation nor it adds Black Pepper or even oil [R, R].
This just means that it's likely not going to be very helpful. Because in itself Curcuminoids are very poorly absorbed. I mean, yes, it can help a little bit. But it won't be nearly as beneficial as something like the NutriGold Turmeric Curcumin Gold (review) [R, R, R, R, R, R, R, R].
Then, if we look at the Indian Frankincense Extract, it offers 55% Boswellic Acids. This is an absolute powerhouse when it comes to cancer prevention. On top of that, it can also deliver on various other anti-inflammatory effects like aiding joint health [R, R, R, R, R, R].
Which is probably the reason why the Curcumin Complete of Himalaya decided in favor of adding it to the formulation as well.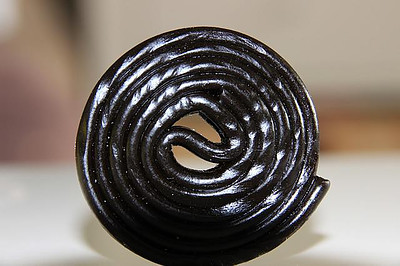 Lastly, we have that Proprietary Blend. It consists of Guggul, Indian Tinospora, Tribulus, Greater Galangal, and Licorice. And all of these, are capable and helpful herbs.
I mean, a proprietary blend like that can help battle everything inflammation and cancer, alleviate arthritis, promote skin health, improve digestion, aid immune health, reduce pain, boost fertility, and so much more [R, R, R, R, R, R, R, R, R, R].
The only sad aspect about it all is that we are not getting very much of it.
Then, finally, I did saw some Himalaya Curcumin Complete reviews praising the quality of this. So, we have to talk about it, too.
Overall, I have to conclude that it does look pretty dope. I mean, as far as I can tell, there is a lot of thought that goes into subscribing to top-notch quality. That being said, it seems that they limit themselves to just in-house testing. Which is good. But still, not as great as third-party testing [R, R].
Side Effects | To Review Additives, Himalaya Curcumin Complete Is Tricky
Supplements can have all kinds of additives. Sometimes it's coloring like Carmine or Allura Red. Whereas other times they are a lot more sensible. Bottom line is that side effects are almost always caused by these extra ingredients.
So, is the Himalaya Curcumin Complete supplement properly made?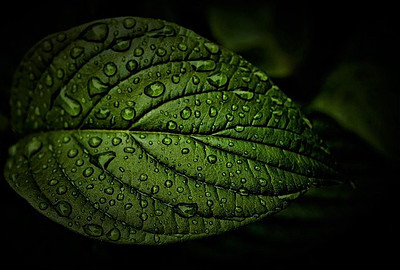 Well, to some extent, definitely. But I wouldn't say that it's entirely that way.
I mean, the supplement of this review uses Tapioca Starch and Plant-Based Cellulose. Here's to elaborate.
Tapioca Starch is often seen as the better version of wheat or corn starch. Other than that, it doesn't have any profound positives or negatives. Whereas Cellulose is what we are consuming tons of with fruits and vegetables anyway [R, R, R, R, R, R]
Thus, yes, the additives are fine, generally speaking. But there is one other aspect that I don't really like about the Himalaya Turmeric Curcumin.
So, they claim it to be Gluten-Free, Dairy-Free, Soy-Free, and more. But what about Non-GMO?
That they do forget. This just likely means that there are GMO ingredients in this product. And GMOs are never a healthy thing to consume [R, R, R].
Reviews | Interestingly, It's Still Quite Early For A Accurate Success Rate
So, we don't have any Himalaya Curcumin Complete reviews local to the manufacturer's site. And that's not an often deal in the sense that supplements these days typically do offer that section. Just look at something like the Organixx Turmeric 3D (review) and many others.
Since we don't have that here, let us look at the third-party sites right off the bat.
Overall, there isn't much feedback available. Which is not very typical. Especially because the oldest review that I could find dates back to September of 2020.
If we would assume that it's the date when they started selling, it would mean that it's been on the market for about 18 months. Yet there are only 34 Himalaya Curcumin Complete customer reviews.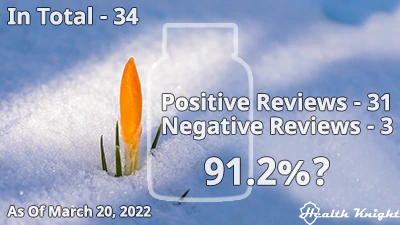 Maybe it's still looking for traction. But that's very scarce nonetheless.
That said, the success rate appears to be pretty great. I mean, with just 34 pieces of feedback, it's definitely too early to tell. But out of that number, 31 were positive and 3 were negative. Which is a 91.2% success rate.
Thus, obviously, there are a good number of people loving the product. But what about those that don't?
In one case, it was the matter of encountering an allergic reaction despite the supplement actually helping. Which if I was to analyze, it's probably because of some GMOs in there. Or maybe it just isn't purified properly enough.
One negative Himalaya Curcumin Complete review said that this had no effect. Which I am not surprised by at all. I think that many more such reviews should be on the way given how little of active ingredients this has.
And the last piece of feedback was a person unhappy with the kind of expiration date the supplement was delivered with. I mean, it was to expire less than after a month when the person received it. And this wouldn't even give the person the opportunity to finish a bottle. Which is not okay. But that's on the seller.
Other than that, this expiration thing could hint that the product hasn't really been selling well.
Pricing | This Turmeric Curcumin Has To Be Priced Better To Be Viable
There are many ways how expensive supplements can be made to appear affordable. And so, the question is whether or not the supplement of this review is an affordable one or is its price actually over the top.
Well, per container (30 capsules), the Himalaya Curcumin Complete typically costs $18.99. That's about $0.63 per serving. Which may appear affordable. But it's actually $5.04 for every 1000 milligrams of 95% Curcuminoids.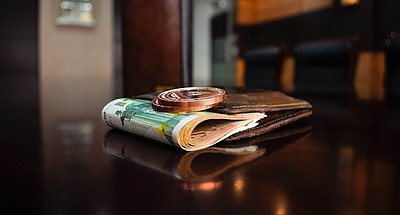 That's a properly high price. I mean, it pales even in comparison to what the Puritan's Pride Turmeric Curcumin (review) costs.
Puritan's Pride typically costs $1.53 for every 1,000 milligrams of 95% Curcuminoids. It's got great additives, about as many Curcuminoids per serving, and in-house testing.
So, yes, the supplement doesn't have a Proprietary Blend like the supplement of this review but it does take advantage of improved absorption of Turmeric through Black Pepper. Thus, I would say that it's better. And it's three times lower price. At least.
Then, we have something like the Youtheory Turmeric (review) which is pure Curcuminoids and Black Pepper. Meaning, it's an awesome amount per serving for every benefit imaginable. Plus, it costs $1.33 for every 1,000 milligrams of 95% Curcuminoids.
And it's third-party tested, great additives, awesome success rates. Thus, so much more value than what the Himalaya Curcumin Complete offers. I mean, between the two, the supplement of this review never makes sense.
Pros & Cons | Way Too Few Positives & Way Too Many Cons
Pros
Cons
✓ The supplement of this review offers quite a unique set of beneficial ingredients that we won't find with another Curcumin supplement.

✘

The supplement contains GMO ingredients.
✓ The brand has been around for 90 years.

✘

It doesn't get third-party tested.
✓ The product does get in-house tested.

✘

The Curcumin Complete of Himalaya is just way too expensive.

✘

The amounts of Turmeric per serving do leave a lot of potential benefits on the table.

✘

It doesn't use any means of improving absorption of the main beneficial ingredient. And that's an insanely ineffective way how to go about it.
Ranking | Where Does This Turmeric Curcumin Rank (In 2022)?
Overall | I Don't Think That This Himalaya Deserves To Be Shortlisted
Unlike supplements like the Eden Pond Turmeric Curcumin (review) or Nature's Nutrition Turmeric Curcumin (review) where there is literally nothing unique about them, Himalaya does have something unique. The Proprietary Blend. Still, it isn't quite enough to make up for all the other shortcomings.
Thus, for the negatives, there's just no doubt that it's too expensive. Having GMO ingredients is never good. Having not enough Curcuminoids to truly make a difference and not augmenting their absorption are some of the worst choices for any Turmeric Curcumin.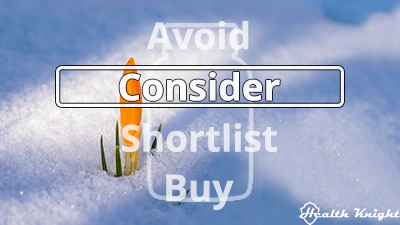 Then, it's also not great that they don't do third-party testing. There's not enough customer feedback. And 90 years of business doesn't fix any of that.
Hence, (out of avoid it, consider it, shortlist it, buy it) I would propose to simply consider it. I mean, it's got some really unique and fascinating stuff going for it. But other than that, it feels like a big enough garbage.
On that note, if you are looking into something truly awesome when it comes to Turmeric Curcumins, I would propose looking into this (review).
Above all, I hope this Himalaya Curcumin Complete review helped you find the information you were looking for. If you have any thoughts or questions, I'm just a comment away. And do feel free to leave your own personal reviews on the product as well.
Health Knight Rating: 4.0/10