In this Nutrition Now PB8 Probiotic review (PB 8 Probiotic review), we will take a look in fine detail what this thing is about and what it has to offer to the world.
We'll classically start with the promotional materials and analyzing them. This we will then transition into learning about the beneficial ingredients and all the other good stuff it offers (if any). Then, it's going to be about the inactive ingredients (additives). And then, we'll also look at the whole thing from a practical standpoint – global success rates and pricing aspects.
Is The PB8 Probiotic Thing GMO-Free? Likely Not
My favorite way of starting this section is by presenting to you, good people, kind of a definition of what the manufacturer believes the product is. And I would have loved to do that here with the PB8 Probiotic, too. But I couldn't find their official website.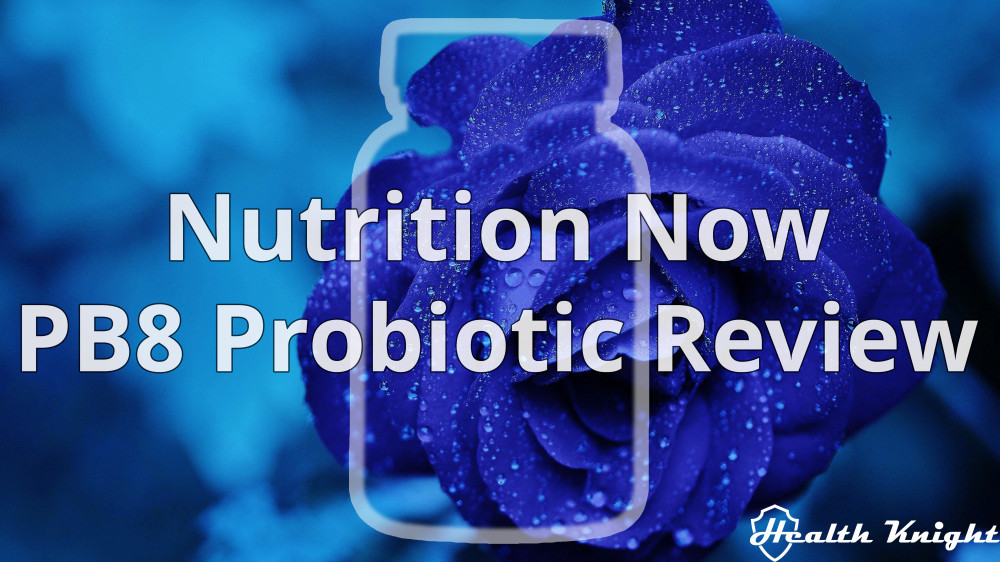 It was supposed to be NutritionNow.com. But it isn't. The website is dead (at least at the time of writing this). So, instead, let's draw what we can from the packaging of the supplement.
First, they boast about being trusted for 25 years (and then, they don't exactly have a website, what?). Second, BPA-Free bottles. Which is a really good thing. Third, eight strains, 14 billion active cultures. Promising. Fourth, a supplement without Milk (hence, free of Lactose as well), Gluten, and Soy. Fifth, there are also claims to contain no tree nuts, eggs, and peanuts.
What about GMOs though? Well, that they do not claim to be free-of. Hence, something of that source is likely there. To compare supplements like Inner-Eco Probiotic (review) and Renew Life Ultimate Flora Probiotic (review) not only claim that, but they also have third-party certifications for that.
As for the benefits, the PB 8 Probiotic doesn't go all extensive on us like Bowtrol Probiotics (review) and ActivatedYou Morning Complete (review) do. Instead, it promises just that one basic benefit. Better digestive health.
So, is this thing truly worth the money?
To Review The Core, It's Pretty Okay But The Quality?
While, superficially, it may sure feel that way, I wouldn't trust that feeling. Yes, the strain count, the total CFUs count, and everything inbetween may seem nice. But there is more to that story.
So, per serving (two capsules), the Nutrition Now PB8 Probiotics offers 780 milligrams of the Proprietary Probiotic Blend. Which is the already mentioned 14 billion CFUs feeding from 8 different strains (Lactobacillus acidophilus LA-14, Bifidobacterium lactis BL-04, Lactobacillus plantarum LP-115, Lactobacillus salivarius LS-33, Bifidobacterium bifidum BB-06, Bifidobacterium longum BL-05, Lactobacillus rhamnosus LR-32, Lactobacillus casei LC-11).
Generally speaking, this is a pretty good setup. It's not far off the best practices when it comes to supplements like this. We'd prefer at least 10 strains; this one provides 8. We'd want 10-20 billion CFUs twice daily; this one provides 14 (typical dose). Which is okay. Overall, I believe this should definitely live up to that claim of better digestive health [R, R, R, R, R].
But there are at least two facets I do not enjoy.
First, 14 billion CFUs per two capsules is actually such a miniscle amount (7 billion CFUs per capsule). And so, to reach that 20-40 billion a day, we'd need 3-4 capsules. Which is a ton of capsules for a Probiotic supplement. It's nothing major but still I feel an inconvenience if we're also having other supplements regularly.
Second, it's about quality. Yeah, I know, there will be some of you for who just the idea that the Now Nutrition brand has been around for 25 years will be enough. But brands like Centrum have been around for about the same time, and those I would not take even if they paid me to. My point is, with this PB8 Probiotic, we are essentially going in blind.
And that's not a thing I'm thrilled about, a thing I would do. Nor that is a necessary evil because there are a lot of other brands out there the quality of which we can be confident of like 1MD Complete Probiotics Platinum (review) and Purely Optimal Probiotics (review).
Additives Go By 3+3, Now Nutrition Has Done Well Here
While the quality of Now Nutrition PB8 Probiotic is quite uncertain, as far as the additives, it certainly doesn't seem to be of the lowest breed. There is a twist to all that, however.
If we look at the supplement label, we see below the beneficial ingredients listed three extra ones (the ingredients that come after the words "Other Ingredients"). There we have Water, Gelatin, and Inulin.
It doesn't take a rocket scientist to figure out that Water is something highly likely (to say the least) okay to have. Then there's Gelatin which is a type of additive consisting of all kinds of amino acids. And so, despite the origins of it not being the most apetizing (animal tendons, ligaments, skin, etc.), it is a thing that's likely to be nothing but healthy.
Lastly, Inulin is basically Prebiotics, in other words, food for the Probiotics, meaning, something that can augment all the positive effects of them. We do not get introduced to how much of the substance we have here though. But judging by the fact that manufacturers have to list predominance starting with the heaviest, there's probably not a lot there if any [R].
Now, that twist.
This is not the full list of PB8 Probiotic's additives. There are more. They for some reason (and so they hide there) have been listed in the mix of the beneficial ingredients. So, there are three extra. Microcrystalline Cellulose, Magnesium Stearate, and Silicon Dioxide.
Microcrystalline Cellulose is a thing commenly used for placebo pills, and, so, extremely harmless stuff. Silicon Dioxide is of similar harmlessness level (though that might be changing at some point). As for the last one, it's one of the most misunderstood ones on the planet. A proper look at the research and it becomes clear as day that all of the sh*t being thrown its way is inaccurate. Ultimately, a harmless one, for sure.
All in all, properly chosen additives for the PB8 Probiotic which is only commendable.
Customer Reviews & Success Rates
Coming soon.
Price
Coming soon.
Final Thoughts
Coming soon.