|  Initial Thoughts  |  Potential Benefits  |  All Ingredients: Whole Herb, Complex, With Ginger, Superior Absorption  |  Ranking  |  Final Thoughts  |
In this Spring Valley Turmeric Curcumin Review, we'll dissect all that the supplement can potentially do for you.
We'll research its promises, we will consider its amounts, we will go over some of the potential benefits but most importantly we will not leave out the often overlooked additives. Ultimately, we'll cover a few additional considerations as well.
Spring Valley Turmeric Curcumin Review – Initial Thoughts & Overview
When considering Spring Valley Turmeric Curcumin, there are actually at least 4 supplements that we need to address. As far as I can tell that is. Maybe there's more? But it's really hard to tell.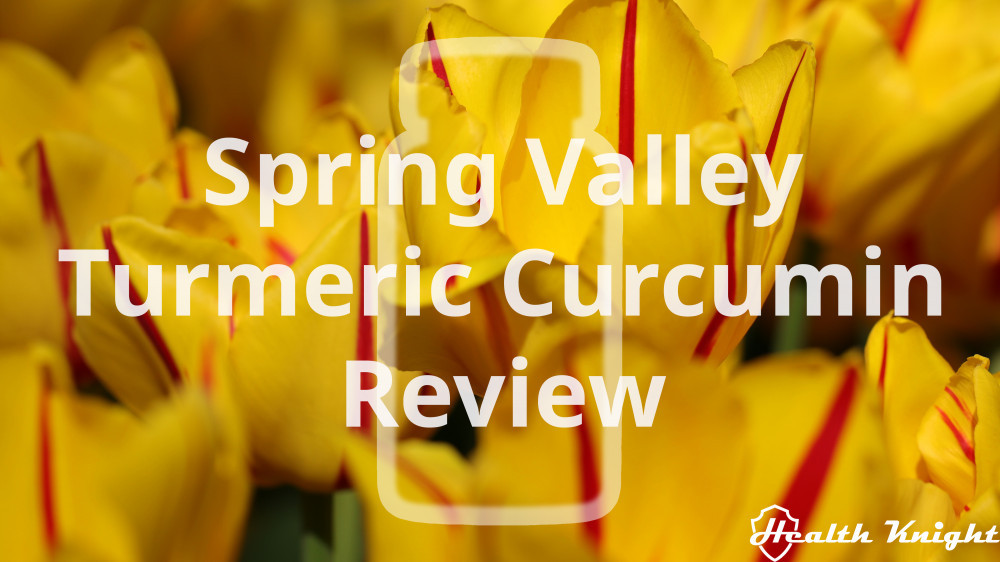 Mainly this is because it seems that Spring Valley is Walmart's brand that doesn't really have its own website or straight forward product line.
What I mean is that on Walmart's website at the place, which supposedly is the official Spring Valley Herbals page, we can find only two supplements. For those "at least 4," I used Google search. But for some crazy reason, they are not listed where they should be. Which I can't deny gives out a pretty low-quality vibe. Something we'd never find by brands like Gaia Turmeric or Life Extension.
Other than that, the differences in their names are very subtle, and I imagine some may find them confusing as the packaging looks the same almost every ti e. The same is generally true also when it comes to their ingredients. The only exception here might be the option that is considered the top-of-the-line product.
Otherwise, while all of these supplements have their own supposedly unique descriptions, the essence stays the same across all of them.
Per their words, all of these supplements are produced with all-natural ingredients. They contain antioxidants that will contribute to the immune system's health, protect our bodies from free radicals and contribute to brain health and function, reduce chronic inflammation, while also promoting cardiovascular, skin, and joint health.
All of the supplements are said to be without added preservatives, artificial colors, artificial flavors, or gluten (and some do have more of these kinds of claims). And they are said to be affordable.
Rather surprisingly though, I was not able to find any promises or affirmations about the quality they display (which we'll dissect a bit more later). For almost all supplements nowadays this is their bread and butter, even though those generally are not always the best-grounded ones. Something like the Smarter Curcumin or PureNature Turmeric Curcumin springs to mind here.
All in all, for many these marketing claims may be all they need to decide on this product. Especially something like the superior absorption version that is claimed to have 5-7 times higher absorbability than typical standardized supplements (I'll explain the term in a bit).
But are any of them truly worth our money?
Curcuminoids Are Key; Better Liver, Heart, Brain Health Among Many Other Benefits
Lately, there has been a lot of buzz around Turmeric and about how beneficial it is.
If by any chance you've happened to let that slide I will introduce you to some of the more significant ones. But before that, there is one crucial thing that needs to be explained.
Turmeric is not the actual substance that our bodies and minds get the main benefits from. Instead, those are specific substances in the Turmeric known as Curcuminoids [R, R, R, R, R, R, R, R].
So, whenever someone is talking about Turmeric benefits, what typically they actually mean are the benefits of Curcuminoids (though Turmerones, another substance in the herb, can also be profoundly beneficial in sufficient amounts). And gains there are many.
Just some examples of this are improved brain function, combating of obesity and diabetes, improved detoxification and overall liver health, slowing down aging, healing of pain and Arthritis, lowered cholesterol levels, eased depression, protection of metal toxicity, as well as lowered the risk of heart disease among other health benefits [R, R, R, R, R, R, R, R].
Moreover, the substance is so unique that even if you are perfectly healthy and have the best health a human can possibly have, the positive influence of these compounds will be present still [R, R, R, R, R, R, R, R].
So, all the marketing hype in terms of how beneficial it is to consume Turmeric supplements, could actually be regarded as genuine and not puff.
Let's Properly Dissect The Main Ingredients Of All Four: From Lowest To Supposedly The Highest
As I mentioned a couple of times already, there are at least 4 different Spring Valley Turmeric Curcumin supplements. Each of them uses a different variation of the beneficial ingredients. Meaning, none of them are exactly the same.
Plus, there's also the often overlooked aspect of additives. These ingredients are mainly there due to their necessity when it comes to the creation of capsules, tablets, and other forms of convenient consumption and nutrient (or herb) delivery.
That said, given that there are a bunch of different potentially harmful additives out there (yap, everything's not harmless), we'll look at those too. Similarly, as it is with the active ingredients, also these come in various combinations [R, R, R, R, R, R, R, R, R, R, R, R, R, R, R, R, R, R].
Spring Valley Turmeric Curcumin Whole Herb (Review) – Just Plain Simple Turmeric In Its Rawest Form
First, we have the Spring Valley Turmeric Curcumin Whole Herb supplement. This one contains 500 mg of Turmeric (Curcuma Longa Root) extract.
All straight and forward. No additions, nothing whatsoever.
Just plain Turmeric Herb stuffed in some capsules.
As for the additives, it's kind of odd. Meaning, the description page itself lists one set of inactive ingredients (Gelatin, Vegetable Stearic Acid) whereas the supplement label lists a different one (Gelatin, Silica, Magnesium Vegetable Stearate).
In terms of their harmlessness, that's not a big deal as all of these are something that for the very least I would consider not harmful. This is despite the fact that Stearic Acid And Magnesium Stearate are incredibly controversial as most resources online list them as of harmful bread. Which I have to agree with the minority of doctors and other health professionals stems from a huge misinterpretation of the available research [R, R, R, R, R].
That said, the fact that they are not consistent with listing the actual ingredients is I feel a rather concerning aspect. I mean, could you imagine quality brands like Youtheory Turmeric or Life Extension Curcumin Elite ever having such inconsistencies?
I can't. Which is exactly my point. No high-quality, truly value-providing, worth-investing-in type of supplement would ever have that.
Spring Valley Turmeric Curcumin Complex (Review) – More Of The Raw Stuff Plus Some Added Extra Curcuminoids
Second, we have the Spring Valley Turmeric Curcumin Complex supplement. This one, as the name suggests, is all about that Curcumin Complex, which consists of two parts – 450 mg of raw Turmeric Extract and 50 mg of standardized Turmeric Extract to contain 95% Curcuminoids.
So, as I promised earlier, "standardized" is just a fancy way of saying that they guarantee that of that extract 95% are Curcuminoids. Which as ones probably can recall are the actual substances that give us the benefits [R, R, R, R, R, R, R, R].
On that same note, it's worth mentioning that the extract of a typical Turmeric herb contains about 3% of Curcuminoids (3% is the most common one; it kind of typically varies from herb to herb within the boundaries of 2-5%) [R, R, R, R, R, R, R, R].
This, essentially, means that the 50 mg of standardized Extract outperforms in terms of Curcuminoid amounts. And thus, it also does so in terms of the likely benefits that the 450 mg of raw Turmeric extract can provide. Here's the math: 50*0.95=47.5 mg; 450*0.03=13.5 mg; 47.5 mg>13.5 mg.
In that sense and in all honesty, the Whole Herb Spring Valley Turmeric Curcumin supplement with only 15 mg (0.03*500 mg) of Curcuminoids is utterly and entirely useless. I guess more often than not you get what you pay for, right?
Whereas as for the additives – Gelatin Capsule, Rice Powder, Vegetable Magnesium Stearate, and Silica – all are quality ones.
Spring Valley Turmeric Curcumin Standardized Extract With Ginger Powder (Review) – Bit Less Raw, Bit Extra Ginger
Third, we have what is simply referred to as Spring Valley Turmeric Curcumin Standardized Extract With Ginger Powder. A pretty mouthful name for a supplement fully characterized by its ingredients. Not a fan of the approach.
So, the supplement offers 400 milligrams of raw Turmeric, 50 milligrams of the standardized to 95% thing, and 50 milligrams of Organic Ginger.
With this in mind, 50 milligrams less of the raw Turmeric are of little to no importance as it barely provides any Curcuminoids anyway (50×0.03=1.5 milligrams).  Whereas that Ginger Powder can account for some benefits [R, R, R, R, R, R].
Plus, it also has the capacity to slightly improve the absorption of the present Turmeric. Thus, I feel it's pretty safe to say that despite supposedly lower amounts of the key ingredient, this particular one outclasses the Curcumin Complex one [R, R, R, R, R, R, R].
Moreover, the additives don't in any way undermine this Spring Valley Turmeric Curcumin Standardized Extract With Ginger Powder (yeah, a mouthful). In fact, it uses a significantly smaller number of them. Hypromellose and Rice Hull Concentrate are all they use. Both of which, by the way, are not only harmless but they can actually be considered beneficial [R, R, R, R, R, R, R, R].
Spring Valley Turmeric Curcumin Superior Absorption (Review) – Finally, An Actually Viable One?
Now, we've come to the last one. Based on the name alone – Spring Valley Turmeric Curcumin Superior Absorption – it seems to be the most potent, capable, desired option of them all. But is it truly?
Indeed, it is. There's actually a remarkably huge difference between this and any of the other ones. A difference that all comes down to the beneficial ingredient.
Instead, of using raw Turmeric or some minute amounts of standardized one, this one uses a patented formulation known as BCM-95.
Yeah, Spring Valley themselves don't care to provide any references to approve the efficacy and legitimacy of this formulation. Which kind of sucks. Still, that doesn't change the fact that it actually is one. To date, there are at least 49 different studies done on this formulation specifically [R, R, R, R, R, R, R, R, R, R, R].
It's a formulation that has proven to be (not 5-7 times better absorbed but actually) 27 times better absorbed when compared to the typical standardized to 95% Curcuminoids Turmeric extract. This makes it 7 additional times more capable than what the addition of Black Pepper extract can bring to the table (provides 20 times increased absorption) [R, R, R, R, R, R, R, R, R, R, R].
Sure, BCM-95 is not the only available augmented Curcumin formulation out there. However, it's arguably one of the most extensively studied ones. Plus, not only has it been studied for absorbability improvements, but also for safety, toxicity, and benefits. Which have resulted in showing no signs of toxicity or safety whatsoever along with proving that Turmeric Curcumin benefits through this one are possible [R, R, R, R, R, R, R, R, R, R, R, R, R, R, R, R, R, R, R, R, R, R, R].
Additives are also great in this one. So, is this something truly viable?
Where Does This Turmeric Curcumin Rank (In 2022)?
I'd Say That Quality Concerns Still Persist; I Personally Would Never Go For These
The Spring Valley Turmeric Curcumin Whole Herb, Complex, and Standardized Extract With Ginger Powder truly don't seem like much. The Superior Absorption option to that end is a breath of fresh air. However, it's still not something I would recommend we go for.
As I see it, the biggest concern with Spring Valley is that they don't seem to put enough (or frankly any) emphasis on quality. Moreover, it turns out they've had had their troubles in the past when it comes to actual herb contents and their purity. To that end, not only with a supplement of theirs can we potentially get fewer amounts of Turmeric than what's indicated on the label but it can also contain all kinds of harmful admixtures and impurities [R, R, R].
But is that really something we want for our health? Of course, not.
There are just too many great, viable, resourceful brands out there that not only provide more value in regards to the ingredients but that actually also do third-party testing. Testing to truly ensure the highest of quality (and lack of contaminants). Nutrigold Turmeric Curcumin Gold (review) and Gaia Turmeric Supreme (review) are just some of such supplements. And what I believe is the very best one (full review) also has that.
Above all, I hope this Spring Valley Turmeric Curcumin review helped you find the information you were looking for.
This article has been last updated on July 9, 2020.